CAPM Exam
The Certified Associate in Project Management (CAPM) exam leads to entry-level certification for project managers. The credentialing exam is developed and maintained by the Project Management Institute and is designed for individuals with less experience an opportunity to demonstrate experience with the field of project management.
There are educational and professional experience requirements before an individual may sit for the CAPM credential. Minimum requirements include a high school diploma and professional experience.
Test design
The Certified Associate in Project Management exam is three hours long and consists of 150 multiple-choice questions. Of the 150 questions, 15 are "pretest" questions that are not scored. There are 13 knowledge areas within the examination:
Introduction to Project Management – 6%
Project Environment – 6%
Role of the Project Manager – 7%
Project Integration Management – 9%
Project Scope Management – 9%
Project Schedule Management – 9%
Project Cost Management – 8%
Project Quality Management – 7%
Project Resource Management – 8%
Project Communication Management – 10%
Project Risk Management – 8%
Project Procurement Management – 4%
Project Stakeholder Management – 9%
Each knowledge area will include key concepts, trends and emerging practices, tailoring considerations, and considerations for agile/adaptive environments. All questions are based on chapters one – 13 in the Project Management Body of Knowledge (PMBOK) guide.

Check Out Mometrix's CAPM Study Guide
Get practice questions, video tutorials, and detailed study lessons
Get Your Study Guide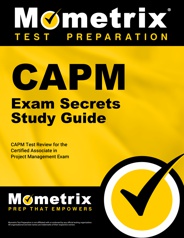 Registration, cost, and dates
Before you register for the CAPM exam, your application has to be received and approved. Once you receive notification that your application is approved, you will pay the registration fee and receive an eligibility number. You will use the eligibility number to register for the exam. The registration fee is $225.00 for members of the Project Management Institute and $300.00 for non-members.
While the CAPM exam is computer-delivered, there are two methods available:
At an approved Test Center

In-person, proctored examination
Located nationwide and on military installations
Appointments are arranged during business hours and scheduled Monday through Friday
Online

Proctored online examination using a personal computer
Located anywhere
Appointments are arranged at any time and are scheduled Tuesday through Saturday
It may be possible to take the exam using a paper test assessment. Contact PMI for registering instructions for this method of delivery.
You will have one year from the date of notification to register for the exam. After one year, you will have to reapply and submit the fees again.
Test Day – at a testing center
On test day, give yourself enough time to adjust for traffic and find parking. You will need about 15 minutes to conduct the check-in process which includes verifying your identification and securing personal belongings. You cannot bring anything into the testing center, and you will be provided with all the materials you need to complete the exam.
Test Day – from a personal computer
Before your scheduled appointment, make sure your computer will support the testing application. Place your computer in a room without distractions and ensure there is nothing in or around the area that can be viewed as examination aides. While the exam is in a location of your choosing, you will still be monitored.
For either method of test delivery, make sure you are familiar with the rules and code of conduct. If it appears that you are not upholding your agreement, your test could be negated and your fees forfeited.
Exam results and scoring
Project Management Institute does not publish the minimum passing score. Because a minimum passing score is not published, it is recommended that you aim for a score above 70%. You will receive immediate notification of your pass or fail status at the conclusion of the exam. If you pass, you will receive your CAPM credential six to eight weeks after your exam, but you will be able to claim the credential immediately. If you are unsuccessful on your first attempt, you may re-take the exam two more times within the one-year eligibility period. You will have to pay the fees again for each re-take.

Check Out Mometrix's CAPM Flashcards
Get complex subjects broken down into easily understandable concepts
Get Your Flashcards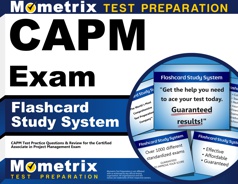 Preparing for the CAPM exam
The Certified Associate in Project Management credential can open doors for you in your career in project management. For this reason, you want to be sure that the effort you place in studying for the exam is efficient and covers the topics you will encounter on the test. You have a significant investment in your education and experience; do not let the unknown of a test keep you from achieving your goals.
With the Mometrix study system, CAPM Exam Secrets Study Guide and CAPM Exam Flashcards, the unknown is highlighted, and a proven study method is at your fingertips. Mometrix has over 16 years' experience flushing out the absolutes, and the system guides you in your studying. With a 100% money-back guarantee, you have nothing to lose but long, sleepless nights.
CAPM Study Guide
Mometrix Academy is a completely free CAPM test resource provided by Mometrix Test Preparation. If you find benefit from our efforts here, check out our premium quality CAPM Study Guide and CAPM Flash Cards to take your studying to the next level. Just click the CAPM study guide link below. Your purchase also helps us make even more great, free test content for test-takers.