PMP Certification
The Project Management Professional (PMP) certification is internationally recognized and validates your competence as a project manager leading and directing projects and teams. PMP is offered by the Project Management Institute (PMI) and is available to candidates worldwide.

Eligibility
Certification candidates with a four-year college degree need 36 months leading projects and 35 hours of project management training or Certified Associate in Project Management (CAPM) certification. For candidates without a college degree, the requirements for the exam include a high school diploma or associate's degree, 60 months leading projects, and 35 hours of project management training or CAPM certification.
The Application
If you meet the eligibility requirements, gather your experience and training information. The information on your experience includes projects you've led, your roles and responsibilities with each project lead, and project duration. Also, have the information on the training you've completed available. This information is needed to complete your application.
Registration for the PMP certification exam is on the PMI website. If you are a member of PMI, log into your account to register. If you are not a member of PMI, create a free account. Once your account is created, you can register for the exam. The registration fee is $405.00 for PMI members and $555.00 for non-members. Payment is accepted by credit card, check money order, or wire transfer, payable in U.S. funds only. 
Scheduling the Exam
Once your application is approved, you have one year to schedule your exam. Follow the instructions in your email to schedule. The certification is offered at testing sites worldwide or through video proctoring online at your home or office. Appointment availability at testing centers is varied and provided on a first-come, first-served basis – it is recommended that you schedule your exam at a testing center as soon as you know when you want to take it. OnVUE testing, the at-home or at-office option, is available 24-hours a day, seven days a week. The OnVUE test delivery method has technology requirements – before you choose that method, ensure you can meet the requirements.
Exam Delivery & Design
The method of delivery at testing centers may vary with some offering a choice while others have only one format. If you choose to take the exam at a testing center, it will be computer-delivered or paper-based. If you decide to take the at-home test, it is computer-based.
There are 180 questions in multiple-choice, multiple-response, matching, hotspot, and fill-in-the-blank formats. You have 230 minutes to complete the exam, and there are two 10-minute breaks for the computer-based exam. There are no scheduled breaks for the paper-based exam. Additional resource materials are not allowed, but an on-screen calculator is available for the computer-based test, and a handheld calculator is provided for the paper-based exam.  

Check Out Mometrix's PMP Study Guide
Get practice questions, video tutorials, and detailed study lessons
Get Your Study Guide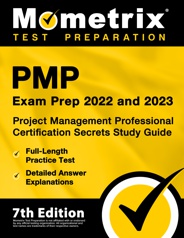 Exam Content
The PMP exam focuses on three domains with content that spans the value delivery spectrum, including predictive, agile, and hybrid approaches. Within each domain are tasks, the underlying responsibilities of the project manager, and enablers, examples of the work associated with the task. 
The domains on the PMP exam include people, process, and business environment. These three domains evaluate your soft skills in leadership, your ability to apply management techniques technically, and your ability to find and enhance the connection between projects and organizational strategy.
Domain I, People, constitutes 42% of the exam and is divided into 14 tasks:
Manage conflict

Leading a team

Supporting your team's performance

Empowering your team members and stakeholders

Providing adequate training to team members and stakeholders

Building and maintaining a team

Identify and remove obstacles inhibiting team development and performance

Negotiate project agreements

Collaboration 

Building a shared understanding

Engage and support virtual teams

Define team ground rules

Mentor stakeholders

Using emotional intelligence to promote team performance
Domain II, Process, is weighted at 50% of your exam and is divided into 17 tasks:
Use a sense of urgency to execute the project to deliver business value

Manage communications

Assess and manage risks

Engagement of stakeholders

Plan and manage the project budget and resources

Plan and manage the project schedule

Plan and control the quality of products

Plan and manage the scope of the project

Integrate project planning activities

Anticipate and manage project changes

Procurement

Managing project artifacts

Determine appropriate project methodology

Establish the proper project governance structure

Identify and manage issues

Ensure knowledge transfer

Plan and manage the project phases and transitions
Domain III, Business Environment, makes up the remaining 8% of the exam and consists of four tasks:
Plan and manage project compliance

Evaluate and deliver project benefits and value

Evaluate and address external changes that may impact the project's scope

Support organizational change
Scoring
When you have completed your exam, your preliminary results are displayed. In addition to your pass or fail status, a score report is provided. PMI does not publish the passing score for the PMP certification exam. Each scored question is worth one point, and the passing score is determined through psychometric analysis. Your score report grades you on each of the three domains on a 4-point scale. The four performance category ratings are above target, target, below target, and needs improvement. Your score report provides information on your strengths and weaknesses and offers you an opportunity to focus your studying if you need to retake the exam.
Your official score report is emailed within ten business days. However, if you pass the exam, you can immediately start using the PMP designation.

Check Out Mometrix's PMP Flashcards
Get complex subjects broken down into easily understandable concepts
Get Your Flashcards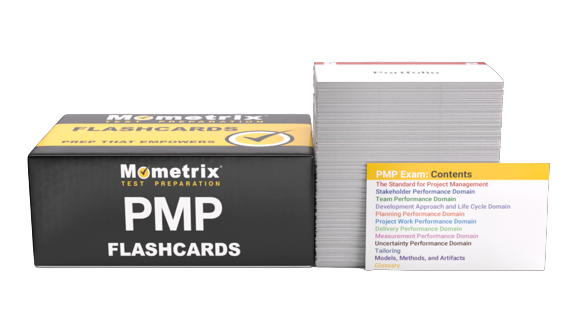 Retaking the exam
You have a one-year eligibility to take the exam up to three times. If you do not schedule your retake(s) during your eligibility period or are unsuccessful at passing the exam during your eligibility period, you have to reapply for certification. If you do not pass the exam on the third attempt, you have to wait one year from the last attempt to reapply for certification. The second and third attempt fees are $275.00 for PMI members and $375.00 for non-members.
Prepare
Skilled project managers are in high demand, with the Department of Labor estimates 2.2 million project-oriented positions open each year through 2027. The PMP certification proves your project leadership experience and expertise, giving you an edge over the candidates who do not have the certification. Take your study to the next level and succeed on your first attempt with Mometrix Test Preparation's study guide and flashcards.