ASVAB General Science Practice Test
The United States' Armed Forces has some pretty strict entrance requirements for those that wish to enlist. One of those is the passing of the ASVAB. The purpose of this test is to make sure that all applicants measure up to the high standards that will be placed on them during their time with the military.
The tests measures knowledge and ability in four basic domains: Math, Verbal, Science and Technology, and Spatial. Based you how you score on this exam and all of its subtests, you will be placed within a specialized area that is best suited to your needs and giftings but will also allow for growth and learning.

Can I Take It?
Any individual who has met with a recruiting officer and confirmed their interest in any branch of the military is required to go through an application process. The ASVAB is part of this process but there are some very specific needs that must be met prior to being able to take the test.
First your recruiter will go through an in-depth series of questions regarding your health, marital status, arrest record, education, and drug use. Once they have decided that you meet the standards set so far you will be scheduled to take the ASVAB. There is no fee to take the exam.
Where Do I Take It?
There are 65 Military Entrance Processing Stations or MEPS located throughout the U.S. and Puerto Rico where the test is taken and administered. These sites are controlled by the Department of Defense.
You might find that you do not live near a MEPS. In this case you may be allowed to test at Military Entrance Test or MET satellite locations. National Guard Armories, Reserve centers, and/or federal government office buildings typically are available to house these.
All ASVAB tests are administered via a computer (CAT) unless your testing site is not able to facilitate this method. If this is the case, you will take the test using paper and pencil.
What Do I Bring?
When you arrive to the testing site, make sure that you are early or at the very latest on time. You will not be allowed to enter the building or take the test if you get there late. You will also have to reschedule your testing time.
A valid government issued form of identification is required upon your arrival. This will give you access to the site and make sure that your scores are reported appropriately.
You will be given access to any testing material you may need at the testing site. Therefore, there is no need to bring any personal items with you. This includes a calculator.
Check Out Mometrix's ASVAB Study Guide
Get practice questions, video tutorials, and detailed study lessons
Get Your Study Guide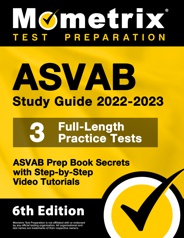 What Should I Expect?
The test as a whole is made up of 10 subtests with a total of 135 scored questions. However, each test is allowed to have two to four subtests or sections that contain as many as 15 pre-test or tryout questions included. If these tryout questions are present, they will be scattered throughout the section and extra time will be given for completion.
The CAT allows you to take the test at your own pace. So, when you are ready for the next subtest, you do not have to wait for instructions to do so. You will be given about two hours to finish the entire test depending on inclusion of tryout questions.
The General Science subtest is part of the science and technology domain. In this subtest you will be tested your ability and knowledge of both physical and biological sciences. There are 15 scored questions, with the possibility of 15 extra tryout questions.
For this subtest, you will be given 16 minutes to finish. You will only get half of that time if no tryout questions are included.
When Do I Get My Scores?
You will receive your test scores immediately after you complete the CAT version of the exam. However, if you are one of the few that take the ASVAB using paper and pencil, you will get your test results later. The paper tests must be sent to MEPS to be scored. After they have been calculated, you recruiter will be able to notify you of your results or when they will be available to you.
ASVAB Test Online Prep Course
If you want to be fully prepared, Mometrix offers an online ASVAB Prep Course. The course is designed to provide you with any and every resource you might want while studying. The ASVAB Course includes:
In-Depth Lessons Covering all the Topics
800+ ASVAB Practice Questions
Over 200 Video Tutorials
More than 450 Electronic Flashcards
Money-back Guarantee
Free Mobile Access
and More!
The ASVAB Prep Course is designed to help any learner get everything they need to prepare for their ASVAB exam; click below to check it out.
How Can I Be Prepared?
Practicing or studying for this exam ensures that you will do well on it to prove that you have what it takes to live out your military dreams. Here at Mometrix, we have designed a set of flash cards and a valuable study guide for this exam and its subtests.
These test preparations will not only make sure that you know what the test covers but also allows you to answer some sample questions that may or may not be on the actual test. This will give a really good idea of just what will be expected of you. Check them both out.
Check Out Mometrix's ASVAB Flashcards
Get complex subjects broken down into easily understandable concepts
Get Your Flashcards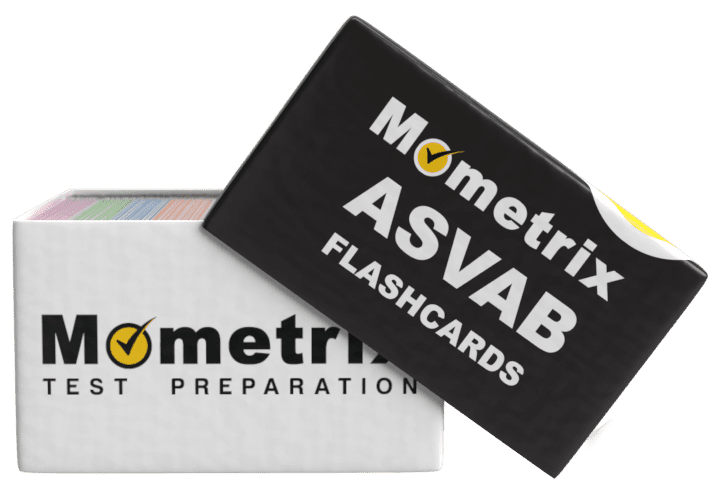 Upgrade your studying with our ASVAB study guide, flashcards, and online course: