The Certified Payroll Professional, or CPP, designation is an exam-based payroll certification attained by individuals who possess a high level of professional competency through both the acquisition of knowledge and direct payroll experience. The CPP designation indicates that an individual has the experience and skills necessary to provide strategic payroll management and support to facilitate a company's overall business goals.
The CPP exam consists of 7 topics. The total time to complete the CPP exam is 4 hours.
What's on the CPP Exam
1. Core Payroll Concepts – accounts for 27% of the exam
2. Compliance / Research and Resources –  counts for 21% of the exam
3. Calculation of the Paycheck- accounts for 20% of the exam
4. Payroll Process and Supporting Systems and Administration- accounts for 9% of the exam
5. Payroll Administration and Management- accounts for 10% of the exam
6. Audits- accounts for 7% of the exam
7. Accounting- accounts for 6% of the exam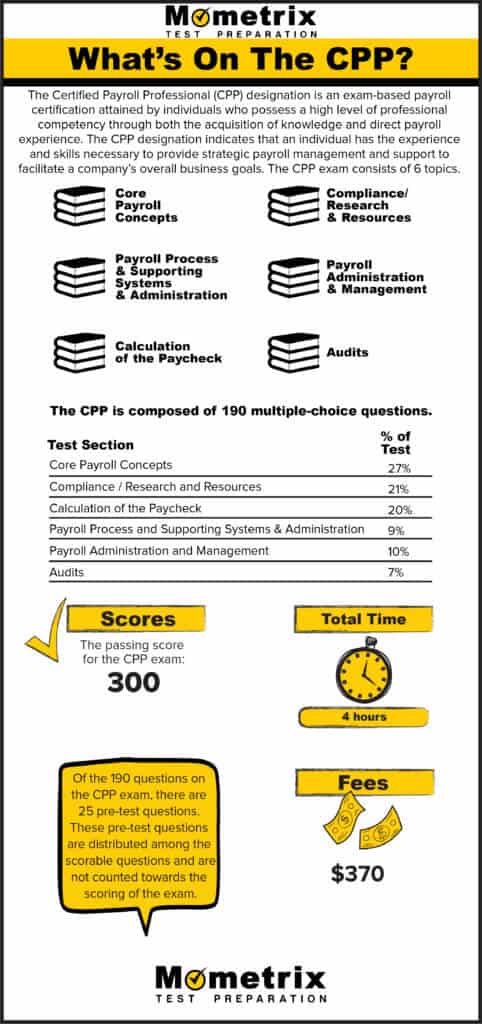 The CPP certification exam consists of 190 multiple-choice questions. Of the 190 questions, there are 25 pre-test questions. These pre-test questions are distributed among the scorable questions and are not counted towards the exam.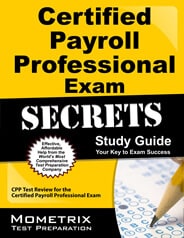 What is Considered as Passing the CPP exam?
To be considered as passing, the test-taker must achieve a score of 300 or higher.
How Much Does It Cost to Take the CPP exam?
Individuals who wish to take the CPP exam must submit $370 when registering for the exam.
CPP Certification Resources
1. Certified Payroll Professional Exam Secrets Study Guide: CPP Test Review for the Certified Payroll Professional Exam (link)
2. American Payroll Association (link)