– The estimate for employed CNAs is 1,450,960.
– More than 581,000 CNAs are employed within a Nursing Care Facility or Skilled Nursing Facilities.
– The state of California has the highest rate of employed CNAs at 99,440.
Starting your first career or even starting a new career path can be an exciting time. It can also be stressful. You'll be worried about how much you could be making, benefits, the hours you'll be working and more.
Maybe you're thinking about wanting a career where you can help people and make a difference in their life. That's when you decide to become a CNA.
A CNA is a Certified Nursing Assistant. CNAs usually work in hospitals as well as long-term care facilities such as nursing homes, assisted living facilities, and nursing homes. They work under the direct supervision of a Registered Nurse or a Licensed Practical Nurse. '
What Does A CNA Do?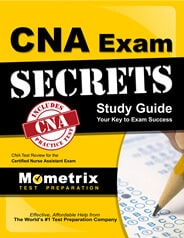 Working as a CNA means that you'll have constant access with patients and their families. You will be spending a lot of time with your patients as well as their family. You'll rarely have two days that are exactly alike as your patient's needs can quickly change.
You'll be assisting patients with their daily activities as well as working with billing software, health information software, and medical record charting software.
Some of the main responsibilities that you'll have as a CNA will include:
• Answering patient calls/bells
• Bathing patients
• Feeding patients, measuring and recording their food and liquid intake
• Take vital signs
• Lift patients into beds, wheelchairs, exam tables, etc
• Clean and sanitize patient areas
• Change bed sheets and restock rooms with necessary supplies
• Dress wounds
• Help with medical procedures
How to Become a CNA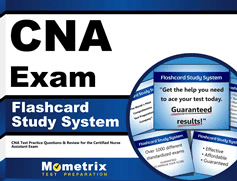 When it comes to getting your CNA certification, each state has different requirements. So it's best to check to see what your state requires as far as becoming certified. In many states, you are not required to have a college degree to become a CNA, but you are required to complete training. You are also required to have a high school diploma or GED before beginning CNA classes.
How to Pass the CNA Certification Test
Within your CNA training program, you'll learn how to care for patients in a variety of ways. You'll have the opportunity to learn about the different body systems as well as how to effectively communicate with your patients and the medical staff.
In your training program, you'll cover topics that include:
• Infection control
• CPR/First Aid/AED
• Range of motion exercises
• How to take vital signs
• Patient care
• Communication and teamwork
• Workplace safety
CNA training programs can last anywhere between four to 16 weeks. Once you have completed your training program, you will be required to take a state-specific exam in order to become completely certified as a CNA. Within the exam, questions will vary based on your state's requirements. Some states will also require passing a background check as well as taking a certain amount of continuing education credits each year as long as you are certified as a CNA.
CNA Salary – How Much Does a CNA Make?
If you've decided that becoming a CNA is right for you, you're probably wondering how much a CNA makes.
According to BLS.gov, as of May 2018, a Certified Nurses Assistant makes an average of $28,540 per year which comes out to be $13.72 per hour. The lowest 10% of CNAs make $21,290 per year or $10.24 per hour. The highest 90% of CNAs make $39,560 per year or $19.02 per hour. The top paying area for a CNA is in Scientific Research and Development Services. In this area, CNAs are paid an average of $41,990 per year.
What is the Demand and Job Growth for a CNA?
There is always a demand in the health care services field as there is currently a nursing shortage making nursing careers high in demand. According to BLS.gov, employment for CNAs will grow 11 percent through 2026.
CNA Employment and Wages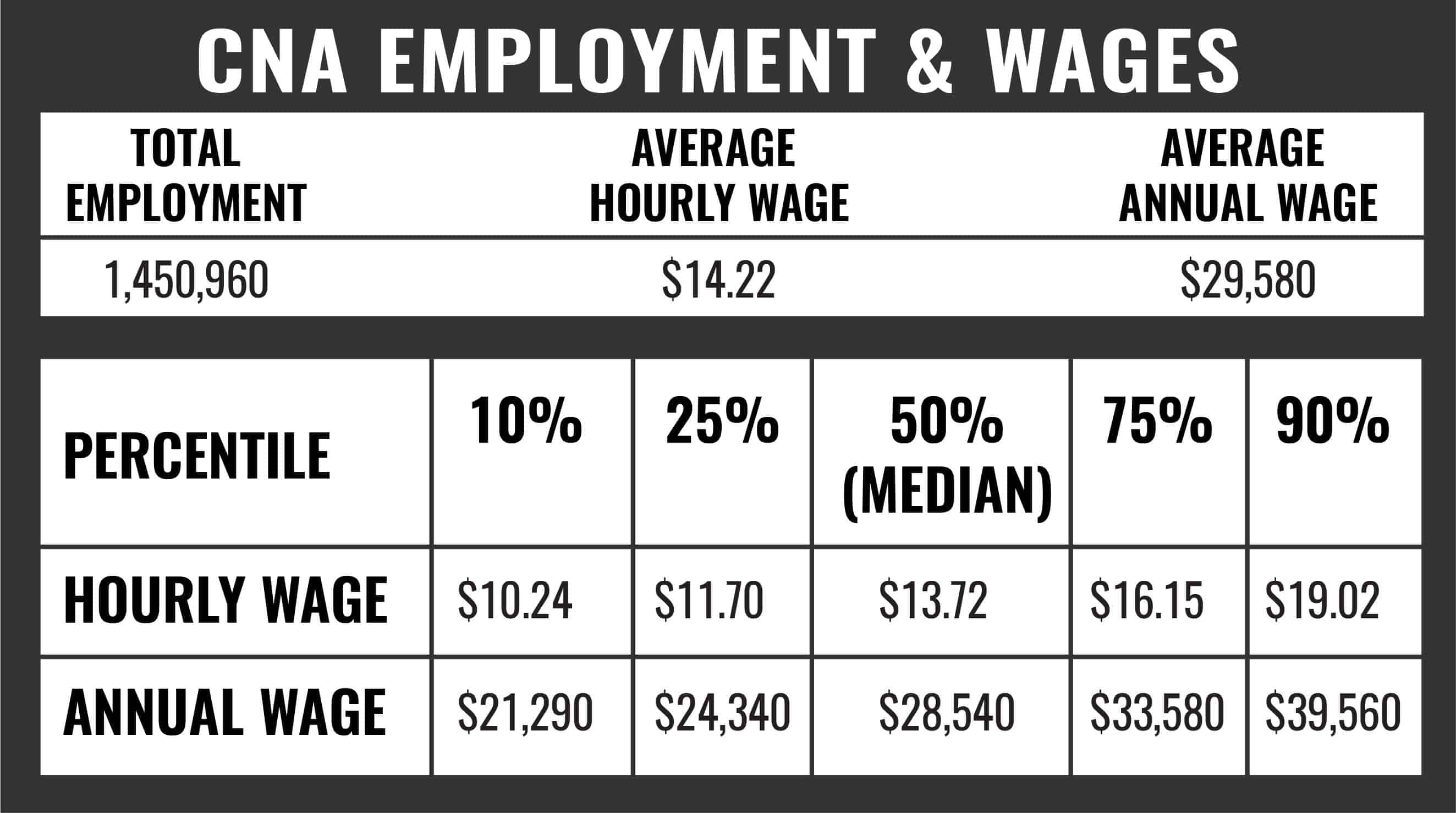 The total employment for CNAs across the United States is 1,450,960. The average hourly wage is $14.22 making the average annual wage $29,580.
Bottom 10%:
Average Hourly Wage: $10.24
Average Annual Wage: $21,290
25%:
Average Hourly Wage: $14.22
Average Annual Wage: $24,340
50%:
Average Hourly Wage: $13.72
Average Annual Wage: $28,540
75%:
Average Hourly Wage: $16.15
Average Annual Wage: $33,580
Top 90%:
Average Hourly Wage: $19.02
Average Annual Wage: $39,560
Areas With the Highest CNA Employment

Nursing Care Facilities (Skilled Nursing Facilities)
581,140 total CNAs employed with 36.08% of employment in the industry
Average annual wage of $28,560 with $13.73 hourly wage
General Medical and Surgical Hospitals
372,320 total CNAs employed with a 6.71% employment rate
Average annual wage of $31,540 with a $15.17 hourly wage
Continuing Care Retirement Communities and Assisted Living Facilities for the Elderly
163,950 total CNAs employed with a 17.63% employment rate
Average annual wage $27,780 with a $13.35 hourly wage
Home Health Care Services
80,150 total CNAs employed with 5.53% employment rate
Average annual wage $28,130 with a $13.52 hourly wage
Individual and Family Services
39,080 total CNAs employed with a 1.61% employment rate
Average annual wage of $26,660 with a $12.82 hourly wage
Areas With the Highest Concentration of CNA Employment

Nursing Care Facilities (Skilled Nursing Facilities)
581,140 total CNAs employed with 36.08% of employment in the industry
Average annual wage of $28,560 with $13.73 hourly wage
Continuing Care Retirement Communities and Assisted Living Facilities for the Elderly
163,950 total CNAs employed with a 17.63% employment rate
Average annual wage $27,780 with a $13.35 hourly wage
Specialty (except Psychiatric and Substance Abuse) Hospitals
25,990 total CNAs employed with a 9.93% employment rate
Average annual wage $32,020 with a $15.39 average hourly wage
General Medical and Surgical Hospitals
372,320 total CNAs employed with a 6.71% employment rate
Average annual wage of $31,540 with a $15.17 hourly wage
Home Health Care Services
80,150 total CNAs employed with 5.53% employment rate
Average annual wage $28,130 with a $13.52 hourly wage
Top Paying Areas for CNAs

Scientific Research and Development Services
430 / 0.06%  total employment
Average annual wage of $41,990 with $20.19 hourly wage
Federal Executive Branch (OES Designation)
14,830 / 0.74% total employment
Average annual wage of $39,110 with a $18.81 hourly wage
Junior Colleges
80 / 0.01% total employment
Average annual wage of $37,620 with a $18.09 hourly wage
Colleges, Universities, and Professional Schools
8 / 8% employment
Average annual wage of $35,650 with a $17.14 hourly wage
Outpatient Care Centers
13,940 / 1.51% total employment
Average annual wage of $34,280 with a $16.48 hourly wage
States with Highest CNA Employment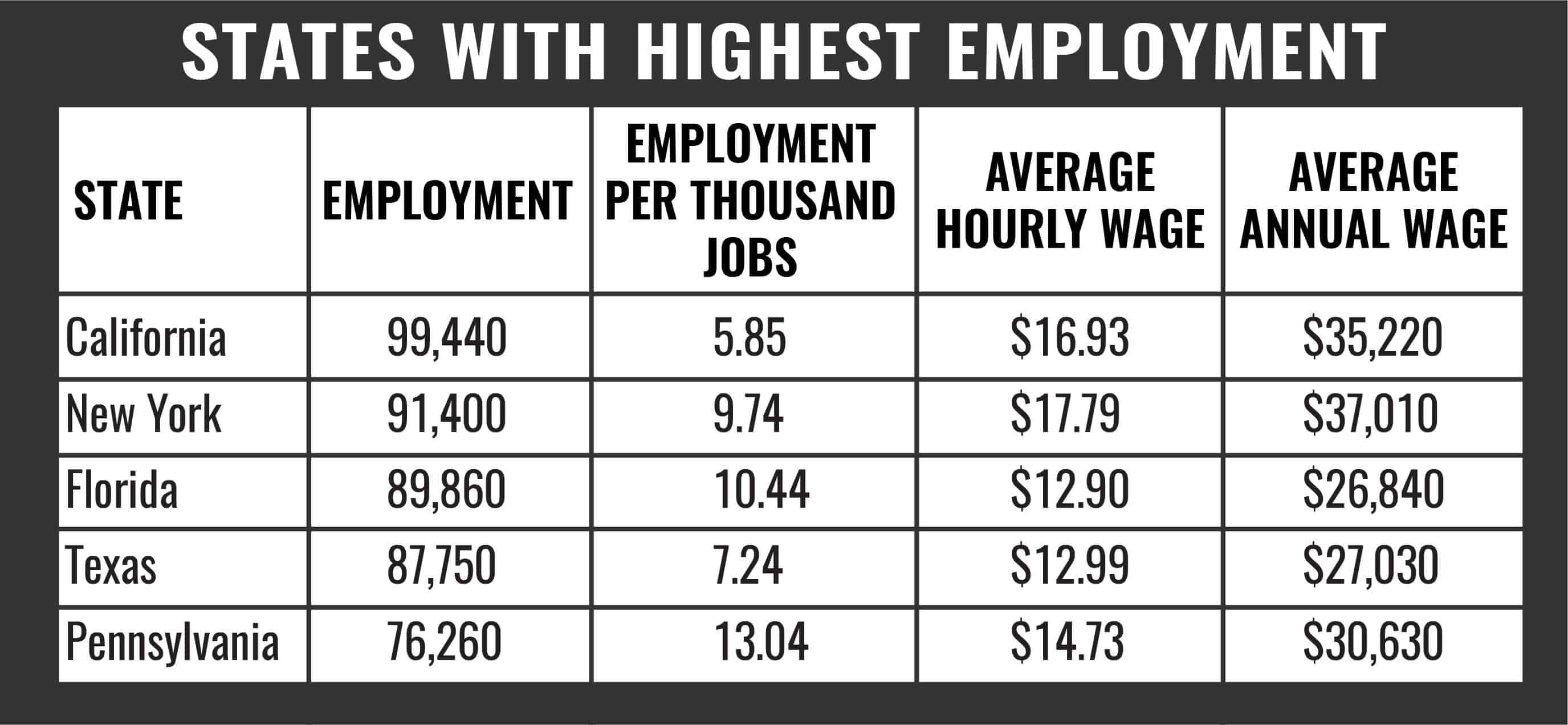 California
99,440 / 5.85% total employment
Average annual wage $35,220 / $16.93 hourly wage
New York
91,400 / 9.74% total employment
Average annual wage $37,010 / $17.79 hourly wage
Florida
89,860 / 10.44% total employment
Average annual wage $26,840 / $12.90 hourly wage
Texas
87,750 / 7.24% total employment
Average annual wage $27,030 / $12.99 hourly wage
Pennsylvania
76,260 / $13.04 total employment
Average annual wage $30,630 / $14.73 hourly wage
Top Paying States for CNAs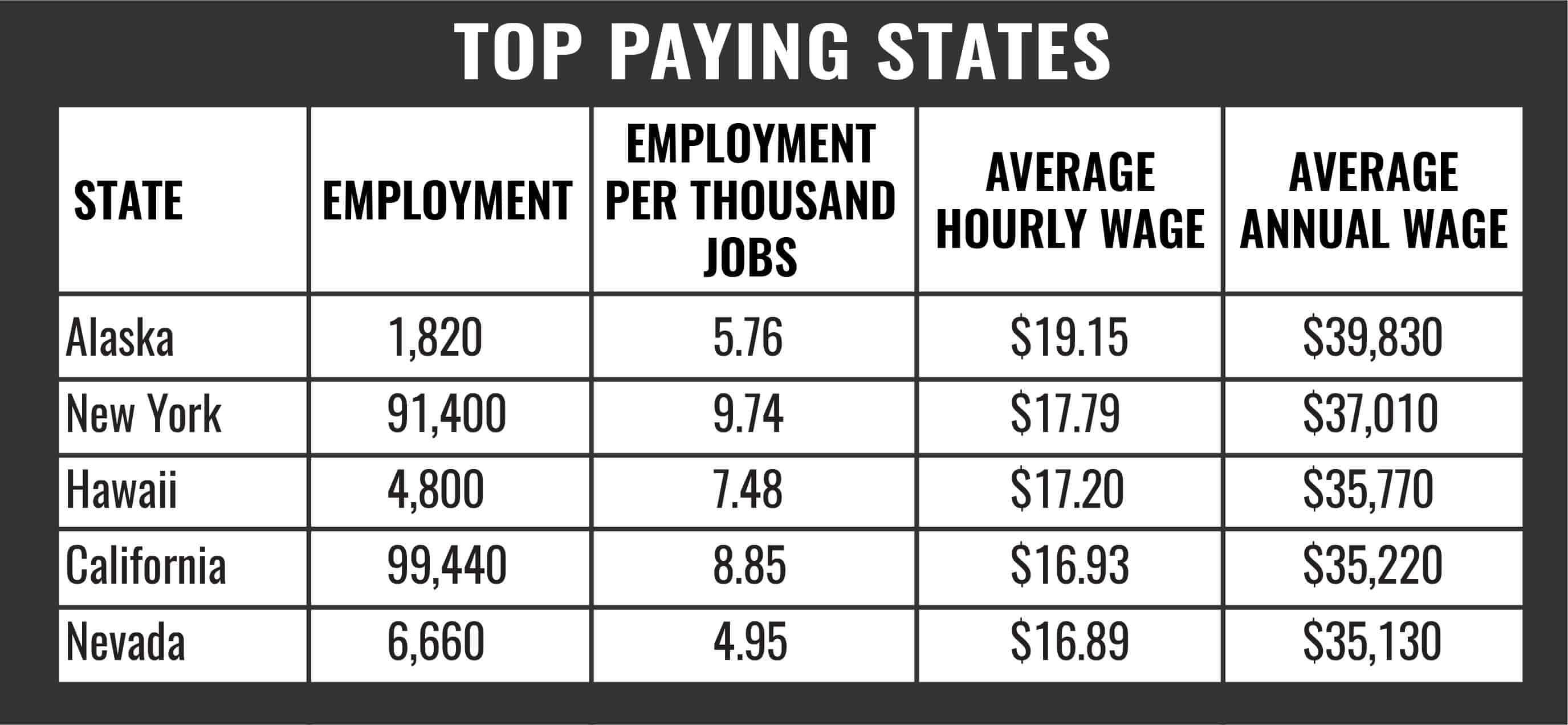 Alaska
1,820 / 5.76% total employed
Average annual wage $39,830 / $19.15 hourly wage
New York
91,400 / 9.74% total employment
Average annual wage $37,010 / $17.79 hourly wage
Hawaii
4,800 / 7.48% total employment
Average annual wage $35,770 / $17.20 hourly wage
California
99,440 / 5.85% total employment
Average annual wage $35,220 / $16.93 hourly wage
Nevada
6,660 / 4.95% total employed
Average annual wage $35,130 / $16.89 hourly wage