Title XI of the Financial Institutions Reform, Recovery, and Enforcement Act (FIRREA) of 1989 established the requirement that all licensed and certified appraisers pass a skills and knowledge examination issued or endorsed by the Appraiser Qualifications Board (AQB) of the Appraisal Foundation. The Uniform Standards of Professional Appraisal Practice (USPAP) is required for appraisal licensure.
This page covers the USPAP exam, what information the examination covers, the number and type of questions you can expect, the score you need to pass, and everything you need to register for the assessment.
The current version of the USPAP exam is called the 2020-2021 USPAP. However, as of August 11, 2022, the effective date of the current USPAP exam now extends through December 31, 2023.
USPAP Exam Eligibility
The USPAP exam is used to certify three real estate appraiser levels. The levels are Licensed Residential, Certified Residential, and Certified General (commercial appraiser). Each level has specific prerequisites that must be met before sitting for the exam.
Licensed Residential
The qualification criteria for this level include 150 qualifying education hours and 1,000 hours of experience in no fewer than six months. Six months is the minimum time the Appraisal Foundation has determined the required knowledge can be gained.
Certified Residential
The requirements for this level include 200 qualifying education hours and 1,500 hours of experience in no fewer than 12 months. Certified Residential Appraisers also have college requirements, including a bachelor's degree, an associate's degree in a focused field, 30 college credit hours in specific topics, or completion of College-Level Examination Program (CLEP) exams.
Certified General
The prerequisites for this level include 300 qualifying education hours, a bachelor's degree or higher in any field from an accredited college or university, and 3,000 hours of experience in no fewer than 18 months. Out of the 3,000 experience hours, 1,500 hours must be in non-residential appraisal work.
As stated earlier, your state may have stricter standards than those set by AQB, so check with your state's licensing board for specific details.
USPAP Exam Outline
The USPAP exam contains 110 multiple-choice questions, 15 of which are "pretest" questions that do not count toward your final score. These pretest questions are used to evaluate the quality of questions that may appear on future versions of the exam.
The examinations for the Licensed Residential and Certified Residential levels each have a time limit of four hours, while the exam for the Certified General level is six hours.
The USPAP exam is divided into ten content areas, with each content area focusing on required core curriculum modules (topics). The content areas are the same for Licensed Residential (LR), Certified Residential (CR), and Certified General (CG).
1. Real Estate Market
The topics in this area include the influences on real estate value, types of government power, the types of real estate value, date of value premise, market and investment analysis, and tests and analysis of highest and best use.
2. Property Description
The topics in this area include a description of land, site, improvements, and building components, legal interest, rights to use, and property taxation.
3. Land of Site Valuation
The questions in this content area focus on your knowledge of land or site valuation methods.
4. Sales Comparison Approach
The questions in this area focus on using the sales comparison approach to identify comparable sales, units and elements of comparison, quantitative adjustments, qualitative comparisons, and reconciliation to an indicated value.
5. Cost Approach
This content area assesses your knowledge of the sources of cost information, cost components, depreciation, estimating depreciation methods, and reconciliation to indicated value using the cost approach.
6. Income Approach
The questions in this section assess your knowledge of the sources of income generation, occupancy and vacancy analysis, expenses, capitalization, estimation of value using the income approach, and reconciliation to indicated value by the income approach.
7. Reconciliation of Value Indications
The questions in this area focus on your knowledge of the reconciliation of approaches to value.
8. Uniform Standards of Professional Appraisal Practice
Evaluated areas include definitions and preamble, ethics, record keeping, competency, scope of work, jurisdictional exception, standards 1-4, USPAP advisory opinions and FAQs, extraordinary assumption, and hypothetical condition.
9. Emerging Appraisal Methods
There are three focus areas in this domain. They include the application of an online property information database and technological tools, the appropriate use and limitations of the hybrid/bifurcated appraisal method, and the use and limitations of automated valuation models.
10. Appraisal Statistical Methods
The topics in this section include statistical measures of central tendency and variation and inferential statistical techniques used in appraising.
Check Out Mometrix's USPAP Study Guide
Get practice questions, video tutorials, and detailed study lessons
Get Your Study Guide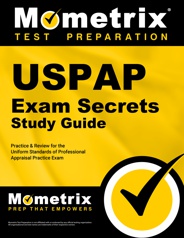 USPAP Exam Registration
Before registering for the national exam, you must apply for licensing through your state's licensing authority. Each state determines the initial, renewal, or reinstatement application fee. The licensing application fee varies by state, and the application fees are based on which license you are applying to (Licensed Residential Appraiser, Certified Residential Appraiser, or Certified General Appraiser). Application fees can range from $150 to over $500, and this fee does NOT include the testing fee.
After you submit the required fee, application, and documentation to your state, you are notified by email or mail if your application is approved or if there is more information you need to provide. Instructions on registering for the exam are provided if your application is approved, while a list of requirements is provided if your application is not approved.
Scheduling Your Exam
Have your approval letter available when you schedule the exam. Registration options can be by phone, online, or by paper application.
You will take your exam at a PSI or PearsonVUE testing center; both companies have nationwide centers, with appointments available six days a week.
You will need to pay the exam fee during this process. The exam fee differs by state and by exam, but it is usually under $100.
The testing center will send an appointment confirmation when your testing appointment is scheduled. Verify the information on the confirmation is correct, paying attention to your name, test date and location, and the procedure for exam day. If you notice discrepancies, notify the testing provider immediately.
Live Remote Proctoring (LRP)
Some states and testing centers offer live remote proctored examinations. If you have the option to select remote testing, verify the minimum technology requirements first. You will not have the opportunity to switch to in-person testing if your computer equipment does not meet the criteria on your scheduled test day.
Exact requirements, including a system check, are provided if LRP is an option for you. Generally, minimum requirements include the most recent web browser, a fast and stable internet connection, a current operating system (Windows 11, macOS 10+), a webcam, speakers, and a microphone. A private testing area is also required, free from distractions and interruptions.
Test Day
In-person Testing
On the day of the exam, it is best to arrive no more than 30 minutes before your testing appointment, and be sure to bring two forms of valid, government-issued identification (one ID must be a photo ID). Arriving early allows you time to store your gear, check in with the test center greeter, complete the paperwork, and gather your nerves so you can have a successful exam.
At your testing station, you cannot have anything with you except what is provided to you by the test administrator. Provided items may include scratch paper, a whiteboard, and a writing utensil. If a calculator is necessary for your exam, the testing center will let you know if you can bring one (and the type) from home or if there is an on-screen calculator you will use.
Live Remote Proctoring
Before you check in for your test, you must clear your table/desk of electronics, resource materials, books, and recording devices. If you have more than one monitor, unplug all but one. If you are allowed to provide your own scratch paper, ensure it meets the requirements in the instructions provided to you.
You must also be sure that people will not come and go during your exam. Your exam could be canceled if the proctor sees anyone else in the room but you.
Once your testing area is ready, sign on and follow the procedures provided.
How the USPAP Exam is Scored
Some testing centers will provide you with a preliminary score report as soon as your exam is over. If not, it will be available in your account (either your state account or the testing service account) within 24 hours to seven business days.
Your correct answers (raw score) are converted to a scaled score ranging from 0 to 110. The scaled passing score is 75. The retake policy varies from state to state. If you need to retest, check with your licensing provider to follow their retesting policy.
Check Out Mometrix's USPAP Flashcards
Get complex subjects broken down into easily understandable concepts
Get Your Flashcards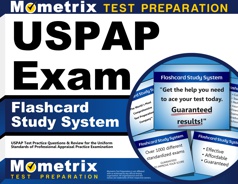 How to Study for the USPAP Exam
How to Study Effectively
Your success on USPAP test day depends not only on how many hours you put into preparing but also on whether you prepared the right way. It's good to check along the way to see whether your studying is paying off. One of the most effective ways to do this is by taking USPAP practice tests to evaluate your progress. Practice tests are useful because they show exactly where you need to improve. Every time you take a free USPAP exam practice test, pay special attention to these three groups of questions:
The questions you got wrong
The ones you had to guess on, even if you guessed right
The ones you found difficult or slow to work through
This will show you exactly what your weak areas are and where you need to devote more study time. Ask yourself why each of these questions gave you trouble. Was it because you didn't understand the material? Was it because you didn't remember the vocabulary? Do you need more repetitions on this type of question to build speed and confidence? Dig into those questions and figure out how you can strengthen your weak areas as you go back to review the material.
Answer Explanations
Additionally, many USPAP practice tests have a section explaining the answer choices. It can be tempting to read the explanation and think that you now have a good understanding of the concept. However, an explanation likely only covers part of the question's broader context. Even if the explanation makes sense, go back and investigate every concept related to the question until you're positive you have a thorough understanding.
Comprehend Each Topic
As you go along, keep in mind that the USPAP practice test is just that: practice. Memorizing these questions and answers will not be very helpful on the actual test because it is unlikely to have any of the same exact questions. If you only know the right answers to the sample questions, you won't be prepared for the real thing. Study the concepts until you understand them fully, and then you'll be able to answer any question that shows up on the test.
Strategy for USPAP Practice
When you're ready to start taking practice tests, follow this strategy:
Remove Limitations. Take the first test with no time constraints and with your notes and USPAP study guide handy. Take your time and focus on applying the strategies you've learned.
Time Yourself. Take the second practice test "open book" as well, but set a timer and practice pacing yourself to finish in time.
Simulate Test Day. Take any other practice tests as if it were test day. Set a timer and put away your study materials. Sit at a table or desk in a quiet room, imagine yourself at the testing center, and answer questions as quickly and accurately as possible.
Keep Practicing. Keep taking practice tests on a regular basis until you run out of practice tests or it's time for the actual test. Your mind will be ready for the schedule and stress of test day, and you'll be able to focus on recalling the material you've learned.
FAQs
Q
How many questions are on the USPAP exam?
A
There are 110 multiple-choice questions on the exam.
Q
How long is the USPAP exam?
A
The time limit for this exam depends on which level you take:
Licensed Residential (LR): 4 hours
Certified Residential (CR): 4 hours
Certified General (CG): 6 hours
Q
What is a passing score for the USPAP exam?
A
To pass this exam, you will need a scaled score of 75.
Q
How much does the USPAP exam cost?
A
The registration and exam fees will differ depending on where you take the exam. Registration fees are generally between $150 and $500, while exam fees are usually under $100.