TACHS Practice Test
The Test for Admission into Catholic High Schools (TACHS) is used by Catholic high schools in the Archdiocese of New York, the Diocese of Rockville Center, and the Diocese of Brooklyn/Queens. Any 8th-grader hoping to enroll in a Catholic high school in the New York City area will need to take the TACHS as part of the admissions process.
If you need some extra practice in a specific subject, click one of the subjects below to get started on a subject-specific TACHS practice test!
What is the TACHS Exam?
As mentioned previously, 8th-graders in the NYC area who want to enroll in a Catholic high school will need to take the TACHS exam as an admissions test. It is only for students who will be in 9th grade in the following school year. Students who are hoping to transfer to a New York City Catholic high school as a 10th, 11th, or 12th grader don't need to take the exam.
The test is given in November of each year, and scores can be forwarded to three different Catholic high schools of your choice. Your scores will also be sent to the Catholic elementary schools within the Diocese of Brooklyn/ Queens, the Archdiocese of New York, or the Diocese of Rockville Centre.
TACHS Exam Outline
The TACHS exam contains roughly 200 multiple-choice questions and has a time limit of about 2.5 hours. You will be tested on four academic skills:
1. Reading
The Reading questions are designed to test your basic reading comprehension skills and vocabulary knowledge. For each question, you will be given a short passage to read, and the question will be related to that passage, generally asking you to clarify the meaning of words, identify the author's intent, or identify the main idea of the passage.
2. Written Expression
The Written Expression questions assess your knowledge of the English language and your ability to use grammar and syntax correctly. You may be asked to identify written errors in a piece of text or evaluate the clarity and organization of a text.
3. Mathematics
The Mathematics questions test your knowledge of operations and general number sense, as well as more advanced topics such as algebraic patterns, probability, measurements, and geometry.
4. General Ability
The Ability questions measure your general reasoning skills by posing problems that you might not have been directly taught about. Often, these questions are grounded in biological processes and involve spatial reasoning and pattern recognition.
Check Out Mometrix's TACHS Printed Study Guide
Get practice questions, video tutorials, and detailed study lessons
Get Your Study Guide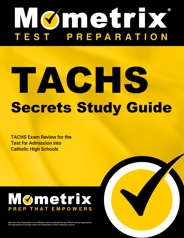 TACHS Exam Registration
There are two methods you can use to register for the TACHS exam: online or by telephone. It is highly preferred that you register online. To do so, visit the TACHS website and fill out the provided registration form. You will then need to enter your credit/debit card information to pay the $65 exam fee. Once you have submitted the registration form and the exam fee, you will receive a confirmation email.
Note that you will be randomly assigned a test time of either 8:30 am or 10:00 am, and time preferences are not accepted.
Currently, the only way to take the TACHS exam is remotely via the internet rather than in-person. To ensure you are able to take the test remotely, check to see if you meet the technical requirements:
You must have a computer (laptop or desktop) that runs Windows 8.1 or Windows 10 (Windows 11 is not currently supported) or runs MacOS 10.13 or higher.
You must download the current version of Google Chrome and install the Proctorio Chrome extension.
Your computer must have at least 250 MB of free disk space and at least 4 GB of RAM.
You must have a camera and microphone, whether internal or external.
You must have a stable internet connection (a bandwidth of 600 Kbps is recommended).
Test Day
On the day of the exam, you should launch Google Chrome and ensure that the Proctorio extension is running. Then, visit the Riverside Insights page and enter your TACHS ID and session code.
Before the exam begins, you will be asked to use your camera to scan your testing area. This helps the test administrators know that there are no prohibited items in your environment, including notes, books, food, and your cell phone.
The exam will begin as soon as you click the "Start my Test" button. Once the exam begins, it cannot be stopped or restarted. Once the exam is over, your exam will be submitted.
How the TACHS Exam is Scored
The TACHS exam is scored using a scaled scoring system from 200 to 800. A passing score for this exam depends on your school of choice; each school decides its own passing score requirements.
FAQs
Can you use a calculator on the TACHS test?
No, you are not permitted to use a calculator.
How long is the TACHS exam?
The time limit for the exam is about 2.5 hours.
How many questions are on the TACHS exam?
There are approximately 200 multiple-choice questions on the exam.
What is the passing score for the TACHS exam?
There is no set passing score for this exam. Each school chooses their own passing requirements.
How much does the TACHS exam cost?
The exam fee is $65.