TACHS Test
Welcome to the Mometrix Academy TACHS review page. Whether you arrived at this page because you've just recently learned about the TACHS and you're looking for more information about it, or you stopped by because you're already familiar with the exam and you're looking for TACHS test prep to help your child achieve the highest score they're capable of, you're in the right place. If you're in the first category, just keep reading. You'll find all the information you need about the TACHS exam right here. If you're already fully informed about this crucial exam, and want to cut right to the chase, just click on the links below for lots of free videos that can help your child excel on the TACHS.
TACHS stands for Test for Admissions into Catholic High Schools, and it's used by Catholic high schools in the Archdiocese of New York, the Diocese of Rockville Center, and the Diocese of Brooklyn/Queens. Any 8th grader hoping to enroll in a Catholic high school in the New York City area will need to take the TACHS as part of the admissions process. It is only for students who will be in 9th grade in the following school year. Students who are hoping to transfer to a New York City Catholic high school as a 10th, 11th, or 12th grader don't need to take the exam.
The test is given in November of each year, and scores can be forwarded to three different Catholic high schools. There are no official passing or failing scores on TACHS; each school sets its own standards when it comes to deciding what is or isn't a good enough score. It takes around two and a half hours to take the exam, and there are approximately 200 questions on it, all multiple-choice.
There are four sections – Reading, Language, Math, and Abilities. Reading covers vocabulary and reading comprehension. Language covers sentence structure, paragraph structure, punctuation, spelling, grammar, writing clearly, expressing ideas in an organized way, etc. Math covers estimating, solving problems, understanding graphs and tables, integers, analogies, fractions, sequences, decimals, word problems, percents, algebra, measurements, plane geometry, circles, polygons, etc. The Abilities section measures reasoning abilities, and it covers patterns and sequences, problem solving, and abstract reasoning.
Getting into a good Catholic high school in the New York City area isn't easy, and a good performance on the TACHS test can go a long way toward helping your son or daughter make the cut. Students should take advantage of the free TACHS test prep videos at the top of this page to help them do their very best on the exam.

Check Out Mometrix's TACHS Printed Study Guide
Get practice questions, video tutorials, and detailed study lessons
Get Your Study Guide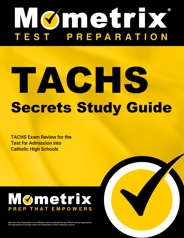 TACHS Test Prep Course
TACHS Practice Test
Use the free TACHS practice test questions below to get a better understanding of the TACHS exam. Take advantage of this valuable resource to pinpoint your strengths and weaknesses.
TACHS Study Guide
Mometrix Academy is a completely free resource provided by Mometrix Test Preparation. If you find benefit from our efforts here, check out our premium quality TACHS study guide to take your studying to the next level. Just click the TACHS study guide link below. Your purchase also helps us make even more great, free content for test-takers.