Series 66 Exam
Clients who need investment advice or who want to engage in a securities transaction will seek help from a securities agent and investment adviser representative. The most qualified professionals have taken the North American Securities Administrators Association's Uniform Combined State Law Examination. The test, commonly called the Series 66 exam, is administered by the Financial Industry Regulatory Authority. The exam grills applicants on a wide range of financial questions. Here's what you can expect on the test.
How many questions are on the Series 66 exam?
There are 110 multiple-choice questions on the test. Of those, 100 are scored, and 10 are not.
What is the test's passing score?
Candidates must correctly answer 73 out of 100 questions to receive a passing grade.
How much time do I have to complete the test?
Candidates have 150 minutes to complete the Series 66 exam.
How much is the exam fee?
The test fee is $165.
Check out Mometrix's Series 66 Study Guide
Get practice questions, video tutorials, and detailed study lessons
Get Your Study Guide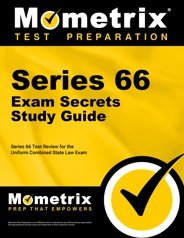 What's on the Series 66 exam test?
There are four categories of questions on the test.
Economic Factors and Business Information contains five questions that focus on methods of analytics, including money concepts like internal rate of return; statistics such as mean and median; and financial ratios such as current, quick and debt-to-equity.
Investment Vehicle Characteristics contains 20 questions that include:
Fixed income securities valuation factors with questions on yields (call, maturity)
Equity Securities valuation factors including questions on technical and fundamental analysis issues and more
Knowledge of pooled investment vehicles evaluation in the areas of liquidity, pricing, benefits, and risks
The costs, benefits, and risks of futures
Insurance products such as annuities and life insurance
Assets including real estate investment
Client/Customer Investment Recommendations and Strategies has 30 questions. Candidates will see questions about:
Client/customer types including entities such as a limited or general partnership
Profiles of clients/customers, such as financial objectives and tolerance for risk
Theories in capital markets, which examines theories of investment, models and more
Strategies, Styles, and Techniques for Portfolio Management, which examines strategic and tactical asset allocation, diversification and dollar-cost averaging
Tax Considerations, which tests a candidate's knowledge of individual and corporate income tax fundamentals
Planning for retirement, which looks at individual, qualified and nonqualified plans
The Employee Retirement Income Security Act (ERISA), which includes fiduciary issues
Special accounts, ownership, and estate planning, securities trading and performance measures for portfolios.
Laws, Regulations, and Guidelines Including Prohibition on Unethical Business Practices is the largest area of the test, with 45 questions:
Investor adviser regulations including requirements for filing notices, exemptions and more
Several regulatory issues are included in this section, including Investment Adviser Representatives regulations, Broker-Dealer regulations, and Securities and Issuer regulations
How to communicate with clients/customers and prospects when it comes to disclosures, contracts, agreements and the like
Ethics and fiduciary obligations cover compensation such as fees and conflicts of interest.
When will I receive my test score?
Candidates receive their score as soon as they finish the exam.
Where can I take the test?
The Financial Industry Regulatory Authority has hired an independent testing organization with testing centers across the country to administer the exam.
What are the policies at the test center?
Candidates should get to the test center early on test day. Any candidate who arrives at the center more than 15 minutes late won't be allowed to take the exam.
What identification do I need on test day?
You'll need a government-issued ID that has your photo and signature.
Check out Mometrix's Series 66 Flashcards
Get complex subjects broken down into easily understandable concepts
Get Your Flashcards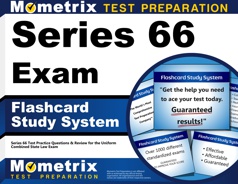 Can I bring personal items like a mobile phone into the test room?
No. No personal items of any kind, including electronic devices and certain items of clothing, are allowed in the testing room. All personal items must be placed in a test center locker.
What if I need writing materials and a calculator for the test?
Candidates will receive, at the testing center, a whiteboard/dry eraser and a basic calculator.
I've always dreamed of this career. What preparation materials should I buy?
Mometrix has test preparation materials that will help get ready for this important test. Our easy step-by-step study guide will show you how to solve exam problems, provide a study plan for the test and guidance on how to beat the number one enemy of some test takers — procrastination. Our flashcards are great to use at any time and any place because they're portable. Even if you have just a few minutes, you can pull out a flashcard and quickly study test areas that are proving difficult.
These are two excellent tools to help you prepare for the Series 66 exam.
Series 66 Study Guide
Mometrix Academy is a completely free Series 66 test resource provided by Mometrix Test Preparation. If you find benefit from our efforts here, check out our premium quality Series 66 Study Guide and Series 66 Flash Cards to take your studying to the next level. Your purchase also helps us make even more great, free test content for test-takers.
Series 66 Study Guide Customer Success Stories
Our customers love the tutorial videos from Mometrix Academy that we have incorporated into our Series 66 test study guide. The Series 66 study guide reviews below are examples of customer experiences.
Information is organized and easy to read and understand. Basic yet so much knowledge. I have taken the S66 four times with another study program and missed the passing score by 2-5 questions. Miserable! Stressful! Mometrix is helping me over that small hump to success. BUY IT NOW! I have also purchased the S66 Flash Cards.
Series 66 Study Guide – Wendi
Very thorough prep for the series 66 test, my wife needed this for her job and is very happy with the product.
Series 66 Study Guide – Craig
It's very succinct and easily understood. its a great product. I'm sure it'll be instrumental in me passing my test.
Series 66 Study Guide – Customer
Great material! Loved the portable cards! I am able to carry this study material around with me anywhere! Fits in my pockets. Fits in my purse. I love this study technique!
Series 66 Study Guide – Customer
After reading other series 66 books I found this book to breakdown the material much better than the others.
Series 66 Study Guide – Customer
Study material is clear and concise. A lot of great study tips.
Series 66 Study Guide – Angela