Series 63 Exam
The Uniform Securities State Law Examination Series 63 Exam (Series 63) is a North American Securities Administrators Association (NASAA) exam administered by Financial Industry Regulatory Authority (FINRA). Intended to determine an applicant's knowledge and understanding of state law and regulations, the test is designed to qualify a candidate as a securities agent.
Test design
Consisting of 65 (60 scored questions), candidates have 75 minutes to complete the exam. A minimum score of 43 must be achieved to pass the test. The examination is multiple-choice with some questions involving calculations and the use of exhibits. The questions come from the following eight topics:
Regulation of Investment Advisers including State-Registered and Federal Covered Advisers – 3 questions.

Definition of an Investment Adviser Representative
Regulation of Investment Adviser Representatives – 3 questions

Definition of an Investment Adviser Representative
Regulation of Broker-Dealers – 9 questions

Definition of a Broker-Dealer
Registration/post-registration
Broker-Dealer Agent supervision
Regulation of Agents of Broker-Dealers – 9 questions

Definition of an Agent of a Broker-Dealer
Registration/post-registration
Regulation of Securities and Issuers – 3 questions

Definition of securities and issuers
Registration/post-registration
Exemptions
State antifraud authority
Remedies and Administrative Provisions – 6 questions

Authority of state securities Administrator
Administrative Actions
Other penalties and liabilities
Communication with Customers and Prospects – 12 questions

Disclosures
Unlawful representations concerning registrations
Performance Guarantees
Customer agreements
Correspondence and advertising
Ethical Practices and Obligations – 15 questions

Compensation
Customer funds and securities
Conflicts of interest, criminal activities, and other ethical issues
Cybersecurity and data protection
Check out Mometrix's Series 63 Study Guide
Get practice questions, video tutorials, and detailed study lessons
Get Your Study Guide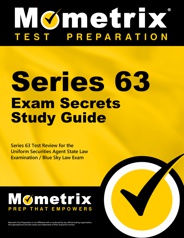 Registration, cost, dates and delivery methods
Registration for the exam is completed online. Once the $135.00 testing fee has been paid, you have 120 days to register for the test. You will register online with the testing provider, and you must have your FINRA ID number. It behooves you to register as far in advance as possible to ensure you have adequate preparation time.
Test Day
Arrive at the testing center at least 30 minutes prior to your scheduled exam time. You will need to bring a government-issued ID and provide a photograph. After you sign in and agree to the exam center testing rules of conduct, you'll be directed to your station.
You are not allowed to bring anything with you to the testing center so leave all belongings at home or in your car. Once you enter the testing center and take your seat, you are not allowed to talk to any other test taker. Everything you need for the exam will be provided to you by the testing administrator. Failure to follow the test center rules could result in severe penalties.
Exam results and scoring
Upon completion of your exam, your unofficial results will be displayed indicating your pass or fail status. Your score profile will also be displayed indicating your performance based on major job duties. When you sign out with the exam center administrator, you will be provided a printout of your results. FINRA will post your official results within three business days following your exam session. Your results are final, and no adjustments will be made to your score.
Should you need to retake it, you must wait 30 days before re-registering for the exam. After the third failure, you will be required to wait 180 days before registering for the Series 63 exam again. You must pay the test fee each time you register for the exam.
Preparing for the Series 63 exam
While you are allowed to retake the exam, why would you want to risk it? You've worked hard to get to this point, and this exam is an essential step in your career. Mometrix doesn't want you to worry about the exam and what it means to not pass on the first attempt. Their experts have done the research on the topics, concepts, and regulations that are covered in the test and have developed a stress-free approach to studying for the Series 63 exam. In fact, Mometrix is so confident on your return on investment that they offer a one-year, 100% money-back guarantee. With 20 years of research and experience, Mometrix is qualified to assist you with your study plan. Let Mometrix guide you to a successful first attempt.

Check out Mometrix's Series 63 Flashcards
Get complex subjects broken down into easily understandable concepts
Get Your Flashcards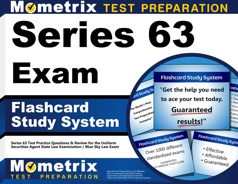 Series 63 Study Guide
Mometrix Academy is a completely free Series 63 test resource provided by Mometrix Test Preparation. If you find benefit from our efforts here, check out our premium quality Series 63 Study Guide and Series 63 Flash Cards to take your studying to the next level. Just click the Series 63 study guide link below. Your purchase also helps us make even more great, free test content for test-takers.
Upgrade your studying with our Series 63 study guide and flashcards:
Series 63 Study Guide
Series 63 Flashcards
Series 63 Study Guide Customer Success Stories
Our customers love the tutorial videos from Mometrix Academy that we have incorporated into our Series 63 study guide. The Series 63 study guide reviews below are examples of customer experiences.
I have found the information useful. The information is presented in an easy to read and understand format. It is to the point. Job well done....
Series 63 Study Guide – Customer
This book has good study material with explanation. Also the practice tests is very helpful for a glimpse of the actual exam.
Series 63 Study Guide – Tracy
This guide is a great supplement to any existing S63 exam preparation course. It does eliminate the fluff leaving you with the meat of each chapter that you will need to know for the exam. The size of the book may appear to be small, but the information is fairly concise and useful. In addition, the study tips are really helpful with giving you a sense of what to expect on the actual test.
Series 63 Study Guide – Customer
Very helpful in defining all terms and nuances of terms. Being someone who is trying to break into the Finance industry with a non-traditional Finance background, this study guide is very helpful in using layman's terms to describe financial jargon.
Series 63 Study Guide – Customer