Series 3 Practice Exam
The Financial Industry Regulatory Authority (FINRA) administers the Series 3 National Commodities Futures Examination, which was created by the National Futures Association (NFA). The Series 3 exam is designed to assess your knowledge and ability to perform adequately in a financial planning profession.
Click "Start Test" below to take a free Series 3 practice exam!
Series 3 Exam Outline
The Series 3 exam contains 125 true/false and multiple-choice questions and you will be given a time limit of 2.5 hours. Five of the questions are unscored experimental questions that are used to validate questions for future versions of the exam.
The exam is split into two main parts, and each part contains several question categories:
PART 1
Futures Trading Theory and Basic Functions Terminology
General theory
The futures contract
The structure of futures markets
Hedging theory
Speculative theory
General futures terminology
General options terminology
Futures Margins, Options Premiums, Price Limits, Futures Settlements, Delivery, Exercise, and Assignment
Margin requirements
Options premiums
Price limits
Offsetting contracts, settlements, delivery
options exercise, assignment, settlement
Types of Orders, Customer Accounts, and Price Analysis
Market orders
Stop orders
Orders on electronic markets
Stop-limit orders
Market-if-touched orders
Additional orders
Technical price analysis
Fundamental price analysis
Interest rate analysis
Basic Hedging, Basis Calculations, and Hedging Futures
Short hedging and long hedging
The basis
Hedging calculations
Spreading
Spread trading
Common spread types
Speculating in Futures
Trading applications
Profit/loss calculations for speculative trades
Option Hedging, Speculating, and Spreading
Option theory
Option hedge strategies/calculation
Option speculative strategies/calculations
Option spread strategies/calculations
PART 2
Regulations
General
FCM/IB regulations
CPO/CTA
Arbitration procedures
NFA disciplinary procedures
CFTC Commodity Exchange Act enforcement
Check Out Mometrix's Series 3 Study Guide
Get practice questions, video tutorials, and detailed study lessons
Get Your Study Guide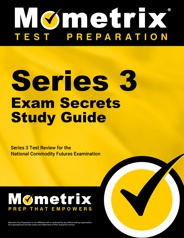 Series 3 Exam Registration
To register for the Series 3 exam, you must complete an NFA enrollment form. Once the form has been approved, you will gain access to NFA's Online Registration System (ORS), where you can complete the registration and scheduling process. During registration, you must pay the $130 examination fee.
Test Day
In-person Testing
The Series 3 exam is administered at Prometric testing centers across the country. You should arrive at the testing center 30 minutes before the scheduled exam time. If you arrive late, you will not be able to take the exam.
Once you arrive at the testing center, you will be asked to provide a valid, government-issued photo ID. If you forget to bring your ID or if your ID is invalid, you will not be allowed to take the exam.
Before you enter the testing room, you will be asked to leave all personal items (cell phone, wallet, keys, bags, etc.) in a secure locker.
Once you are in the testing room, you will be given a small whiteboard, dry-erase markers, and noise-canceling headphones. The proctor will then provide you with instructions and begin the exam.
Remote Testing
On the day of your exam, ensure that your testing area is clear of your cell phone, reference materials, scratch paper, and food or drink containers.
You should be logged in and ready to take the exam 30 minutes prior to the scheduled appointment. The remote proctor will ask you to show your photo ID and to use your webcam to scan your surroundings.
Once the exam begins, you cannot leave the webcam's view or talk to anyone. If the proctor observes questionable behavior, your exam will be canceled.
How the Series 3 Exam is Scored
The Series 3 exam is scored using the modified-Angoff method, which means that your final score is determined based only on your performance on the examination. Each version of the exam is different, so the number of correct responses needed to obtain a passing score will vary slightly.
To pass, you must answer at least 70% of the questions correctly on each part. If you pass one part of the exam but fail the other, you will not pass the exam as a whole.
Check Out Mometrix's Series 3 Flashcards
Get complex subjects broken down into easily understandable concepts
Get Your Flashcards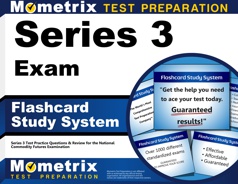 FAQs
How many questions are on the Series 3 exam?
There are 120 scored questions and five unscored questions on the exam.
How long is the Series 3 exam?
The time limit for the exam is 2.5 hours.
What is the passing score for the Series 3 exam?
To pass the exam, you must answer a minimum of 70% of the questions correctly in each part of the exam.
How much does the Series 3 exam cost?
The examination fee is $130.