Series 24 Exam
General Securities Principal Qualifications Exam (Series 24) is designed to evaluate the competency of entry-level General Securities Principals. This exam will test your knowledge, skills, and abilities that are needed to be proficient your job as a General Securities Principal. FINRA or the Financial Industry Regulatory Authority developed and maintains this exam to create a standard of professionals throughout the industry.
Who is Eligible?
All candidates wishing to take this exam must be:
Affiliated with and sponsored by a member of FINRA
Qualified as having passed the Securities Industry Essential (SIE) exam
Qualified as a General Securities Representative (series 7), United Kingdom Module of series 7 (series 17), Canada Module of series 7 (series 37 or 38), Corporate Securities Limited Representative (series 62), Limited Representative-Investment Banking (series 79), or Limited Representative – Private Securities Offerings (series 82)
To apply, a current member of FINRA that sponsors you must file a Uniform Application for Securities Industry Registration or Transfer (form U4) in the Central Registration Depository or CRD. They must also request the General Securities Principal position (GP) on the form U4.
There is a fee of $120 to take the Series 24 exam.
When and Where is it Taken?
After your application/enrollment for this exam has been submitted and approved, FINRA will hold a 120-day window for you to schedule your exam. You will be notified of this and given information to complete your scheduling. Exams are taken through Prometric at one of their locations throughout the nation as well as some international sites.
Make sure to register for your exam as soon as possible to make sure you get your desired exam date and location.
Check Out Mometrix's Series 24 Study Guide
Get practice questions, video tutorials, and detailed study lessons
Get Your Study Guide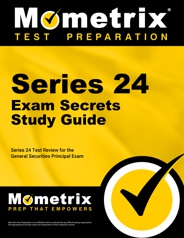 What Should I Bring?
Plan to arrive at the testing center on time. Those who arrive late may not be allowed to test and will have to reschedule.
Prometric will require that you bring at least one current and valid form of personal identification with you to the testing site. This will need to include your full name that matches your registration information, your signature, and a recognizable photo.
This test is taken via computer. This means that no personal items such as pencils, pens, scratch paper or calculators are needed. You will be given a scratch paper, pencils, and a basic electronic calculator if you should need them.
Any personal belongings such as the ones mentioned above or any others are strictly prohibited. These are not allowed in the testing area and will be kept in a designated locker during the exam.
What is Covered?
The Series 24 exam is made up of 160 multiple choice questions. This number includes 10 pretest questions that are distributed throughout the exam. These are not scored and do not affect your score. You will be given three hours and 45 minutes to complete the exam.
Below is a brief outline of the exam and its five major content areas:
Supervision of registration of the broker-dealer and personnel management activities 9 questions
Supervision of general broker-dealer activities 45 questions
Supervision of retail and institutional customer-related activities 32 questions
Supervision of trading and market making activities 32 questions
Supervision of investment banking and research 32 questions
How is it Scored?
At the completion of your exam, you will receive a score report both on screen and paper. This will include your pass/fail status and breakdown of your performance in each major content area of the exam. You will need to receive at least a 70% to be considered passing.
After passing the Series 24 exam, and depending upon whether other requirements have been met, you will receive your certification.
Check Out Mometrix's Series 24 Flashcards
Get complex subjects broken down into easily understandable concepts
Get Your Flashcards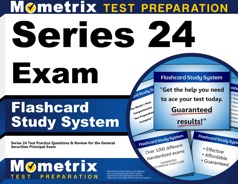 How to Prepare?
The best way to prepare for an exam like this is to get a hold of some great study materials. Here at Mometrix, we want to partner with you to make sure you are getting the best materials for your testing needs. We have a study guide, flashcards, and sample questions that are unique to the series 24 exam. These will include all the information needed to know the content well and give you an idea of how and what the structure of the exam will be. Let us make this a success for you.
Series 24 Study Guide
Mometrix Academy is a completely free Series 24 test resource provided by Mometrix Test Preparation. If you find benefit from our efforts here, check out our premium quality Series 24 Study Guide and Series 24 Flash Cards to take your studying to the next level. Your purchase also helps us make even more great, free test content for test-takers.