RRT Exam
To be a Registered Respiratory Therapist or RRT means that you have passed two examinations that measure your skills, abilities, and knowledge essential for advanced respiratory therapists. This credential, once earned, is recognized nationally as the stand of excellence for professionals in this field.
The first exam is the Therapist Multiple-Choice Exam or TMC. Before January 2015, it was known as the Therapist Written Registry Exam. This exam evaluates the entry level abilities required of respiratory therapists. If you pass this exam with a high cut score you can move on to the next one, which is the CSE or Clinical Simulation Exam.
Who is Eligible?
Those who wish to take the TMC must be one of the following:
At least 18 years old and have at least an associate's degree from an advanced level respiratory therapy education program supported or accredited by CoARC
A CRT for at least four years with at least 62 semester hours of college credit from a regionally accredited institution. These 62 hours must include a course in:

Anatomy and physiology
Chemistry
Microbiology
Mathematics

A CRT for at least two years and has at least an associate's degree from an accredited entry-level respiratory care education program
A CRT for at least two years and has a bachelor's degree in an area other than respiratory care with at least 62 semester hours of college credit from a regionally accredited institution. These hours must include a course in:

Anatomy and physiology
Chemistry
Mathematics
Microbiology

An RRT credential from the Canadian Society of Respiratory Therapists
The TMC exam costs $190 for new applicants. You will have three years after you pass the TMC to earn RRT credential. During that time, you must take the CSE. The CSE fee is $200.
When and Where is it Taken?
Once your application has been approved, you will receive an eligibility email. This will contain instructions to schedule your exam. All TMC exams are taken through PSI testing centers.
These can be scheduled Monday to Saturday year-round at one of nearly 300 testing sites country-wide.
Check out Mometrix's RRT Study Guide
Get practice questions, video tutorials, and detailed study lessons
Get Your Study Guide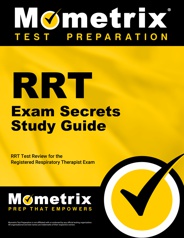 What Should I Bring?
You must bring two valid forms of identification with you to sign in. These should include your correct name, signature, and one with a photo.
The exams are delivered via computer. This means any personal items are not needed. This includes calculators, pencils, food and drink, and electronic devices. These will not be permitted in the testing area unless otherwise instructed in your certificate handbook.
What is Covered?
The TMC exam consists of 160 multiple choice questions, which includes 20 unscored pretest questions. You are given a total of three hours to complete it.
Patient Data (50 Questions)

Evaluate data in the patient record
Gather clinical information
Perform procedures to gather clinical information
Evaluate procedure results
Recommend diagnostic procedures
Troubleshooting and Quality Control of Devices and Infection Control (20 Questions)

Assemble and troubleshoot devices
Ensure infection prevention
Perform quality control procedures
Initiation and Modification of Interventions (70 Questions)

Maintain a patient airway including the care of artificial airways
Perform airway clearance and lung expansion techniques
Support oxygenation and ventilation
Administer medications and specialty gases
Ensure modifications are made to respiratory care plan
Utilize evidence-based practice
Provide respiratory care techniques in high risk situations
Assist a physician in performing procedures
Conduct patient and family education
How is it Scored?
Scores are given to you immediately after you complete the exam at the testing center. You can earn one of two cut scores. The low cut score earns the CRT credential. The high cut score earns the CRT credential and eligibility to take the CSE. If you do not make either cut you must reapply to take it again.
Your official credentials will be mailed to shortly after you have passed your exam, along with instructions as to your next step(s).
Check out Mometrix's RRT Flashcards
Get complex subjects broken down into easily understandable concepts
Get Your Flashcards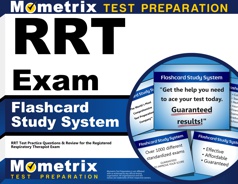 How to Prepare?
At Mometrix, we strive to give you the best text/exam preparation tools possible. That is why we have designed a study guide and set of flash cards to help you get your RRT credentials. Use these guides to understand the complete range of subject matter covered on the exam. This will also include sample questions that are formatted similarly to what you will see on your scheduled testing day, helping you to get a better idea of exactly what is expected. Let us help prepare you for a better future.
RRT Study Guide
Mometrix Academy is a completely free RRT test resource provided by Mometrix Test Preparation. If you find benefit from our efforts here, check out our premium quality RRT Study Guide and RRT Flash Cards to take your studying to the next level. Just click the RRT study guide link below. Your purchase also helps us make even more great, free test content for test-takers.
Upgrade your studying with our RRT study guide and flashcards:
RRT Study Guide
RRT Flashcards