RNAS-C Exam Review
The Registered Nurse Assistant at Surgery – Certified (RNAS-C) credential is used to validate your knowledge and skills, achieve your personal goals, and provide evidence to employers that you have met the academic and national standards for first assistants at surgery. The credential is offered through National Assistant at Surgery Certification (NASC) and is valid for three years.
Eligibility
The eligibility requirements for the RNAS-C exam vary depending on whether you are an RN or Advanced Practice Registered Nurse (APRN). Requirements that are the same for both the RN and APRN include:
A current, unrestricted RN license
Advanced Cardiovascular Life Support (ACLS), Basic Life Support, or Cardiopulmonary resuscitation (CPR) certification
Completion of a formal Registered Nurse First Assistant (RNFA) program
At least 120 documented hours of first assisting practice as an RNFA during the intraoperative phase. These hours can include practice in an RNFA internship or practicum (classes, programs, and seminars are excluded) and must be within the two years immediately preceding your application.
In addition, RNs must hold a current Certified Perioperative Nurse (CNOR) certificate, and APRNs must be certified as Advanced Practice Registered Nurse by an accredited certification program.
Registration and Cost
To apply for RNAS-C certification, download the application from the NASC website. Complete the application and submit the $425 payment to the NASC office via mail, email, or fax. Payment is accepted by Visa, Mastercard, Discover, American Express, check, or money order. If you register online, your application is taken 24 hours a day, seven days a week.
Once your application is accepted, you are provided with an account with Prolydian. Schedule your testing appointment through your Prolydian account. You must schedule your exam within four months of submitting your application, or your fees are forfeited.
Design
The RNAS-C exam is offered as a live remote proctored exam through Prolydian. You can take the exam wherever you have a secure and quiet location with a working web camera, speakers, and an internet speed of at least 5 Mbps.
Check out Mometrix's RNAS-C Printed Study Guide
Get practice questions, video tutorials, and detailed study lessons
Get Your Study Guide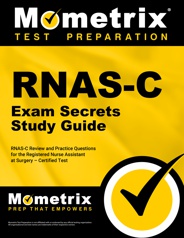 The exam can be taken on a tablet, but a laptop or desktop computer offers a better user experience. You are monitored via video and sound from the beginning of the exam to the end.
You have four hours to complete the 150 multiple-choice question exam with an optional 15-minute break. Each question has four possible answers, of which only one is correct. Test results are emailed within 72 hours of taking the exam.
If you did not pass the test, you could retake the exam up to 90 days after your original test date, but no earlier than 45 days. You can take the exam no more than three times in 12 months. The retake fee is $325.00.
Recertification
The RNAS-C certification is renewed every three years by accumulating 150 points through continued professional development or recertifying through exam. More details on recertification requirements are found on the NASC website.
RNAS-C Exam Details
The RNAS-C exam is divided into five subject areas:
Section I: Surgical Patient Care (33 questions – 22%)
Section II: Surgical Skill (33 questions – 22%)
Section III: Anatomy and Physiology (33 questions – 22%)
Section IV: Procedure Considerations (33 questions – 22%)
Section V: Preoperative and Postoperative Patient Care (18 questions – 12%)
Each subject area is designed to test your knowledge and skills in assessing, planning, implementing, and evaluating patient care.
Section I: Surgical Patient Care
This section involves using patient-centered, multidisciplinary, and integrated medical care before, during, and after surgery.
Infection prevention
Microbiology
Diagnostic testing
Pharmacology
Principles of perioperative practice
Legal aspects of perioperative practice
Workplace safety
Section II: Surgical Skills
This section involves using approved techniques in instrument handling, knot tying, suturing, hemostasis, and tissue dissection.
Surgical instrumentation
Tissue handling
Tissue retraction
Hemostasis
Suturing
Surgical drains
Surgical complications
Section III: Anatomy & Physiology
This section involves applying knowledge of anatomy and physiology knowledge in a perioperative setting.
Anatomy and physiology
Surgical pathology
Would closure
Section IV: Procedure Considerations
This section involves ensuring patient safety through proper attention to established procedures to avoid preventable medical errors.
Surgical procedures and nursing considerations
Wound closure
Section V: Preoperative and Postoperative Patient Care
This section involves applying knowledge of assessments, medications, and patient education.
Preparation
The RNAS-C certification recognizes your dedication to delivering exceptional healthcare in the first assistant role before, during, and after surgery. You have invested a lot in your career financially, and to ensure an equitable return on investment, you need to be prepared for the exam by studying thoroughly. Mometrix Test Preparation is in your corner! Our experts diligently study every aspect of the certification exam and develop a study plan that is time-efficient and results-oriented. Try out our RNAS-C study guide in order to use your time wisely and productively.