The Registered Medical Assistant (RMA) exam is administered by AMT to assess the knowledge and skills of those pursuing RMA certification.
Click "Start Test" above to take a free RMA practice test!
RMA Exam Eligibility
To be eligible to take this exam, you must meet all of the requirements of one of the four following routes:
Route 1: Graduate from an accredited medical assisting program OR a program within an accredited institution (with 720 hours of training, plus 160 hours of clinical externship).
Route 2: Graduate from a US Armed Forces medical services training program.
Route 3: Be employed as a medical assistant for at least 5 out of the last 7 years (clinical and administrative duties).
Route 4: Have at least 5 years of teaching experience (clinical and administrative duties)
RMA Exam Outline
The RMA exam contains 210 multiple-choice questions and has a time limit of 2 hours.
The exam is split into four work areas:
I. Anatomy and Physiology (44 questions)
The questions in this area assess your knowledge of medical terminology and what disorders and diseases affect the various systems of the body.
Body Systems

Structure and function of the systems of the human body
Disorders and diseases
Wellness and nutrition
Medical Terminology

Word parts
Definitions
Spelling
Abbreviations and symbols
Terminology
II. Administrative Medical Assisting (56 questions)
The questions in this area assess your knowledge of insurance, clerical duties, medical law and ethics, and human relations.
Insurance

Terminology associated with various insurance types in the medical office
Various health insurance plans
Explanation of benefits (EOB)
HIPAA-mandated coding systems
Application of diagnosis and procedure codes to insurance claims
Medical Receptionist/Secretarial/Clerical

Reception
Scheduling
Communication
Records management
Equipment and supplies management
Computer applications
Office safety
Medical Law and Ethics

Medical law
Licensure
Certification
Registration
Terminology
Medical ethics
Ethical conduct
Human Relations

Patient relations
Interpersonal relations
III. Clinical Procedural Tasks (39 questions)
The questions in this area assess your knowledge of laboratory procedures, instruments, and terminology.
Asepsis

Terminology
OSHA guidelines regarding bloodborne pathogens
Universal Precautions
Medical asepsis
Surgical asepsis
Sterilization

Terminology
Sanitization
Disinfection
Sterilization
Instruments

Identification
Instrument uses
Laboratory Procedures

Clinical Laboratory Improvement Amendments of 1988
Terminology
Minor Surgery
IV. Clinical Patient Interaction (71 questions)
The questions in this area assess your knowledge of various common aspects of patient interaction.
Patient Education
Vital Signs and Measurements

Terminology
Blood pressure
Pulse
Respiration
Temperature
Patient measurement
Physical Examinations

Medical history
Patient positions
Examination methods
Specialty examinations
Visual acuity
Clinical Pharmacology

Terminology
Parenteral medications
Prescriptions
Drugs
Therapeutic Modalities

Modalities
Alternative therapies
Patient instruction
Laboratory Procedures

Lab testing and specimen collection
ECG

Standard 12-lead ECG
Mounting techniques
Other ECG procedures
First Aid, CPR, and Emergency Response

First aid procedures
CPR procedures
Legal responsibilities
Check out Mometrix's RMA Study Guide
Get practice questions, video tutorials, and detailed study lessons
Get Your Study Guide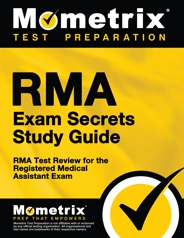 RMA Exam Registration
To register for the RMA exam, you must fill out an application on the AMT website and pay the non-refundable $135 application fee. Once your application is approved, you will receive confirmation of your approval and instructions regarding how to schedule your exam appointment.
If you are taking the exam at your school, all of the scheduling information will be given to you by your instructor. If you are taking the exam at a Pearson VUE testing center, you will need to schedule an appointment with Pearson online or over the phone.
Test Day
You should arrive 30 minutes earlier than the scheduled appointment time on the day of your exam. Once you arrive, you will be asked to provide your letter of authorization and two forms of valid identification. Once you are approved, you will be asked to sign a digital signature pad, and scan your palm veins for authentication purposes. You will then be asked to leave all personal items in a locker outside the testing room.
Before the exam begins, you will be asked to read and sign the ARRT Rules Agreement and sign a non-disclosure agreement (NDA). Once these are signed, your exam will begin.
How the RMA Exam is Scored
Your final RMA exam score is determined by taking your raw score (the number of questions you answered correctly) and converting it to a scaled score, ranging from 0 to 100. The passing score on this scaled is 70.
You will receive a preliminary score report as soon as you finish the exam, and your final score report will be available 1-2 weeks after testing.
Retaking the RMA Exam
If you do not pass the test or you are not satisfied with your score, you may schedule to retake the exam. Keep in mind, you cannot re-take the exam sooner than 45 days from your initial attempt at the exam.
If re-taking the exam, you must submit the examination retake form and re-testing fee of $90.
For this exam, you are allowed up to four attempts.'
Check out Mometrix's RMA Flashcards
Get complex subjects broken down into easily understandable concepts
Get Your Flashcards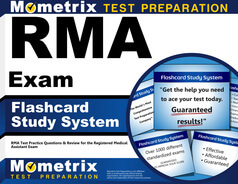 FAQs
Q
How many questions are on the RMA exam?
A
There are 210 multiple-choice questions on the exam.
Q
How long is the RMA exam?
A
The time limit for this exam is 2 hours.
Q
What is the passing score for the RMA exam?
A
To pass the exam, you must achieve a scaled score of at least 70.
Q
How much does the RMA exam cost?
A
The application fee is $135.