RMA Exam
Candidates who take the Registered Medical Assistant Exam are typically working as medical assistants and seek this certification to increase their knowledge, career prospects, and potential income.
This computer-based exam is 2 hours long and consists of 210 questions.
Special testing accommodations are available for approved individuals. This request must be made in writing. Some of the available special accommodations include extended testing time, additional rest breaks, audio test, and oral interpreter.
In order to be eligible to take this exam, candidates must meet all of the requirements of one of the four following routes:
Route 1:
Graduate or soon to graduate from accredited medical assisting program OR program within accredited institution (with 720 hours of training, plus 160 hours of clinical externship)
Route 2:
Graduate or soon to graduate from US Armed Forces medical services training program
Route 3:
Employed as medical assistant at least 5 out of the last 7 years (clinical and administrative duties)
Route 4:
At least 5 years of teaching or previously taught course related to medical assisting (clinical and administrative duties)
If have less than 5 years of teaching, must prove that have at least 3 years' experience that is equal to or exceeds medical assisting practice scope
Check out Mometrix's RMA Study Guide
Get practice questions, video tutorials, and detailed study lessons
Get Your Study Guide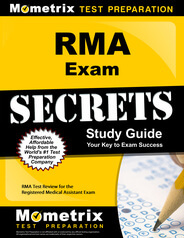 How many questions are there for each category?
General Medical Assisting Knowledge – 86
Administrative Medical Assisting – 51
Clinical Medical Assisting – 73
What categories and topics are covered on the exam?
The specific topics for each category are as follows:
General Medical Assisting Knowledge: Anatomy & physiology, medical terminology, medical law, medical ethics, human relations, and patient education.
Administrative Medical Assisting: Insurance, financial bookkeeping, and medical receptionist/secretarial/clerical.
Clinical Medical Assisting: Asepsis, sterilization, instruments, vital signs & mensuration, physical examinations, clinical pharmacology, minor surgery, therapeutic modalities, laboratory procedures, electrocardiography, and first aid & emergency response.
What is the most convenient way to register for the exam?
Use a credit card or debit card to register online. The application fee is non-refundable.
What is the cost of the exam?
The cost of the Registered Medical Assistant Exam is $120.
What are the testing dates and locations?
You have the options of taking the exam at your school or one of the approved testing centers. If you take the exam at your school, your instructor will give you the possible dates and times to take it.
If taking the exam at a testing center, you can schedule to take it any day of the year, excluding Sundays and national holidays.
What should I do the day of the exam?
Arrive 30 minutes before your exam is scheduled to take place.
Bring two valid photo IDs. The primary form of identification must include your name, signature, and a photo. Forms of acceptable primary ID include passport, passport card, driver's license, national identification, and military identification.
The other form of ID must have your name and signature. Also bring your exam authorization letter.
Personal items such as a cell phone, calculator, wallet, and food/drink are prohibited from the testing area.
What happens after I take the exam?
You will find out your score immediately after taking the exam. Additionally, if you received a passing score, in approximately 1-2 weeks after taking the exam, you will receive your official score report and certificate in the mail.
What is the passing score?
The score scale is 0-100. A passing score is 70.
What happens if I don't pass the exam?
If you do not pass the test or you are not satisfied with your score, you may schedule to retake the exam. Keep in mind, you cannot re-take the exam sooner than 45 days from your initial attempt at the exam.
If re-taking the exam, you must submit the examination retake form and re-testing fee of $90.
For this exam, you are allowed up to 4 attempts.
Let Mometrix provide you with everything you need to be successful when taking this exam. You may ask, "How can you do this?" The answer is simple. Our test experts have developed a study guide that includes everything you'll see on the actual exam. Purchase your copy here. You can also get our flash cards for extra study help.
Check out Mometrix's RMA Flashcards
Get complex subjects broken down into easily understandable concepts
Get Your Flashcards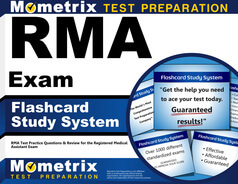 RMA Study Guide
Mometrix Academy is a completely free RMA test resource provided by Mometrix Test Preparation. If you find benefit from our efforts here, check out our premium quality RMA Study Guide and RMA Flash Cards to take your studying to the next level. Just click the RMA study guide link below. Your purchase also helps us make even more great, free test content for test-takers.
Upgrade your studying with our RMA study guide and flashcards:
RMA Study Guide
RMA Flashcards
RMA Study Guide Customer Success Stories
Our customers love the tutorial videos from Mometrix Academy that we have incorporated into our RMA test study guide. The RMA study guide reviews below are examples of customer experiences.
I got my medical assistant diploma 15 years ago and never got certified... so my RMA is the only way I can go now... thanks to you I feel I'm going to ace this test and land my dream job... thanks!!!

RMA Study Guide – Deb
The reason I rated this book a 5 out of 5 is because it is very easy to understand the procedures and it gets straight to the point which I like. The practice exam of 200 questions helped me tremendously in knowing where my weaknesses are, overall I feel confident and prepared to take my exam.
RMA Study Guide – Customer
This has been a great and very helpful book. I recommend it to all MA students and anybody getting ready to take the RMA. It was very easy to follow and understand! Thank you for offering such a great study guide at an amazing price.
RMA Study Guide – Tiffany
I enjoy that it is easy to read, and that the pages aren't overloaded with reading material. I also love that the book provides sample test questions as well. I have already scheduled to take my exam next month and I am confident that this book will certainly give me the advantage I need.
RMA Study Guide – Customer
I rate this book as a 5, because it tell you everything you need to know, you don't have to look or guess what it is saying, it has every term and it's meaning in the right place. This book really helped me a lot in to understanding the medical terms better. I still have a while before I go and take test, but by studying this book I will be well prepared.
RMA Study Guide – Jackie
I purchased the RMA exams secrets study guide book & so far I love it! It is very in depth & makes it easy to follow along & take notes as well. I love that it has the format like the actual exam will have so I can "take the test" & then go check my answers & highlight the correct ones & look into them further
RMA Study Guide – Andrea
As soon as I opened the book I was amazed! I could not believe i finally found the right book that not only gives me the topic in what to study but also talks about it and explains with so much detail.
RMA Study Guide – Ellie