A career as a radiographer can be both challenging and rewarding, as radiographers have some of the most critical roles in the medical field. They help diagnose and treat patients with a wide range of diseases and injuries by detecting them through means invisible to the naked eye.
To become a certified radiographer, you may earn your credentials through the American Registry of Radiologic Technologists (ARRT®). Click "Start Test" above to take a free Radiography practice test, and check out our premium-quality Radiography test prep resources by clicking the links below!
Radiography Exam Eligibility
There are two pathways to determine your eligibility to take the Radiography exam. These are the primary and postprimary eligibility pathways.
The primary pathway is the usual route most applicants begin with. Its main requirement includes completing an educational program relevant to the ARRT credential you will pursue.
If you already have an existing ARRT credential, you may continue with the postprimary pathway. To pursue this you must have:
Earned an ARRT credential using the primary eligibility pathway
Earned a credential from another ARRT-recognized organization
Received your Program Director's permission to begin logging clinical experience and structured education requirements while you're completing your educational program
Both pathways require you to have finished their respective educational requirements, with the postprimary pathway also requiring additional clinical experience before you apply for certification and registration.
Radiography Exam Outline
The ARRT Radiography Exam is composed of 200 questions divided into four main categories, which in turn are divided into subcategories. In addition, there will be 30 random pilot questions that will not be counted toward your score. The time limit for the exam is 3 hours and 50 minutes.
All ARRT exams, including the Radiography exam, are computer-based. While most of the questions are presented in multiple-choice format, some may be presented differently.
Overall, the exam will assess the knowledge and cognitive skills required for the intelligent and appropriate performance required from a radiological technologist upon entry into the profession.
1. Patient Care (33 scored questions)
There is only one subarea under this category:
Patient Interactions and Management (33 questions)
This subarea covers ethical and legal aspects of the profession, interpersonal communication, ergonomics and monitoring, medical emergencies, infection control, handling and disposal of toxic or hazardous material, and pharmacology.
2. Safety (50 scored questions)
There are two subareas under this category:
Radiation Physics and Radiobiology (21 questions)
This subarea covers the principles of radiation physics and the biological effects of radiation.
Equipment Operation and Quality Assurance (25 questions)
This subarea covers minimizing patient exposure and ensuring personnel protection.
3. Image Production (51 scored questions)
This category is split into two subareas:
Image Acquisition and Evaluation (26 questions)
This subarea covers factors affecting radiographic quality, technique charts, automatic exposure control (AEC), digital imaging characteristics, image identification, and criteria for image evaluation.
Equipment Operation and Quality Assurance (25 questions)
This subarea covers imaging equipment, image processing and display, and quality control of imaging equipment.
4. Procedures (66 questions)
This category addresses the imaging procedures for specific anatomic regions. The questions will cover positioning, anatomy, procedure adaptation, and evaluation of displayed anatomical structures.
This category is split into three subareas:
Head, Spine, and Pelvis Procedures (18 questions)
Thorax and Abdomen Procedures (20 questions)
Extremity Procedures (28 questions)
Check Out Mometrix's Radiography Study Guide
Get practice questions, video tutorials, and detailed study lessons
Get Your Study Guide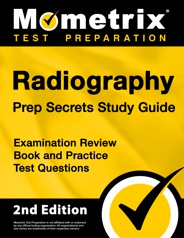 Radiography Exam Registration
To register for the exam, you must apply directly with your state licensing entity. If approved, the state will send you an instruction letter on how to pay exam fees to ARRT.
Once the fee is processed at ARRT, an online Candidate Status Report will be provided. For applications made online, this will be posted to your account within two business days. For paper applications, ARRT will mail the report to you after they process your application.
Once you receive your Candidate Status Report, you may schedule an appointment online through the affiliated Pearson VUE website and search for testing centers near your location with their available examination schedules.
Test Day
On the day, you must arrive at the test venue 30 minutes before your scheduled exam time. During check-in, Pearson VUE will collect your digital signature, photo, and palm vein image. Biometric technology ensures that each examinee only has a single record in the system to safeguard the integrity of the exam.
Do not forget to bring your valid government-issued identification card with your photo, signature, and a name that matches the name you used when applying for the exam. You will be asked to leave your personal belongings in a small locker outside the testing room. During the exam, you are not allowed to use your smartphone, smartwatch, and other prohibited items.
How the Radiography Exam is Scored
All ARRT exam scores land within a scoring scale ranging from 1 to 99. You pass the exam if you obtain a scaled score of 75 and above.
At the end of your exam, you'll receive a preliminary score that only you can access online. Within 30 calendar days, ARRT will mail an official score report to the address you submitted for their records. If four weeks go by and you haven't received your scores, make sure to contact ARRT to notify them.
Check Out Mometrix's Radiography Flashcards
Get complex subjects broken down into easily understandable concepts
Get Your Flashcards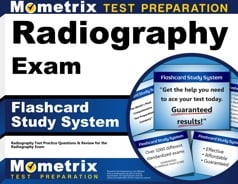 How to Study for the Radiography Exam
How to Study Effectively
Your success on Radiography test day depends not only on how many hours you put into preparing but also on whether you prepared the right way. It's good to check along the way to see whether your studying is paying off. One of the most effective ways to do this is by taking Radiography practice tests to evaluate your progress. Practice tests are useful because they show exactly where you need to improve. Every time you take a free Radiography exam practice test, pay special attention to these three groups of questions:
The questions you got wrong
The ones you had to guess on, even if you guessed right
The ones you found difficult or slow to work through
This will show you exactly what your weak areas are and where you need to devote more study time. Ask yourself why each of these questions gave you trouble. Was it because you didn't understand the material? Was it because you didn't remember the vocabulary? Do you need more repetitions on this type of question to build speed and confidence? Dig into those questions and figure out how you can strengthen your weak areas as you go back to review the material.
Answer Explanations
Additionally, many Radiography practice tests have a section explaining the answer choices. It can be tempting to read the explanation and think that you now have a good understanding of the concept. However, an explanation likely only covers part of the question's broader context. Even if the explanation makes sense, go back and investigate every concept related to the question until you're positive you have a thorough understanding.
Comprehend Each Topic
As you go along, keep in mind that the Radiography practice test is just that: practice. Memorizing these questions and answers will not be very helpful on the actual test because it is unlikely to have any of the same exact questions. If you only know the right answers to the sample questions, you won't be prepared for the real thing. Study the concepts until you understand them fully, and then you'll be able to answer any question that shows up on the test.
Strategy for Radiography Practice
When you're ready to start taking practice tests, follow this strategy:
Remove Limitations. Take the first test with no time constraints and with your notes and Radiography study guide handy. Take your time and focus on applying the strategies you've learned.
Time Yourself. Take the second practice test "open book" as well, but set a timer and practice pacing yourself to finish in time.
Simulate Test Day. Take any other practice tests as if it were test day. Set a timer and put away your study materials. Sit at a table or desk in a quiet room, imagine yourself at the testing center, and answer questions as quickly and accurately as possible.
Keep Practicing. Keep taking practice tests on a regular basis until you run out of practice tests or it's time for the actual test. Your mind will be ready for the schedule and stress of test day, and you'll be able to focus on recalling the material you've learned.
FAQs
Q
How many questions are on the exam?
A
There are 200 questions on the Radiography exam.
Q
How long is the exam?
A
The Radiography exam is timed at 3 hours and 50 minutes.
Q
What is a passing score?
A
A passing score for the Radiography exam is a scaled score of 75.
Q
When will I receive my test scores?
A
ARRT will mail an official score report to you within 30 days.
Q
How much does the exam cost?
A
The Radiography exam costs $225.
Q
What do radiographers do?
A
As a radiographer, you are expected to capture images of the internal organs, soft tissues, and bones of patients using X-ray equipment. You might also assist radiologists with a range of procedures, such as fluoroscopic imaging or gastrointestinal exams that require the use of contrast media. You will be tested on the basic skills and knowledge needed for this profession through the Radiography exam.
Once you pass the exam, the ARRT will register you as a certified radiographer who is competent to perform the role and fulfill the duties assigned to it. Being ARRT-certified will allow recognition of your qualifications and a way to show your professional standards.
An important thing to note is that an ARRT license will not guarantee you a state license. If you want to obtain a state license, you must meet your preferred state's requirements and apply there directly. If you are unsure, your state is your best source for state licensing information.
ARRT® and R.T.® are registered trademarks owned by The American Registry of Radiologic Technologists. Mometrix.com is not licensed by, endorsed by, or affiliated with The American Registry of Radiologic Technologists.