Although not required in every state, the Private Investigator test is used in many states to qualify individuals for the role of private investigator.
Click "Start Test" above to take a free Private Investigator practice test, and check out our premium-quality Private Investigator test prep resources by clicking the links below!
Test Outline Review
The contents of the test will be different depending on which state you take the Private Investigator test in. In Alabama, for example, the exam contains 50 questions and has a time limit of one hour, while the New York exam contains 100 questions and has a time limit of 2.5 hours.
Each state includes slightly different topics on the exam, but most exams will cover the following:
Private investigator licensing and procedures
Information gathering
Planning
Reporting
Analysis
Ethics
Trial preparation
Surveillance
State laws and regulations
Check Out Mometrix's Private Investigator Study Guide
Get practice questions, video tutorials, and detailed study lessons
Get Your Study Guide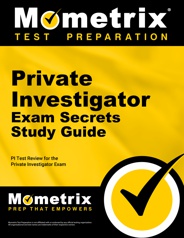 Registration
To register for this exam, you will need to contact your state licensing board, who will ensure you are eligible to take the exam. Most boards will require you to submit an application for testing.
The examination fee for each state is different, ranging anywhere from $15 to $500+.
Check Out Mometrix's Private Investigator Flashcards
Get complex subjects broken down into easily understandable concepts
Get Your Flashcards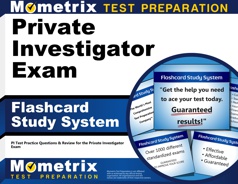 Exam Scores
The passing score requirements also differ from state to state, but you will almost always need to answer at least 70% of the questions correctly to pass the exam.