Private Investigator Exam
Although not required in every state, the Private Investigator Exam is used in many states to qualify individuals for the role of private investigator.
The specifications of this exam vary from state to state. For the purpose of this article, we will focus on the states of Alabama, California, New Mexico, and Washington. To find the details of your state, visit https://privateinvestigatoredu.org/state-licensing-exams/
When you are required to take the exam at a testing site, accommodations are available for examinees with conditions recognized by the Americans with Disabilities Act of 1990 and ADA Amendments Act of 2008. Testing accommodations must be approved prior to registration.
Some testing accommodations include small group setting, Braille test materials, large print test materials, ability to take prescription medications with water, hand-held magnifier, and seat cushion.
How do I register for this exam?
In Alabama and California, the most convenient way to register is online. However, you do have the option of registering over the phone. Specifically registering to take the exam in New Mexico and Washington, is not required.
How much does it cost to take the exam?
A fee of $100 is required to take the exam in Alabama. In California, the fee is $175.
In New Mexico, you must send the Jurisprudence exam with notarized PI licensure application. Your application must include 2 recent passport-type photographs. The fee to send along is $400, and can be made via personal check, cashier's check, or money order.
The fee for the training/exam combination in Washington, is set by the training agency.
Check Out Mometrix's Private Investigator Study Guide
Get practice questions, video tutorials, and detailed study lessons
Get Your Study Guide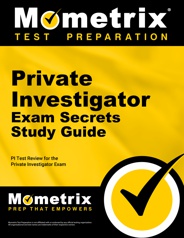 Where do I go to complete the exam?
There are many test sites at which you can take the exam for Alabama and California. For New Mexico, you will complete the exam at home, on your own time. If taking the exam in Washington, that will be done at the same place where you take the PI training.
What do I need to bring the day of the exam?
Since the exam is completed at home in New Mexico, there is nothing in particular that you need to have when completing it.
The state of Alabama requires that you bring two forms of identification. The primary form of identification must include your name, signature, and photo, while the other only needs your name and signature. California only requires you to submit the primary form of identification.
You will be given access to an online calculator, scratch paper, and a pencil, to use on the exam. Personal items such as cell phone, watch, and food/drink are not allowed into the testing area.
In Washington, your trainer will advise you of what, if any items, you need the day of the exam.
How long will I have to complete this exam?
In Alabama, you are given one hour to complete this computer-based exam at the testing center, while the state of California affords you two hours. New Mexico requires you to complete a Jurisprudence exam, which does not set a specific time limit. You will print and complete this exam at home.
The exam you take in Washington is in conjunction with the training you must take before applying for your PI license. The amount of time allowed for the exam depends on the site at which you complete the training.
How many questions are on the exam?
You will answer 50 multiple-choice questions when completing this exam in Alabama. The extended amount of time given to take the exam in California, comes with the requirement of completing more questions. You will answer 150 questions. There is no maximum number of questions on the Jurisprudence exam of New Mexico, but there must be at least 23 questions, while there is a minimum of 30 questions on the Washington exam.
Check Out Mometrix's Private Investigator Flashcards
Get complex subjects broken down into easily understandable concepts
Get Your Flashcards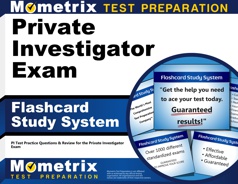 What topics are covered on the exam?
There are different requirements of topics that should be covered, according to each state's standard, but common ones include:
Private investigator licensing and procedures
Information gathering
Planning
Reporting
Analysis
Ethics
Trial preparation
Surveillance
State laws and regulations
How will I know if I passed the exam?
You will receive immediate feedback of whether you passed or failed the exam, when taking it in Alabama or California. In Washington, your trainer will let you know if you passed or failed. Once all of your documentation is submitted and reviewed in New Mexico, you will receive notification of your approval or denial.
Preparation is key when it comes to passing the Private Investigator Exam. Give yourself the best shot at being successful by obtaining Mometrix's thorough study guide and flash cards.
Private Investigator Study Guide
Mometrix Academy is a completely free Private Investigator test resource provided by Mometrix Test Preparation. If you find benefit from our efforts here, check out our premium quality Private Investigator Study Guide and Private Investigator Flash Cards to take your studying to the next level. Just click the Private Investigator study guide link below. Your purchase also helps us make even more great, free test content for test-takers.
Private Investigator Study Guide Customer Success Stories
Our customers love the tutorial videos from Mometrix Academy that we have incorporated into our Private Investigator exam study guide. The Private Investigator study guide reviews below are examples of customer experiences.
Thanks for the very informative "Private Investigator Exam Secrets Study Guide" book. It covers the material scale that the BSIS distributes very well. I failed the 1st time and relied heavily upon purchasing study guide material for the second attempt. Your great product has helped refresh my memory on numerous aspects that sound familiar to the test questions. I do completely agree with your "all useful material, no fluff" slogan as you guys cut right to the chase and focused on only relevant material.
Private Investigator Study Guide – Patrick
I found the product to be extremely helpful for me - in that it contained every aspect of what the exam would include -further it gave me additional things to think about in order to make my investigations that much more complete.
Private Investigator Study Guide – Customer
Really well written. It highlights the important information of passing the State exam. I will no doubt reach out to Mometrix for any future study guides I need.
Private Investigator Study Guide – Customer
The Private Investigator Exam Secrets Study Guide is a must have for anyone preparing for the exam. It is concise but covers a ton of material. It is laid out in a really straightforward manner and is easy to understand. The sample questions and responses are well thought out and the rationale will keep you from making the same mistake twice. The helpful hints not only on the Private Investigator Exam topics but also on test taking in general will get you on the right track. I received this product at a discount in exchange for my honest and unbiased review. I hope that you find this review and subsequently this study guide helpful as you prepare for the exam!
Private Investigator Study Guide – Customer
I have found this booklet as a great aid in my preparation to take the Private Investigator Exam. It gives plenty of examples and explanations of things I was not aware of until I received this book. I would give it a 5 Star rating because of the information and catagories covered. I am pleased and thank you for this great opportunity.
Private Investigator Study Guide – Customer
I asked a current investigator to look over the material to see if I am on the right track. He agreed that the study guide will be very useful to me passing the test and getting my license.
Private Investigator Study Guide – Nelle