Praxis English to Speakers of Other Languages (5362) Practice Test
The Praxis English to Speakers of Other Languages (5362) test is used to assess the pedagogical and linguistic knowledge, skills, and abilities of prospective K-12 ESOL teachers.
Click "Start Test" below to take a free Praxis English to Speakers of Other Languages practice test!
Praxis (5362) Exam Outline
The Praxis ESOL exam contains 120 selected-response questions and has a 2-hour time limit. There are several different forms of selected-response questions, any combination of which may appear on the exam:
Single-selection multiple-choice
Selecting ALL correct answers from a list of choices
Clicking parts of a graphic such as a map or a chart
Dragging and dropping answers into a targeted area on the screen
Selecting the correct answer from a drop-down menu
The exam is split into six content categories:
I. Foundations of Linguistics (22 questions)
The questions in this category test your knowledge of the following:
Phonetics
Intonation patterns
The phonetic environment's effect on pronunciation
IPA
Morphemes
English syntax
Parts of speech
SemanticsHow combinations of words convey meaning
Pragmatics
Sociolinguistic concepts
Word Englishes concepts
Written English conventions
Rhetorical patterns
Genres used in written English
Communicative competence
English language irregularities and inconsistencies
II. Foundations of Language Learning (26 questions)
The questions in this category test your knowledge of the following:
Differences between social and academic language functions
Differences between first- and second-language acquisition
Processes of second-language acquisition
Different types of affective factors
Relationship between English phonemes and graphemes and phonics rules
Literacy development of English learners
How first-language literacy affects second-language development
Various factors that may affect student performance (beyond linguistic barriers)
III. Planning and Implementing Instruction (28 questions)
The questions in this category test your knowledge of the following:
Implication of dialect variation for instruction
Various teaching methods and approaches
Various instructional delivery models for English learners
Appropriate and measurable objectives
How to design appropriate classroom activities and assessments
Collaboration with other educators
Effective integration of speaking, listening, reading, and writing into instruction
Promotion of English learners' acquisition of skills
Various strategies for teaching language skills contextually
Promotion of autonomous learning
How to activate students' prior knowledge
Organizing instruction
Effective teaching strategies for literacy
Selecting, modifying, and/or creating accessible teaching materials and resources
Use of technology to support learning and instruction
How to create a secure and respectful learning environment
Using constructive feedback to facilitate learning
Promotion of academic growth by creating a language-rich environment
Differentiation of instruction based on individual student needs
Recognize and respond to Students with Interrupted Formal Education (SIFEs)
Adaptation of instruction for students receiving special education or gifted services
Importance of language modeling
Importance of comprehensible input and output
Scaffolding
IV. Assessment and Evaluation (18 questions)
The questions in this category test your knowledge of the following:
The role of assessment in the various stages of language-support programs
Formal and informal assessment methods for receptive and productive language skills
How to develop summative and formative assessments
Various accommodations for state-mandated content-area testing
How to adapt classroom assessments
Assessment-related issues
Difference between norm-reference and criterion-references assessments
How to interpret assessment data
How to use assessment data in planning instruction
Communicating assessment data
V. Culture (13 questions)
The questions in this category test your knowledge of the following:
Interrelationship between culture and language
Ways culture affects second-language acquisition and teaching
Ways student identities may vary across and within cultures
Implications of cultural stereotyping and cultural bias
Difference between acculturation and assimilation
VI. Professionalism and Advocacy (13 questions)
The questions in this category test your knowledge of the following:
Differences between disabilities and typical language proficiency development
How to value and incorporate diverse cultures of students
Legal provisions and ethical implications of laws and federal court decisions
The need to serve as a professional resource and advocate for students
How to identify appropriate strategies for planning and collaborating with students, their families, and school members
Collaboration with school personnel
Ways that students and their families may benefit from outside resources
Strategies for consulting with guardians
Strategies for communicating students' progress and needs with guardians
Engaging in professional development
Check Out Mometrix's ESOL Study Guide
Get practice questions, video tutorials, and detailed study lessons
Get Your Study Guide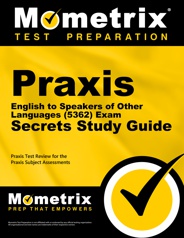 Praxis (5362) Exam Registration
To register for the exam, you will need to create an online ETS account. Once this account is created, you can apply to take the exam.
During registration, you will be asked to select the test-taking format (remote or at a testing center), test location (if you are taking the test at a testing center), and test date. You will also need to pay the $130 exam fee.
Test Day
In-person Testing
On the day of your exam, you should arrive at the testing facility at least 15 minutes ahead of your scheduled appointment. After you arrive, you will be asked to show your admission ticket and two forms of valid identification, one of which must be a photo ID.
Personal items will not be allowed into the testing center, so it is best to leave things like bags, notebooks, and food items at home or in your car.
Before the exam begins, you will be given a piece of scratch paper for notes.
Remote Testing
To take the exam remotely, you must use a laptop or desktop computer (touchscreens and tablets are not allowed). Your computer will need a speaker, microphone, and camera (internal or external).
Before exam day, you will need to download and install the ETS Secure Test Browser on your computer.
Your testing area must be clear of all personal items, and you will not be allowed to wear headphones. You must also ensure that no people will enter the room during your exam. The proctor will ask you to move the camera around so that your testing area can be observed, and at the end of your exam, the proctor will watch as you erase any notes you made.
Once the proctor has approved your testing area, they will walk you through the testing process and begin your exam.
How the Praxis (5362) Exam is Scored
Your Praxis score is based on the number of questions you answer correctly, which is then converted to a scaled score. The scaled score you need to obtain differs slightly depending on which state you take the exam in, but the passing score is generally 155.
You should receive an official score report about 5 weeks after testing.
Check out Mometrix's Flashcards
Get complex subjects broken down into easily understandable concepts
Get Your Flashcards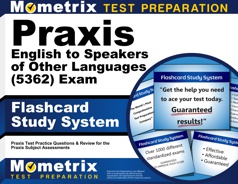 FAQs
How many questions are on the Praxis ESOL exam?
There are 120 selected-response questions on the exam.
How long is the Praxis ESOL exam?
The time limit for the exam is 2 hours.
What is the passing score for the Praxis ESOL exam?
The passing score for this exam is different depending on your state, but most states require a scaled score of at least 155 to pass.
How much does the Praxis ESOL exam cost?
The examination fee is $130.