Praxis English Language Arts: Content Knowledge (5038) Practice Test
The Praxis English Language Arts: Content Knowledge (5038) exam assesses the reading, language use, and writing skills of prospective secondary school teachers.
Click "Start Test" below to take a free Praxis English Language Arts: Content Knowledge (5038) practice test!
Exam Outline Review
The English Language Arts exam contains 130 selected-response questions and has a time limit of 2.5 hours. Selected-response questions come in the form of any of the following:
Single-selection multiple-choice
Selecting ALL correct answers from a list of choices
Clicking parts of a graphic such as a map or a chart
Dragging and dropping answers into a targeted area on the screen
Selecting the correct answer from a drop-down menu
The questions are split into three content categories:
I. Reading (49 questions)
The questions in this category assess your knowledge of the following:
Literature
Informational texts
Rhetoric
II. Language Use and Vocabulary (33 questions)
The questions in this category assess your knowledge of the following:
Standard English conventions
Determing word meaning from affixes, context, and syntax
Using print and digital reference materials
Dialect and diction variations across regions, cultural groups, and time periods
Supporting language acquisition and vocabulary development
III. Writing, Speaking, and Listening (48 questions)
The questions in this category assess your knowledge of the following:
Various types of writing
Characteristics of coherent writing
Effective and ethical research practices
Effective speech and presentation delivery
Effective use of digital media to support communication
Teaching components of writing
Assessing reading, writing, speaking, and listening
Effective oral communication
Awareness of the various perspectives, cultures, and backgrounds to reading, writing, listening, and speaking that students bring to the table
Check Out Mometrix's Praxis (5038) Study Guide
Get practice questions, video tutorials, and detailed study lessons
Get Your Study Guide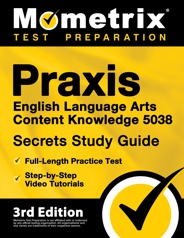 Registration
Before registering for the exam, you will need to have an account with Educational Testing Service (ETS) if you are required to take the exam for a teacher education program or state certification. Once you have established your account, you can apply to take the exam.
During the exam registration, you will be asked to select the test-taking format (remote or at a testing center), test location (if you are taking the test at a testing center), and test date. You will also need to pay the $130 exam fee.
Test Day
In-person Testing
You should arrive at the testing facility 15-30 minutes before your scheduled exam time. After you arrive, you will need to present two forms of valid, government-issued identification, one of which must be a photo ID.
Personal items will not be allowed into the testing center, so it is best to leave things like your phone, bags, notebooks, and food items at home or in your car.
At-home Testing
To take the exam remotely, you must use a laptop or desktop computer (touchscreens and tablets are not allowed). Your computer will need a speaker, microphone, and camera (internal or external). Before exam day, you will need to download and install the ETS Secure Test Browser on your computer.
Your testing environment must be private, with no traffic coming in and out. The area where you take the exam must be clear of all personal items, and you will not be allowed to wear headphones. The proctor will ask you to move the camera around so that your testing area can be observed.
Before you register for remote testing, make sure you meet all the requirements listed, and run a test of the secure browser to ensure your computer can function smoothly.
How the Exam is Scored
Each question answered correctly is worth one raw point. Incorrect and unanswered questions are not penalized, so you should make a guess anytime you do not know the correct answer.
Your raw score is converted to a scaled score, and you will receive an official score report about five weeks after you complete the exam.
The passing score in most states is 167, but some states require a different score.
Check Out Mometrix's Praxis (5038) Flashcards
Get complex subjects broken down into easily understandable concepts
Get Your Flashcards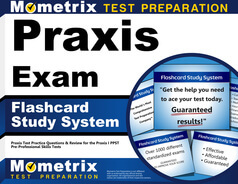 FAQs
How many questions are on the Praxis 5038 exam?
There are 130 selected-response questions on the exam.
How long is the Praxis 5038 exam?
The time limit for the exam is 2.5 hours.
What is the passing score for the Praxis 5038 exam?
There is no set passing score for this exam; it depends on which state you take the exam in. Generally, the passing score is 167.
How much does the Praxis 5038 exam cost?
The examination fee is $130.