Praxis Elementary Education: Multiple Subjects (5001) Practice Test
Teaching elementary school students is, undeniably, an important job. By embarking upon this career choice, you will also be accepting the responsibility of helping to shape the minds of the youngest members of our generation. Having a highly skilled teacher in one's earliest years can significantly influence overall academic and life success. When you take this fact into account, it may serve as no surprise that the training to become an elementary school teacher is quite rigorous. If you are planning to teach earlier grade levels, you will have to possess ample knowledge of every core subject, so you can give your future students the most well-rounded educational experience possible.
That's why, no matter where you reside within the United States, you will be expected to prove your comprehension of every subject you intend to teach by earning a passing score on a relevant standardized test. In many cases, this test will be the Praxis Elementary Education exam. This exam is a bit different from others of its kind. Rather than taking the exam to determine whether you will be able to proceed academically, you must earn a passing score to determine whether you are eligible to earn your teaching certification and take the next step to establishing your official career as an elementary school teacher.
If you're on this page, you are likely due to take the Praxis Elementary Education Multiple Subjects 5001 exam in the near future. You've definitely come to the right place! Here, you will be able to find all the information you need to score well on this exam, and also several important resources to help you as you study.
Defining the Praxis Elementary Education Exam
Before you can start preparing for the Praxis Elementary Education exam, it is important to first learn what content will be featured on the test. The Praxis Elementary Education test will be fairly lengthy, as it contains material pulled from the four core subjects you will be expected to teach your students: Science, Reading and Language Arts, Social Studies, and Mathematics. Each of these subjects will be featured in the form of their own individual test sections. You can expect to spend about 4.25 hours total completing the exam, with each subject possessing its own unique span of time.
While it is worth noting that not all questions are scored, you should attempt to answer every question featured on the exam to the best of your ability. We will go into more detail about each portion of the exam down below.

Check Out Mometrix's Praxis Study Guide
Get practice questions, video tutorials, and detailed study lessons
Get Your Study Guide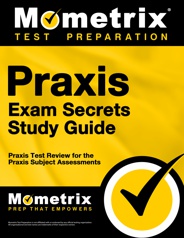 Praxis 5001 Online Prep Course
If you want to be fully prepared, Mometrix offers an online Praxis Elementary Education: Multiple Subjects Prep Course. The course is designed to provide you with any and every resource you might want while studying. The Praxis 5001 Course includes:
104 Lessons Covering all the Topics
1,000+ Praxis Practice Questions
Over 350 Video Tutorials
More than 1,050 Electronic Flashcards
Money-back Guarantee
Free Mobile Access
and More!
The Praxis Elementary Education: Multiple Subjects Prep Course is designed to help any learner get everything they need to prepare for their Praxis exam; click below to check it out.
Science
The Science portion of the Praxis exam caters to the core disciplines of science that you will be expected to teach. It contains 50 multiple-choice questions, which you will be given 50 minutes to finish. The science section is a bit unique from other parts of the Praxis test, in that you are allowed to use a calculator. This tool will be provided to you at your exam site.
This subtest splits up into three knowledge categories, all of which address your comprehension of the scientific method. These categories include:
Physical Science is one of the larger categories of the subtest, clocking in at 34%, or approximately 17 questions. Questions under this category will address physics and its various properties.
Life Science also accounts for 34% of the test's contents (or 17 questions). This category focuses on biological functions both within the human body and throughout the environment.
Earth Science is the smallest category featured on the science subtest, measuring at 32%. This averages out to 16 questions in all. It deals with how the Earth functions and its overall history.
Reading and Language Arts
By now, you have likely taken several Reading and Language Arts tests throughout your academic career. The Reading and Language Arts portion of the Praxis exam is very similar in format to other tests you've taken on the same subject matter. You will be presented with a selection of written passages, which you must read before answering a set of corresponding questions. Some questions featured on the test will be in a multiple-choice format, while others may require you to answer through grids or matching. This portion of the Praxis test will feature 80 questions in all, and a 90-minute time allotment.
The contents of the test will divide into two categories:
Writing, Speaking, and Listening: This portion of the Reading and Language Arts subtest takes up around 53% of its total content, clocking in at 42 questions in all. This subtest section further breaks down into three subcategories:
Speaking and Listening measures your ability to identify the qualities that make a formal speech stimulating and attention-grabbing, as well as how to encourage understanding of a topic through cooperative efforts.
Language will evaluate your comprehension of the differences between jargon, formal (academic) vocabulary, and casual speech; using context clues to define a specific word; and basic grammar, as well as related skills.
Writing deals with your comprehension of how to research; the differences between various writing styles; how to utilize digital communication and writing resources and why they are significant within today's world; how students of different ages express themselves through writing; and how to write cohesively.
Reading is the smaller section, taking up 47% of the test's content. It features 38 questions and two subcategories:

Literature and Informational Texts will focus on your ability to match students of specific reading abilities to texts of certain difficulty levels; utilize information from a written work to figure out the work's message and meaning; analogize data pulled from several types of media; using the content of a written work to decide what perspective is being portrayed; and how the way a work is organized and/or stylized alters its meaning.
Foundational Skills deals with how well you can comprehend the relationship between how a student learns to read and their mastery of the English language, as well as the various aspects of phonetics.
Social Studies
The Social Studies subtest of the Praxis exam centers on much of the subjects you were likely exposed to throughout your own education. The content featured on the exam will typically align with the history courses you took during your undergraduate years at college. The Social Studies section contains 55 multiple-choice questions, which you will be given 50 minutes to complete. Each question will fall under one of the subjects below.
World History and Economics takes up 25% of the exam, totaling only 14 questions. This is the smallest component of the exam. This category deals with economics and its role within society, as well as key events within global history, both within the past century as well as during early civilization.
Geography, Anthropology, and Sociology account for 30% of the exam (or approximately 16 questions). Questions under this category will center on the various cultures of the world, how they are affected by their environments, and geography on the regional and global levels.
United States History, Government, and Citizenship is the largest portion of the exam, clocking in at 45% (or 25 questions). You will be expected to recognize the various aspects of living within a democratic society, how the government operates, and various documents and key events within the country's history.
Mathematics
The Mathematics portion of the Praxis exam will seek to evaluate your rudimentary knowledge of math. This part of the test will last for just over an hour, or 65 minutes total. During this time, you will be expected to complete 50 questions. You will be allowed to use a calculator to help solve equations on this part of the test, just like with the Science section.
The subtest content will center around these three categories:
Geometry and Measurement, Data, Statistics, and Probability takes up 30% of the exam material, or approximately 15 questions. This category will focus on your comprehension of probability; shapes of different dimensions (2D versus 3D, for example); the numerous ways data can be organized; volume, perimeter, surface area, and area; statistics; measuring; and creating and reading graphs.
Algebraic Thinking encompasses 30% of the test's questions, or 15 questions in all. As its name implies, questions under this category will deal with your capabilities with determining patterns, finding the answers to equations of various types, as well as what these answers mean.
Numbers and Operations is the largest portion of the subtest, accounting for 40% of the content (approximately 20 questions). This category centers around the various attributes of numbers and how to work with them, including how logical an answer to an equation may seem; and interpreting place value, number theories, percents, proportions, rational numbers, and operations.
If you are facing this important exam in the near future, it is perfectly understandable that you might feel a bit anxious about your ability to score well. However, Mometrix Test Preparation wants to let you know you have nothing to fear! We care about your success just as much as you do, which is why we have put together numerous resources for you to take advantage of as you study. Here you will find our Praxis 5001 practice test, as well as our Praxis 5001 study guide.
We have conducted careful, thorough research all throughout the process of designing our Praxis Elementary Education practice test. More specifically, we studied many versions of the exam, all to make sure our practice test is as accurate to the real thing as possible. We encourage anyone who is interested in gaining a hands-on glimpse of how the exam works to utilize our practice test. Not only can you learn the ins and outs of the exam's content, but you can also get a much stronger idea of where your weaknesses and strengths lie. This can allow you to adjust your study plan much more effectively.
Our Praxis Elementary Education study guide is more general, and is meant for those who feel they need a bit more direction as far as how to prepare for the exam. This study tool contains comprehensive information about each area of the test, as well as practice quizzes complete with answer guides and explanations on how to solve each question.
We hope you will choose to incorporate our Praxis Elementary Education test prep tools into your study plan. These study tools can be used either standalone or in conjunction with one another; regardless of how you use them, however, they should prove highly effective to you.
Good luck, and happy studying!

Check Out Mometrix's Praxis Flashcards
Get complex subjects broken down into easily understandable concepts
Get Your Flashcards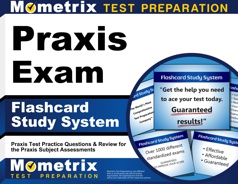 Praxis Elementary Education: Multiple Subjects Study Materials
Mometrix Academy is a completely free resource provided by Mometrix Test Preparation. If you find benefit from our efforts here, please consider buying one of our premium quality study guide, online course, or flashcard products to take your studying to the next level (just click one of the links below). Your purchase also helps us make even more great, free content for test-takers.
Praxis Study Guide
Praxis Online Course
Praxis Flashcards