PHR Practice Test
The Professional in Human Resources (PHR) is a certification available to professionals who hold a position in Human Resources. The HR Certification Institute (HRCI) offers the PHR to professionals who have experience with program implementation, the human resources organizational structure, and HR practices. The exam covers a variety of human resources topics, like compensation and benefits, testing applicants' mastery of concepts and foundational knowledge. The PHR is available to HR professionals in the United States.
Professional in Human Resources Eligibility
In order to apply for the Professional in Human Resources (PHR) certification, you must meet one of the following requirements for education and experience.
Have a minimum of four years of experience in a professional Human Resources position, as well as a high school diploma.
Have a minimum of two years of experience in a professional Human Resources position, as well as a Bachelor's degree
Have at least one year of experience in a professional Human Resources position, as well as a Master's degree or higher
Professional in Human Resources Costs and Application Process
To apply for the PHR create an account on the HRCI website, submit your application, and after approval, schedule your test at a Pearson VUE testing center. The PHR exam is available year-round.
The Professional in Human Resources (PHR) exam fee is $395. The application fee is $100. Please note that after an application is approved, there are no refunds.

Check Out Mometrix's PHR Study Guide
Get practice questions, video tutorials, and detailed study lessons
Get Your Study Guide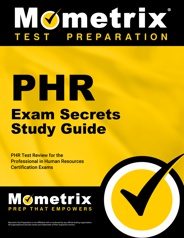 Professional in Human Resources Exam Topics
Designed by HR experts, the Professional in Human Resources (PHR) exam covers a variety of topics that cover HR foundational knowledge, practices, and U.S. laws and regulations. The PHR includes the following areas:
Business Management and Strategy (11%). This area tests applicants' ability to develop and support the organization's vision and objectives. Applicants must demonstrate an ability to interpret and apply information from internal and external sources, analyze business metrics, and create strategic relationships within the organization and outside the organization.
Workforce Planning and Employment (24%). This area tests applicants' ability to understand and implement recruitment, orientation, retention, and exit programs. Applicants must demonstrate an ability to review and update job descriptions and functions, properly conduct negotiations and offers, and evaluate on-boarding processes.
Human Resource Development (18%). This area tests applicant's ability to develop and evaluate employee programs for training and performance management. Some of the topics include global issues, career development, promotions, and federal laws related to Human Resource development.
Compensation and Benefits (19%). This area tests applicants' ability to develop, implement, and evaluate company benefits programs. Applicants must demonstrate a knowledge of job pricing and pay structures, compensation and benefits strategies, and applicable laws and regulations.
Employee and Labor Relations (20%). This area tests applicants' ability to develop and implement strategies to maintain employee relationships and working conditions. Applicants must demonstrate an ability to assess organizational climate, resolve employee complaints, and administer termination processes. Applicants must also understand the current labor laws and regulations.
Risk Management (8%). This area tests applicants' ability to develop, implement, and evaluate organizational programs that promote a safe and productive working environment. Applicants must demonstrate an understanding of investigation policies, workplace safety risks, employee substance abuse, disaster recovery plans, and risk management applications.
Check Out Mometrix's PHR Flashcards
Get complex subjects broken down into easily understandable concepts
Get Your Flashcards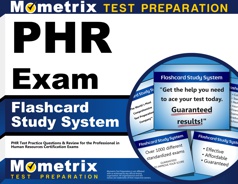 Professional in Human Resources Recertification
The PHR certification is valid for three years. Over the course of three years, certified HR professionals must earn 60 recertification credits to maintain certification or retake the exam. Certified HR professionals may earn credits by participating in professional development activities, like seminars or online courses, or through professional achievements, like implementing a new HR program at work.
PHR Certification Prep Course
If you want to be fully prepared, Mometrix offers a comprehensive online prep course for the PHR exam. This course is designed to provide you with any and every resource you may need while studying. The PHR Course includes:
47 Lessons Covering all the Important Topics
750+ PHR Practice Questions
More than 300 Electronic Flashcards
A Money-back Guarantee
and More!
Our PHR Certification Prep Course is designed to help any learner get everything they need to prepare for their PHR exam. Click below to get the help you need!
What to expect on test day
The exam is computer-based, with 150 scored questions and 25 pretest questions that do not count towards your final score. The test is made up of mostly multiple-choice questions. Candidates will have 3 hours to complete the exam. Below you will find additional tips and procedures for test day.
Plan to arrive at the testing center at least 15 minutes before the start of your exam. If you arrive more than 15 minutes late, you may forfeit your test and test fee.
Bring a non-expired, government-issued form of ID. Examples include a driver's license and a passport.
There will be a calculator provided for you on the computer testing program, so please do not bring your own calculator.
Personal items, including cell phones, purses, and backpacks are not allowed in the testing area. There may be storage space available to place your items until the end of the test.
How to study for the Professional in Human Resources Exam
Like many exams, the Professional in Human Resources (PHR) exam has two important components: topics and format. These two components are important to understand for anyone who wants to ace the test. Our expert test-researchers studied the exam and developed the Mometrix PHR Study Guide, which includes all the topics covered and test-taking strategies that will help you take the test more effectively. This comprehensive study guide gives in-depth, yet easy-to-read explanations of important concepts like business metrics and mission statements, as well as strategies like elimination and benchmarking. The Mometrix PHR Study Guide is an excellent tool for test-takers who have a short amount of time to study.
Studies show that another effective test-taking strategy is repetition. So, our test experts carefully designed the Mometrix PHR Flashcards. With these professional-quality cards, test-takers can quiz themselves on the most important topics found on the exam. The Mometrix PHR Flashcards are perfect for studying on the go!
We would like to congratulate you on taking the first test to earning the PHR credential. We look forward to assisting you in your test-taking journey. Good luck!
PHR Study Guide
Mometrix Academy is a completely free PHR test resource provided by Mometrix Test Preparation. If you find benefit from our efforts here, check out our premium quality PHR study guide or PHR flashcards take your studying to the next level. Just click the study guide link below. Your purchase also helps us make even more great, free content for test-takers.
PHR Study Guide Customer Success Stories
Our customers love the tutorial videos from Mometrix Academy that we have incorporated into our PHR test study guide. The PHR study guide reviews below are examples of customer experiences.
It is perfect in size as I travel and I can fit in my briefcase without it being too heavy. From what I glanced at, I believe this will be a great supplement to my prep course.
PHR Study Guide – Michelle
This product exposed my weakness. I must target where I am weak so that I can sharpen my weakness before taking the exam. I have confidence in this product and I am shooting for nothing less than a PASS on my upcoming PHR exam in June.
PHR Study Guide – Jasmine
This study guide is the best! As I studied other material, I found that there was an overwhelming amount of information and at times I thought that it would be almost impossible for me to obtain my certification. Studying the material was just taking too much of my time and I was becoming very stressed as the exam date approached. I decided to look for additional study material, and came across this one. I decided to give it a try based on other reviews and of course the price. This study guide covers everything you need to know to pass the PHR examination. I passed the examination and to be honest, I don't' think I could have passed without this guide.
PHR Study Guide – Norma
Studying human resources is a big job because there are a lot of things that can come up in that department and if you're in charge of it, you have to know what to do. I knew it was important to have my certification because I would be able to get a better job with that on my resume. I looked for study guides for human resources and I found a few that might have worked, but when I ran across this one, I decided to get it over the others. I was encouraged by the fact that it was made for the specific test I was going to take. When I got it, I was glad I did. It had all of the human resources issues and content that I needed to learn all in one packet. It also had some practice tests to help me see how I was doing with the studying process. When I got an answer wrong, it even explained to me which answer was right and why. That helped me ingrain that answer into my head even better. If I ever run across someone taking this certification test, I'm going to recommend this study guide to them. It can make a world of difference.
PHR Study Guide – Rob
Has a nice lay out, lots of practice questions, and I like how the answers to the practice questions have an explanation to why that answer is correct and/or the other answers are incorrect.
PHR Study Guide – Bob
This book really helped pull everything together. Not too much information to clutter it up. The PHR exam itself was more scenario based and didn't seem to be too much factual specific based. This book touched on all the major sections needed in a summary format and included a 225 question exam. There were multiple test tips that were extremely helpful. The website at Mometrix really helps to break down the book.
PHR Study Guide – Customer
The book reads extremely easy and puts in a ton of relevant information. I received the flash cards with the book and they are also super helpful. The combo of them both has me feeling confident for passing the test! The book was recommended to me and I would recommend it as well!
PHR Study Guide – Lauren
I purchased PHR Exam Secrets Study Guide and it is a score of 5 on any rating scale. I find it very helpful and informative. It's really preparing me for the exam and I thank you for this product. I don't know what I would do without it.
PHR Study Guide – Customer