The Professional in Human Resources (PHR) is a certification available to professionals who hold a position in Human Resources. The HR Certification Institute (HRCI) offers the PHR exam to professionals who have experience with program implementation, the human resources organizational structure, and HR practices.
Click the "Start Test" button above to begin your free PHR practice test! These practice questions will give you a better idea of what to study for your exam.
PHR Exam Eligibility
In order to apply for the PHR certification, you must meet one of the following requirements for education and experience:
Have a minimum of four years of experience in a professional Human Resources position, as well as a high school diploma.
Have a minimum of two years of experience in a professional Human Resources position, as well as a Bachelor's degree
Have at least one year of experience in a professional Human Resources position, as well as a Master's degree or higher
PHR Exam Outline
The PHR exam contains 115 multiple-choice questions, 25 of which are unscored, and you will be given 2 hours to complete the exam. The 25 unscored questions are called "pretest" questions, and these are used by the test administrators to evaluate questions for future versions of the exam. When taking the exam, you will not know which questions are pretest questions.
The questions are split into five functional areas, and each area is divided into two types of questions: responsibility and knowledge.
1. Business Management (20%)
Responsibilities

Interpreting and applying information related to the business environment and the industry's best practices
Reinforcement of the core values about the ethical and behavioral expectations of the company
Understanding what role cross-functional stakeholders play in the company
Recommending and implementing the best practices to mitigate risks with lawsuits or internal or external threats
Determining the significance of data when recommending strategies and policies
Knowledge

The vision, mission, values, and structure of the company
Legislative and regulatory understanding of company procedures
Methods of corporate governance of procedures
Communicating with employees
The ethical and professional standards of the company
The reporting tools of the existing HRIS
The methods and application of the change management theories
Risk assessment and management
Tools used for analytics
Qualitative and quantitative methods used for analytics
Methods of dealing with uncertain, unclear, or chaotic situations
2. Talent Planning and Acquisition (16%)
Responsibilities

Understanding the federal laws and the organizational policies your company must adhere to about ethical hiring practices
Developing and implementing sourcing methods and techniques
Executing the talent acquisition lifecycle
Knowledge

Federal laws and regulations and how they apply to your hiring and acquisition activities
Planning concepts and the terms of those concepts
The current market situation
The talent pool availability
Applicant tracking systems or methods of applicant tracking
The verbal and written offers
Outsourcing for temporary employment
Testing processes and procedures for candidates
The orientation process and guidelines for new hire
Ability and methods to perform internal workforce assessments
Transition techniques
The methods to evaluate the data concerning past and future staffing effectiveness
3. Learning and Development (10%)
Responsibilities

Consulting with and educating employees concerning their professional growth and development opportunities
Implementing and evaluating career development and training programs
Providing relevant data to contribute to succession planning discussions
Knowledge

The applicable Federal laws about learning and development within a company
The theories and applications used in learning and development processes
The adult learning processes
Techniques and delivery used in training programs
Process flow mapping and needs analysis
Task analysis
Organizational development
Methods of motivation
Problem-solving techniques
How to encourage creativity and innovation
How to coach and mentor
4. Total Rewards (15%)
Responsibilities

Managing compensation-related information and supporting payroll issue resolution
Implementing and promoting awareness of non-cash rewards
Implementing benefit programs
Administering federally compliant compensation and benefit programs
Knowledge

The federal laws and regulations that apply to employee rewards
The compensation policies and how they work
Evaluating concepts and methods for job analysis
Budget concerns, payroll, and accounting practices
The job pricing and pay structures of the company
Benefits program policies
Non-cash compensation
Methods used to align and benchmark compensations
5. Employee and Labor Relations (39%)
Responsibilities

Analyzing functional effectiveness in an employee's lifecycle
Collecting and summarizing employee data
Implementing benefit programs
Identifying opportunities according to the company's organizational culture
Implementing and supporting worker programs concerning health, safety, security, and privacy
Promoting policies and procedures
Promoting positive tools and techniques that can be applied to improve employee and labor relations
Supporting and encouraging performance activities
Knowledge

The federal laws and regulations about labor relations
Concepts of human relations and culture
Diversity and inclusion
Data security and privacy
Requirements that apply to record-keeping practices
Occupational injury and illness prevention
Internal investigations and surveillance techniques
Disaster recovery process
Emergency response and business continuity during emergencies
Performance management and analysis
Contract negotiations and the collective bargaining processes
Termination processes, terms, and all federal laws and regulations about termination
Check Out Mometrix's PHR Study Guide
Get practice questions, video tutorials, and detailed study lessons
Get Your Study Guide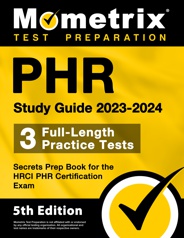 PHR Exam Registration
To register for the PHR exam, you will need to create an account on the HRCI website and submit your application, along with the $100 application fee.
Once your application is approved, you will need to schedule your exam and pay the $395 examination fee. This exam may be taken in-person at a testing center or remotely.
Test Day
This is a computer-based exam that can be completed at a testing center, home, or office.
In-person Testing
You should arrive at the testing center 15-30 minutes before your exam is scheduled to begin. When you arrive, you will be asked to present a valid, government-issued photo ID. Failure to arrive on time or present a valid form of identification will result in your exam being canceled.
Once you are checked in, you will be asked to leave all personal items in a small locker outside the testing room. This includes items such as your cell phone, bags, coats, and food.
Before the exam begins, you will be given a tutorial of the computer system so you can become familiar with how everything works.
Once the exam has begun, you are allowed to take a restroom break. However, the timer will not be stopped, and you aren't allowed to take a break to smoke, eat, or consult study materials.
Remote Testing
You should log in to your account about 30 minutes prior to your scheduled exam time. Once you sign in, you will be asked to show a valid, government-issued photo ID to the webcam so the proctor can compare it to your face and their records. You will then be asked to scan your room with your webcam.
Once the proctor has determined you are ready, the exam will begin.
How the PHR Exam is Scored
The test is scored based on the Angoff method. Instead of each question being assigned several points, the questions are posted a value according to the difficulty of the questions. A panel of experts determines what value each question will be given. The 25 ungraded questions on your exam will be used by the board of experts to determine the difficulty and weight of the questions so they can be used in future exams.
With this system, you cannot simply say that you need to get a specific number of questions correct because each question's value is different. A score scale of 100 to 700 is established to use in grading, and you must achieve a final scaled score of no less than 500 to pass the exam.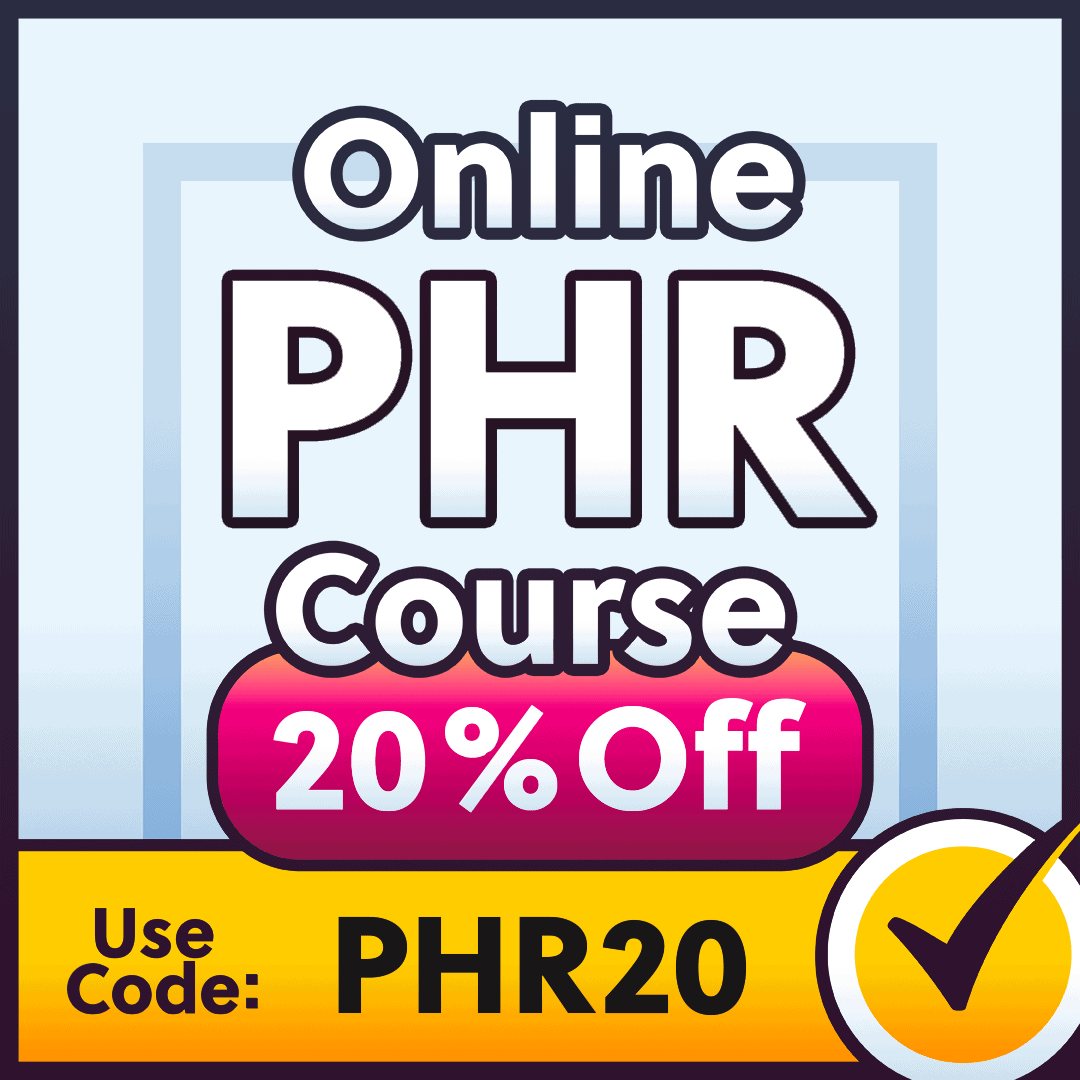 PHR Certification Prep Course
If you want to be fully prepared, Mometrix offers a comprehensive online prep course for the PHR exam. This course is designed to provide you with any and every resource you may need while studying. The PHR Course includes:
61 Lessons Covering all the Important Topics
1,000+ PHR Practice Questions
More than 300 Electronic Flashcards
A Money-back Guarantee
and More!
Our PHR certification prep course is designed to help any learner get everything they need to prepare for their PHR exam. Click below to get the help you need!
Check Out Mometrix's PHR Flashcards
Get complex subjects broken down into easily understandable concepts
Get Your Flashcards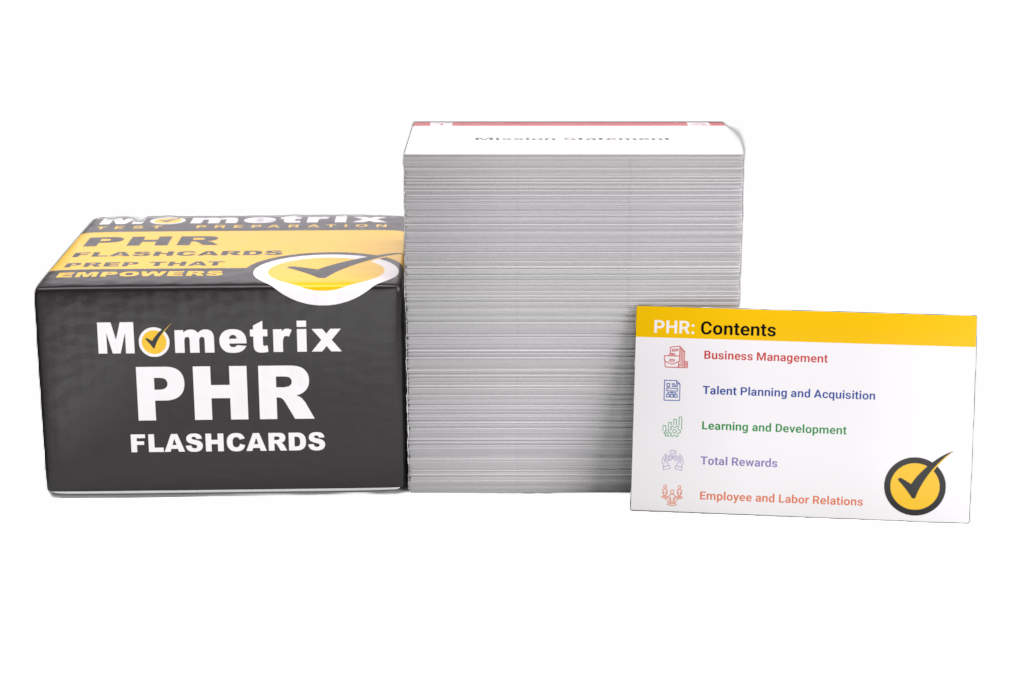 How to Study for the PHR Exam
How to Study Effectively
Your success on PHR test day depends not only on how many hours you put into preparing but also on whether you prepared the right way. It's good to check along the way to see whether your studying is paying off. One of the most effective ways to do this is by taking PHR practice tests to evaluate your progress. Practice tests are useful because they show exactly where you need to improve. Every time you take a free PHR exam practice test, pay special attention to these three groups of questions:
The questions you got wrong
The ones you had to guess on, even if you guessed right
The ones you found difficult or slow to work through
This will show you exactly what your weak areas are and where you need to devote more study time. Ask yourself why each of these questions gave you trouble. Was it because you didn't understand the material? Was it because you didn't remember the vocabulary? Do you need more repetitions on this type of question to build speed and confidence? Dig into those questions and figure out how you can strengthen your weak areas as you go back to review the material.
Answer Explanations
Additionally, many PHR practice tests have a section explaining the answer choices. It can be tempting to read the explanation and think that you now have a good understanding of the concept. However, an explanation likely only covers part of the question's broader context. Even if the explanation makes sense, go back and investigate every concept related to the question until you're positive you have a thorough understanding.
Comprehend Each Topic
As you go along, keep in mind that the PHR practice test is just that: practice. Memorizing these questions and answers will not be very helpful on the actual test because it is unlikely to have any of the same exact questions. If you only know the right answers to the sample questions, you won't be prepared for the real thing. Study the concepts until you understand them fully, and then you'll be able to answer any question that shows up on the test.
Strategy for PHR Practice
When you're ready to start taking practice tests, follow this strategy:
Remove Limitations. Take the first test with no time constraints and with your notes and PHR study guide handy. Take your time and focus on applying the strategies you've learned.
Time Yourself. Take the second practice test "open book" as well, but set a timer and practice pacing yourself to finish in time.
Simulate Test Day. Take any other practice tests as if it were test day. Set a timer and put away your study materials. Sit at a table or desk in a quiet room, imagine yourself at the testing center, and answer questions as quickly and accurately as possible.
Keep Practicing. Keep taking practice tests on a regular basis until you run out of practice tests or it's time for the actual test. Your mind will be ready for the schedule and stress of test day, and you'll be able to focus on recalling the material you've learned.
FAQs
Q
How long is the PHR exam?
A
The time limit for this exam is 2 hours.
Q
How many questions are on the PHR exam?
A
There are 115 questions on this exam.
Q
What is the passing score for the PHR exam?
A
To pass this exam, you need a scaled score of at least 500.
Q
How much does the PHR exam cost?
A
The application fee is $100, and the examination fee is $395.