Patient Care Technician Exam
In order to be eligible to take the Patient Care Technician/Assistant Exam, you must have a high school diploma/GED, and within the last five years, you must have successfully completed a Patient Care Technician program. If you have not completed a training program, you must have at least 1 year of supervised work experience within the last 3 years.
The exam will consist of 100 scored items and 10 pretest items. You will be allowed 1 hour and 50 minutes to complete it.
For examinees with conditions covered under the Americans with Disabilities Act (ADA), you may request special testing accommodations.
What categories and topics are covered on this exam?
Patient Care: 48 questions
Safety: 10 questions
Professional Responsibilities: 5 questions
Infection Control: 4 questions
Phlebotomy: 23 questions
EKG Monitoring: 10 questions
The Patient Care category will address the topics of general patient care AND patient care and phlebotomy & EKG preparation.
The Safety category will address the topics of how to identify and report safety issues, transport and transfer patients, monitor patients' environment, prevent workplace injuries, act in emergency situations, follow Joint Commission guidelines, and use medical supplies and equipment.
The Professional Responsibilities category will address the topics of how to obtain and maintain BCLS certification, adhere to HIPAA, communicate with medical personnel, using medical terminology, follow chain of command, utilize therapeutic communication with patients, and respect operational standard regulations.
The Infection Control category will address the topics of how to use universal, standard, & transmission-based precautions, dispose biohazardous materials, adhere to exposure control plans, wear PPE, and execute aseptic and sterile techniques.
The Phlebotomy category will address the topics of how to perform primary and special collections, and how to process such collections.
The EKG Monitoring category will address the topics of how to use the EKG to calculate a patient's heart rate, identify artifacts, resolve artifacts, record leads on a patient, verify leads, upload completed EKG to patient's record, mount EKG, use EKG to measure a patient's heart rhythm, and inspect waveforms, among other duties.
Check out Mometrix's Patient Care Technician Study Guide
Get practice questions, video tutorials, and detailed study lessons
Get Your Study Guide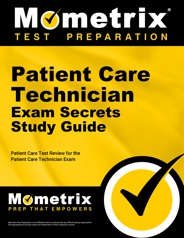 What is the most convenient way to register for this exam?
Online registration is the most convenient way. Whether paying for the exam yourself, or it being paid by an organization, you must register yourself.
What is the cost of the exam?
The Patient Care Technician/Assistant Exam is $155.
What are the testing dates and locations?
If your school offers this exam, you must check with them to determine the open test dates. If taking the exam at a test center, not your school, you must set up an account online, then choose the date you would like to take the exam.
What should I do the day of the exam?
Be sure to arrive at the testing site 15-30 minutes before your scheduled exam. Arriving late could prevent you from taking the test.
Ensure you bring a valid form of identification that includes your name, signature, and photo. A passport and driver's license are examples of acceptable forms of ID.
Items such as a calculator, cell phones, and smartwatches are prohibited from the testing area.
What happens after I take the exam?
Your score report will be posted to your account within two days of you taking the exam. Additionally, if you pass, you will receive your certificate in two weeks.
What is the passing score?
The score scale is 200 – 500. The minimum passing score is 390.
What happens if I do not pass the exam?
You are allowed a total of three attempts at this exam. You must wait a 30-day period between each attempt.
Don't cheat yourself, hit the books in order to give yourself the best chance at passing. Mometrix has developed an excellent guide book with practice questions and much more.
Also, when you are on the go, you can take along our set of flash cards. With these cards, we've condensed all the critical information of the exam into hundreds of easy-to-remember concepts.
If you need a little more convincing that these are the right resources for you, visit our site and read testimonials of some of our customers who have been successful, using our products. Get your test prep materials today!
Check out Mometrix's Patient Care Technician Flashcards
Get complex subjects broken down into easily understandable concepts
Get Your Flashcards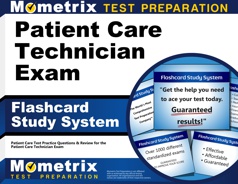 Patient Care Technician/Assistant Study Guide
Mometrix Academy is a completely free Patient Care Technician/Assistant test resource provided by Mometrix Test Preparation. If you find benefit from our efforts here, check out our premium quality Patient Care Technician/Assistant Study Guide and Patient Care Technician/Assistant Flash Cards to take your studying to the next level. Just click the Patient Care Technician/Assistant study guide link below. Your purchase also helps us make even more great, free test content for test-takers.
Upgrade your studying with our Patient Care Technician study guide and flashcards:
Patient Care Technician Study Guide
Patient Care Technician Flashcards