Certified Patient Care Technician/Assistant Practice Test
The Certified Patient Care Technician/Assistant (CPCT/A) exam tests your knowledge and skills in basic patient care so you can work in healthcare facilities such as doctors' offices, clinics, hospitals, and more.
Click "Start Test" below to take a free CPCT/A practice test!
CPCT/A Exam Eligibility
To be eligible for the CPCT/A exam, you must have a high school diploma/GED/high school equivalency and ONE of the following:
You must have completed a patient care technician education or training program within the last 5 years.
You must have completed 1 year of supervised patient care experience within the last 3 years.
CPCT/A Exam Outline
The CPCT/A exam contains 120 multiple-choice questions, 20 of which are unscored, and you will be given a 2-hour time limit. The 20 unscored questions are called "pretest" questions and are used by the test administrators to evaluate questions for future versions of the exam.
The questions are split into 5 domains:
1. Patient Care (45 scored questions)
The questions in this domain test your knowledge and skills regarding various aspects of patient care. These are some of the topics that are covered:
Providing emotional support for a patient and their family
Reporting any changes in a patient's condition
Assisting with ostomy care
Performing patient rounding
Transporting a patient via wheelchair, bed, or stretcher
Removing peripheral IVs
Administering first aid
Reporting edema
Assisting a patient with incentive spirometry
Following the Five Rights of Delegation
Kübler-Ross' five stages of grief
Structure and function of body systems
Passive ROM techniques
Therapeutic communication techniques
2. Compliance, Safety, and Professional Responsibility (20 scored questions)
The questions in this domain test your knowledge and abilities regarding compliance with laws and regulations, following safety protocols, and maintaining the responsibilities expected from a professional technician. These are some of the topics that are covered:
Defining, identifying, and reporting neglect or abuse
Following Joint Commission patient safety guidelines
Following OSHA guidelines
Adhering to HIPAA regulations regarding protected health information
Following the chain of command
Emergency/disaster preparedness
Safety Data Sheets (SDS)
Scope of practice of the patient care technician
Patients' Bill of Rights
3. Infection Control (11 scored questions)
The questions in this domain test your knowledge and skills regarding various aspects of infection control. These are some of the topics that are covered:
Disinfecting equipment before and after use
Following exposure control plans
Performing sterile technique
Disposing of biohazardous materials
Using standard and transmission-based precautions
Using personal protective equipment
Performing aseptic technique
4. Phlebotomy (14 scored questions)
The questions in this domain test your knowledge and skills regarding various aspects of blood collection and handling of blood samples. These are some of the topics that are covered:
Performing capillary punctures and venipuncture
Performing blood culture collection
Handling and transporting blood samples
Labeling specimens
Performing quality control
Adhering to chain of custody guidelines
Chain of infection
Information required on requisition forms
Common adverse reactions to collection
The vascular system as it relates to phlebotomy
Tube additives appropriate to testing requirements
5. EKG (10 scored questions)
The questions in this domain test your knowledge and abilities when it comes to performing an EKG. These are some of the topics that are covered:
Preparing the patient
Applying electrodes
Identifying signs and symptoms of cardiopulmonary compromise
Identifying and reporting dysrhythmias
Verifying EKG machine sensitivity and paper speed
Maintaining EKG equipment
Cardiac conduction system
Artifact resolution techniques
Check out Mometrix's Patient Care Technician Study Guide
Get practice questions, video tutorials, and detailed study lessons
Get Your Study Guide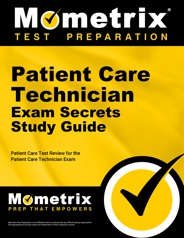 CPCT/A Exam Registration
To register for the exam, you will need to create an online NHA account and fill out the application and registration information. If your school or employer is partnered with NHA, you can schedule your exam through your NHA account. Otherwise, you will need to schedule your exam with PSI.
The examination fee is $160.
Test Day
Be sure to arrive at the testing site 15-30 minutes before your scheduled exam. Arriving late could prevent you from taking the test. Ensure you bring a valid form of identification that includes your name, signature, and photo. A passport and driver's license are examples of acceptable forms of ID.
Items such as a calculator, cell phones, and smartwatches are prohibited from the testing area, so you will be asked to leave them in your car or in a secure locker outside the testing room.
How the CPCT/A Exam is Scored
the CPCT/A exam is scored on a scale of 200-500, and you must achieve a minimum scaled score of 390 to pass. Your score results will be available immediately after you test if you take your exam at an institution. If you take the exam at a PSI testing center, you will get your results 48 hours after the test.
Check out Mometrix's Patient Care Technician Flashcards
Get complex subjects broken down into easily understandable concepts
Get Your Flashcards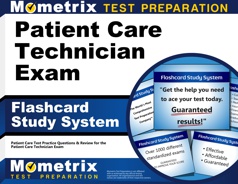 How to Study for the CPCT/A Exam
How to Study Effectively
Your success on CPCT/A test day depends not only on how many hours you put into preparing but also on whether you prepared the right way. It's good to check along the way to see whether your studying is paying off. One of the most effective ways to do this is by taking CPCT practice tests to evaluate your progress. Practice tests are useful because they show exactly where you need to improve. Every time you take a free CPCT/A exam practice test, pay special attention to these three groups of questions:
The questions you got wrong
The ones you had to guess on, even if you guessed right
The ones you found difficult or slow to work through
This will show you exactly what your weak areas are and where you need to devote more study time. Ask yourself why each of these questions gave you trouble. Was it because you didn't understand the material? Was it because you didn't remember the vocabulary? Do you need more repetitions on this type of question to build speed and confidence? Dig into those questions and figure out how you can strengthen your weak areas as you go back to review the material.
Answer Explanations
Additionally, many CPCT/A practice tests have a section explaining the answer choices. It can be tempting to read the explanation and think that you now have a good understanding of the concept. However, an explanation likely only covers part of the question's broader context. Even if the explanation makes sense, go back and investigate every concept related to the question until you're positive you have a thorough understanding.
Comprehend Each Topic
As you go along, keep in mind that the CPCT/A practice test is just that: practice. Memorizing these questions and answers will not be very helpful on the actual test because it is unlikely to have any of the same exact questions. If you only know the right answers to the sample questions, you won't be prepared for the real thing. Study the concepts until you understand them fully, and then you'll be able to answer any question that shows up on the test.
Strategy for CPCT/A Practice
When you're ready to start taking practice tests, follow this strategy:
Remove Limitations. Take the first test with no time constraints and with your notes and CPCT exam study guide handy. Take your time and focus on applying the strategies you've learned.
Time Yourself. Take the second practice test "open book" as well, but set a timer and practice pacing yourself to finish in time.
Simulate Test Day. Take any other practice tests as if it were test day. Set a timer and put away your study materials. Sit at a table or desk in a quiet room, imagine yourself at the testing center, and answer questions as quickly and accurately as possible.
Keep Practicing. Keep taking practice tests on a regular basis until you run out of practice tests or it's time for the actual test. Your mind will be ready for the schedule and stress of test day, and you'll be able to focus on recalling the material you've learned.
FAQs
How many questions are on the CPCT/A exam?
There are 120 multiple-choice questions on the exam, 20 of which are unscored pretest questions.
How long is the CPCT/A exam?
The time limit for the exam is 2 hours.
What is the passing score for the CPCT/A exam?
To pass the exam, you must achieve a scaled score of at least 390.
How much does the CPCT/A exam cost?
The exam fee is $160.