OSAT Early Childhood Education (105) Practice Test
Preparing to take the Oklahoma Subject Area TestsTM (OSATTM) Early Childhood Education (Field 105) exam takes significant time. We're here to help you prepare. This article includes information about test registration, what to expect on the day of the exam, expected test content, and more.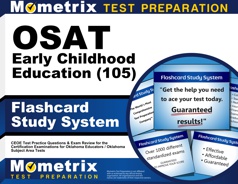 What Is the Exam's Purpose and Background?
The OSAT Early Childhood Education (105) exam is part of the Certification Examinations for Oklahoma EducatorsTM (CEOETM) framework and is part of the state's ongoing mission to maintain a high-quality educational system.
How Do You Register?
Online registration for the Early Childhood Education (Field 105) exam is available at www.ceoe.nesinc.com.
How Much Does the Test Cost?
The exam fee includes $80 for the test itself, a $25 CBT fee and a $30 annual registration fee. The fee can be paid with a VISA® or MasterCard® branded credit card, debit card or check card. Note: You won't be able to use a bank card that doesn't carry either a VISA® or MasterCard® logo.
Times/Locations?
Once you complete your online registration, you'll see more time and location details.
When to Arrive?
Please plan on arriving at least a half hour before your scheduled testing time.
Test Duration?
You'll have four hours to complete the Early Childhood Education (Field 105) exam.
What to Bring?
You'll need to bring one form of original, government-issued identification printed in English that shows your name, photograph and signature. Acceptable examples include a driver's license or a passport. Note: Copies aren't accepted, and it's very important that your name on your ID matches your registration materials.
What Not to Bring:
Electronic devices, including cell phones, recording devices, eyeglasses that have the capability to record or transmit information, any kind of cameras, any type of watch and calculators
Personal items, including coats, bags, wallets and purses
Headwear (other than for medical or religious reasons)
Writing instruments of any kind, including highlighters
Paper, notes or books
Any kind of food or drink
Medical devices (unless those approved in advance)
Tobacco or tobacco products
Weapons of any type
What to Expect During the Exam?
Format/Number of Questions: You'll take the Early Childhood Education (Field 105) exam using a computer and you'll be asked to complete a total of 80 selected-response questions, and one constructed-response item.
Content Subareas
The Early Childhood Education (Field 105) exam is made up of five content subareas. Here's a look at each subarea, including the approximate percentage each area represents as part of the overall exam.
Subarea 1: Child Development, Learning, and the Learning Environment (19%) — This section of the exam reviews the elements that affect childhood learning and development, the procedures, strategies and methods required to build a favorable learning environment, along with the types, benefits and goals of support for children and their families. This part of the exam also looks at how early childhood learning can be boosted through the use of technology and a range of educational resources and materials.
Subarea 2: Communication, Language, and Literacy Development (27%) — This part of the test assesses knowledge related to receptive and expressive language growth and ways of fostering growth in literacy and language skills. In addition, this area looks at environmental factors needed to enhance literacy, phonological/phonemic skills, word identification principles, reading fluency, comprehension and vocabulary growth, as well as spelling and writing skill development.
Subarea 3: Learning Across the Curriculum (27%) — This portion of the test reviews cognitive development and how that can be enhanced through environmental influences. It also looks at mathematic vocabulary, skills and concepts, as well as foundational elements of science, social studies and other curriculum areas, including drama, dance, creative movement, visual arts and music. Physical activity and health are also covered in this subarea of the test.
Subarea 4: Professional Knowledge and Responsibilities (12%) — Looks at enhancing relationships among organizations, families, agencies and professionals, along with a review of key early childhood educator roles and responsibilities.
Subarea 5: Analysis of Communication, Language, and Literacy Development (15%) — This subarea of the exam reviews knowledge related to various stages of literacy development, along with appropriate strategies for growth.
Passing Score: The score needed to pass the Early Childhood Education (Field 105) exam is 240 points.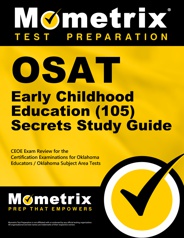 Additional Resources
While you get ready to take the Early Childhood Education (Field 105) exam, you have access to other important resources through Mometrix Academy. For a fee, you'll be able to use the Early Childhood Education (Field 105) Study Guide, including exam preparation details and informative videos. You'll also be able to access a set of flashcards that will boost your testing readiness.
OSAT Early Childhood Education Study Guide
Mometrix Academy is a completely free resource provided by Mometrix Test Preparation. If you find benefit from our efforts here, check out our premium quality OSAT Early Childhood Education (105) study guide to take your studying to the next level. Just click the OSAT Early Childhood Education (105) study guide link below. Your purchase also helps us make even more great, free content for test-takers.
OSAT Study Guide
OSAT Flashcards