OAR Test
The Officer Aptitude Rating (OAR) test is actually a subset of the larger Aviation Standard Test Battery used by the Navy, Marine Corps, and Coast Guard. The OAR includes the first three, core tests in math, reading comprehension, and mechanical comprehension. Your scores on this test will be used to decide whether or not you qualify for officer training. It will also be used to help decide which occupation(s) you will be most suited for.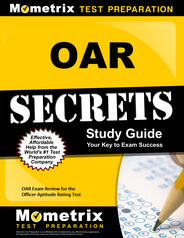 Check Out Mometrix's OAR Printed Study Guide
Who Is Eligible to Take the OAR Test?
The OAR is open to anyone who meets the minimum criteria for applying to the officer training program. In order to apply for officer candidate school, you need to be a US citizen between the ages of 19 and 35 and you need to have your bachelor's degree.

If you meet those criteria, you can register for the OAR and apply for the officer training program. As part of the application process, you will also undergo a thorough background investigation.

To schedule your exam and learn more about what is involved in the application process, talk to your recruiter. You will be allowed to take the test a maximum of three times in your lifetime. So it is important to schedule an appointment that leaves you with plenty of time to prepare and make sure that you do your best.
How Long Does the OAR Test Take?
You will have just over one hour (65 minutes) to complete all three subtests included in the OAR. The test is usually administered via paper and pencil. However, upon request, you can take it on a computer. There is absolutely no difference between the paper and computer version. It's simply a matter of which format is most comfortable for you.

The exact time limits per subtest are as follows:
Math Skills Test – 25 minutes
Reading Comprehension – 25 minutes
Mechanical Comprehension Test – 15 minutes
Speed is going to be an important factor here. You have less than a minute per question on average—and just 30 seconds per question on the mechanical comprehension test. So even if you feel confident about your skills in these areas, you still need to prepare yourself to apply those skills under the pressure of strict time constraints.
What Skills Will I Be Tested on During the OAR?
The OAR is made up of three subtests. Below is a brief outline of what each test will include:
Math Skills Test – 30 Questions

Basic arithmetic operations
Solving for variables
Fractions
Roots
Exponents
Calculation of angles
Area
Perimeter

Reading Comprehension Test – 27 Questions

Extract meaning from text passages
Drawing direct inferences from the text

Mechanical Comprehension Test – 30 Questions

Principles of gasses and liquids
Pressure
Volume
Velocity
Engine components
Engine performance
Principles of electricity
Gears
Weight distribution
Simple machine operation
Pulleys
Fulcrums
All of the questions will be multiple choice and aimed at measuring your basic understanding of these essential principles. All of the questions are intended to gauge whether or not you possess the fundamental cognitive skills and knowledge to succeed in the officer training program.
What Score Do I Need to Get on the OAR Test?
The OAR is given a cumulative score ranging from 20 to 80. Average scores range from 40 to 60. The minimum score you need to aim for in order to qualify for officer training will depend on which branch of the military you are in.

For the Navy, for example, you will need a minimum score of 35. It is highly recommended that you aim above this minimum, however. Many officer training programs are competitive and have a limited number of available spots. Even if you do meet the minimum cutoff, you are not guaranteed admission. The higher your score, the stronger your application will be.
What's the Best Way to Prepare for the OAR Test?
In order to do well on the OAR, you need to strengthen the core cognitive skills that each of the subtests measures: math, reading comprehension, and mechanical comprehension. Doing that effectively takes practice.

Spend at least a couple of weeks with the Mometrix Study Guide and the companion set of Mometrix Flashcards to sharpen each of these skills. These study tools provide sample questions that will help you practice answering exactly the kind of questions you'll see on the test.

More importantly, they each provide you with proven methods and strategies for improving these core skills and applying them to the kind of material you are going to see on test day. The flashcards alone will help improve helpful skills like memory and recall while the study guide will be a great resource for improving your comprehension skill.
OAR Study Guide
Mometrix Academy is a completely free OAR test resource provided by Mometrix Test Preparation. If you find benefit from our efforts here, check out our premium quality OAR Study Guide and OAR Flash Cards to take your studying to the next level. Just click the OAR study guide link below. Your purchase also helps us make even more great, free test content for test-takers.