ASTB-E Test
The Aviation Standard Test Battery-E (ASTB-E) is utilized by the U.S. Navy and the U.S. Marine Corps to select candidates for the Navy and Marine Corps pilot and flight officer programs and the Navy Officer Candidate School. The U.S. Coast Guard utilizes portions of the ASTB-E to select pilots for training and candidates for its non-aviation officer commissioning program.
Test design
The ASTB-E is a multiple-choice computer test that consists of seven subtests. These subtests measure abilities that are essential in an aviation environment. The first five subtests adapt to the skill level of the candidate based on previous answers (computer adaptive).
You can opt to take just the Officer Aptitude Rating (OAR) consisting of three subtests or the entire battery consisting of seven subtests. OAR only will take between 1.5 to 2 hours, and the entire battery will take between 2 to 3 hours and 15 minutes.
OAR consists of:
Math Skills Test (MST): basic arithmetic operations; solving for variables; fractions; roots; exponents; and the calculation of angles, area, and perimeter of geometric shapes.
Reading Comprehension Test (RCT): determining inference from passages.
Mechanical Comprehension Test (MCT): knowledge of principles related to gases and liquids, and how the properties affect pressure, volume, and velocity; components and performance of engines; principles of electricity; gears; weight distribution; and the operation of simple machines.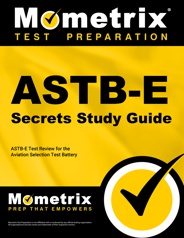 Check Out Mometrix's ASTB-E Printed Study Guide
The remaining subtests which make up the battery consist of:
Aviation and Nautical Information (ANIT): aviation history; nautical terminology and procedures; and aviation-related concepts.
Naval Aviation Trait Facet Inventory (NATFI): The intent of this subtest is to measure specific personality traits.
Performance Based Measured (PBM): spatial orientation aptitude; dichotic listening aptitude; performance of tracking tasks with a stick-and-throttle set; and performance of multiple tasks simultaneously.
Biographical Inventory with Response Verification (BI-RV): This subtest is completed at home and asks about background and previous experiences in relation to success or achievement in aviation.
Registration, cost, dates and delivery methods
You will register for the exam at your nearest Naval Officer Recruiting Station, Navy ROTC unit at a major university, Marine Corps Officer Selection Office, or a Military Institute. There is no cost for the exam, and the main delivery method for six of the subtests is via computer. The BI-RV subtest is taken at home or wherever you can access the internet.
There is the possibility to take the OAR via paper method. You will need to discuss the method of delivery with Navy or Marine Corps personnel scheduling the exam. Neither method is more advantageous to the test-taker as both delivery methods have proven equal results.
ASTB-E Practice Questions
Test Day
At your scheduled test appointment, you will need to present some form of state-issued identification and verification of your social security number. You are not allowed to bring anything into the testing center, and everything you need for the exam will be provided to you.
ASTB-E scoring and results
It is expected that you will work quickly without losing accuracy on the exam. Failing to complete a sufficient number of questions before time expires could result in a penalty applied to your score. The severity of the penalty will increase as the number of questions answered decreases. Random guessing could be more detrimental to your final score than not completing the entire test.
The subtest scores are compiled to create four composite scores which are graded on a mixed stanine with scores ranging from 1 to 9. Score requirements differ by program and service. Guidance will be provided to you prior to taking the exam.
Should you not pass the exam the first time, you are allowed to take the test up to four more times with 31 days between testing dates. This is a lifetime limit.
You will receive an immediate report of your scores as soon as you complete all seven subtests.
Preparing for the ASTE-E exam
You are allowed to take the test four times before it is no longer offered to you. But why would you want to risk your career on taking the test four times? Why put yourself through the stress when you can take the exam with the knowledge and confidence that you will pass it the first time around?
Mometrix Test Preparation's study guide is written with you in mind. The ASTB-E study guide is written by exam experts to make sure you have a complete and easy-to-use study plan for the ASTB-E. With 12 years of research and experience, Mometrix is qualified to assist you with your study plan. Let Mometrix guide you to a successful first attempt. Mometrix is so confident in their study methods that they offer a 100% money-back guarantee.
ASTB-E Study Guide
Mometrix Academy is a completely free ASTB-E test resource provided by Mometrix Test Preparation. If you find benefit from our efforts here, check out our premium quality ASTB-E Study Guide and ASTB-E Flash Cards to take your studying to the next level. Just click the ASTB-E study guide link below. Your purchase also helps us make even more great, free test content for test-takers.
Upgrade your studying with our ASTB-E study guide:
ASTB-E Study Guide
Mometrix Academy – Home