NPTE-PT Practice Test
The National Physical Therapy Exam for physical therapists (NPTE-PT) is used by the Federation of State Boards of Physical Therapy (FSBPT) to evaluate the capability of licensure candidates who have graduated from either an accredited physical therapy program or a comparable non-accredited program.
Click "Start Test" below to take a free NPTE practice test!
NPTE-PT Exam Eligibility
To be eligible to take the NPTE-PT exam, you must meet all of the following requirements:
You must be at least 18 years old.
You must have a degree from an accredited institution that is appropriate for the level of the NPTE exam, or you must have a substantially equivalent education from a recognized credentialing agency.
You must not have sanctions or an open security investigation that has not been completed.
The licensing authority or authorized designee must have approved you.
There may be additional or alternative requirements depending on your jurisdiction.
NPTE-PT Exam Outline
Exam Format
The NPTE-PT exam contains 250 multiple-choice questions and has a time limit of 5 hours.
When you take the exam, the questions will be split evenly into five sections, each containing 40 scored questions and 10 unscored questions. The unscored questions are used by the test administrators to evaluate questions that may appear on future versions of the exam, and they are spread randomly amongst the scored questions.
The questions are all presented in the form of patient scenarios, and you will be asked to select the correct answer out of four given answer choices. There will only be one correct answer per question.
Exam Contents
The questions are split into two domains: Body Systems and Non-systems.
BODY SYSTEMS
The questions in this domain are related to the systems of the human body and their interactions. These are the specific topics that are covered, as well as the range of how many scored questions will appear per system:
Cardiovascular and pulmonary systems (23-28 questions)
Musculoskeletal system (51-60 questions)
Neuromuscular and nervous systems (44-50 questions)
Integumentary system (9-12 questions)
Metabolic and endocrine systems (5-7 questions)
Gastrointestinal system (3-7 questions)
Genitourinary system (4-7 questions)
Lymphatic system (3-8 questions)
System interactions (8-12 questions)
All of these questions fall under one of three categories:
Physical Therapy Examination
The 44-57 questions in this category refer to knowledge of the types and applications of each system, including outcome measures.
Foundations for Evaluation, Differential Diagnosis, and Prognosis
The 58-74 questions in this category refer to the interpretation of knowledge about diseases/conditions of each system.
Interventions
The 48-60 questions in this category refer to the various interventions of each system, as well as the impact these interventions have on other systems.
NON-SYSTEMS
The questions in this domain are related to the different types of equipment and technology, contextual determinants, and use requirements. These questions are split into five categories:
Equipment, Devices, and Technology (5-6 questions)
Therapeutic Modalities (6-8 questions)
Safety and Protection (5-6 questions)
Professional Responsibilities (4-5 questions)
Research and Evidence-Based Practice (3-5 questions)
Check out Mometrix's NPTE-PT Study Guide
Get practice questions, video tutorials, and detailed study lessons
Get Your Study Guide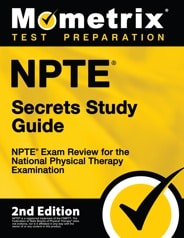 NPTE-PT Exam Registration
The NPTE-PT is intended to be administered four times per year in January, April, July, and October.
Regardless of where you are seeking licensing, Prometric testing facilities across the US offer the computer-based exam. Prior to the registration deadline, you must register and make the $485 payment for the exam. You will not receive an Authorization to Test (ATT) until registration and payment are received by the FSBPT, and the jurisdiction cannot approve your registration for the NPTE-PT until that happens.
To sign up for the NPTE-PT exam, create an FSBPT account and select the "NPTE" button in the green "Services" section of the page. Eligibility for the exam rests with the jurisdiction. Therefore, understanding your jurisdiction's regulations and licensing requirements is vital. The process varies by state and candidates are accountable for making sure their jurisdiction has all the data required for them to approve access to the exam.
The Jurisdiction Approval Date, which is seven days following the deadline for registration and payment, must be met before you are considered qualified to take the exam. Contact your jurisdiction directly to find out what extra information is required to be made eligible if you have registered for the NPTE-PT but have not yet been given permission to take the test.
Your ATT letter—which includes information on how to book your testing session, the exam fee you must pay to Prometric, and your name as it appears in Prometric's registration system—will follow once you have been declared eligible for the NPTE-PT.
Scheduling Your Exam
Prometric offers online and telephone scheduling for exams. It is highly recommended to schedule your exam as soon as you receive your ATT letter because the appointments fill up rapidly. You might need to arrange your exam at a different location if your preferred testing center is unavailable on the day of the exam.
Depending on space, you can switch your exam site after making a Prometric testing appointment. You have the choice to reschedule if you decide not to take the test during a certain testing window. By selecting "Withdraw from an Exam" from the Services menu, you can easily withdraw from an exam from within your FSBPT account. You will be marked as a "no-show" in Prometric's system, and no scores will be produced if you fail to show up for your scheduled exam session or if you are denied testing access due to a lack of a valid ID.
Test Day
To ensure a quick check-in process, you should arrive at your testing location 30 minutes before the stated start time. You will be greeted by a Test Center Administrator (TCA), who will ask you to present two forms of valid identification, one of which must contain your photo. A member of the Prometric staff will take your picture, do a metal detector scan on you, and capture a digital image of your fingerprint before you enter the testing room. Every time you enter or leave the testing room, you will be required to provide a fingerprint scan. Prometric additionally films each testing session.
You will then be asked to put any personal items in a locker. The only things you are permitted to bring to the check-in station are your ID papers, your locker key, and a pair of foam earplugs in an unopened container. Before placing any electrical devices in your locker, be sure they are completely turned off.
You will be asked to stop testing and leave the room immediately if you violate any security regulations, and no scores will be given for your test. In addition, if the FSBPT determines that your score cannot be verified owing to an improbable answer pattern, they will invalidate your score and inform the appropriate licensing authorities. For the purposes of exam security, each applicant is required to sign an NPTE security agreement.
How the NPTE-PT Exam is Scored
The NPTE-PT exam is intended to determine whether a candidate has at least the minimal level of competence to practice as an entry-level physical therapist, not to discern between various levels of competence.
NPTE exam versions according to jurisdictions may vary slightly in their degree of difficulty. So, scaled scores are a key part of making sure that test scores from different administrations are comparable.
Obtaining a scaled score of 600 is required for passing. Therefore, a passing grade is one that is 600 or greater. A failing grade is one with a score below 600. For every version of the NPTE, the number of questions that must be answered correctly to get a score of 600 can vary.
Receiving Your Scores
Five business days after your eligibility period is up, your results will be available online. At the same time, the results will be sent to your jurisdiction. Ten business days after the exam date, your free score report—which contains your numerical scaled score—will be posted to your online account. For 30 days, you can get this report without charge. After that, you can purchase an Individual Score Report from your online dashboard to access your report.
You can purchase a Performance Feedback Report if you would like more diagnostic feedback on how well you performed on the exam. If your score is withheld, FSBPT may require more information before releasing your results.
Retaking the NPTE-PT Exam
If you did not pass the exam, you are allowed to schedule a retest. You can only take the exam six times in your lifetime, and if you have already taken the exam twice and obtained a score below 400 each time, you are not eligible to take the test again.
Check out Mometrix's NPTE Flashcards
Get complex subjects broken down into easily understandable concepts
Get Your Flashcards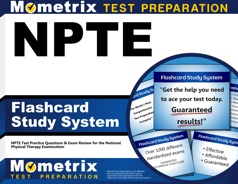 FAQs
How many questions are on the NPTE-PT exam?
There are 250 multiple-choice questions on the exam, 50 of which are unscored.
How long is the NPTE-PT exam?
The time limit for the exam is 5 hours.
How many times can you take the NPTE-PT exam?
You may take the exam a maximum of six times in your lifetime. However, if your first two attempts produce scores under 400, you will no longer be eligible to take the exam at any point.
What is the passing score for the NPTE-PT exam?
To pass the exam, you must achieve a scaled score of 600.
How much does the NPTE-PT exam cost?
The examination fee is $485.
What do physical therapists do?
Physical therapists work with people of all ages who have acute or chronic illnesses or injuries that limit their ability to move, including:
Stroke
Spinal cord injury
Musculoskeletal disorders such as arthritis, tendonitis, and strains in joints and muscles
Post-surgical conditions requiring rehabilitation after surgery
The physical therapist is a medical professional who works with patients to help them regain or improve their functional abilities, manage their pain, and prevent or limit permanent damage to the body. Physical therapists examine, diagnose, and treat people with physical disabilities. They also evaluate each patient's condition and develop a plan of care that may include exercise, manual therapy, education, and/or assistive devices.
If you become a physical therapist, you will find yourself working in hospitals, clinics, or maybe a private practice. Some work in schools and rehabilitation centers where they specialize in treating children with disabilities, while others may specialize in sports medicine or geriatric care.