NBDHE Test
National Board Dental Hygiene Examination is an exam required by state licensing agencies for those who are seeking to be a licensed dental hygienist in that state. Each state agency is allowed to use the results of this exam at its own discretion and may put limitations on them. For instance, some states will only allow licensure if the results are at a certain level and obtained within the last five to 10 years. Make sure to check with your specific state and licensing agency to be aware of the requirements for approval.
Candidates wishing to participate in the NBDHE must be one of the following:
A dental hygiene student in a CODA accredited program
A dental hygienist who has graduated from a CODA accredited program
A dental hygienist who has graduated from a non-accredited program if program is proven to have an accredited equivalent
A dental student from an accredited dental school who has completed the equivalent of a CODA accredited dental hygiene program
A dentist who has met qualifications of the NBDE
There is a $415 exam fee that includes reporting of your official results to you, three dental licensing jurisdictions, and your dental hygiene school.
When and Where is it Taken?
Once your application has been approved, you will be sent an email with instructions to schedule your exam. This exam is scheduled through Pearson VUE. They have testing centers scattered throughout the U.S., its territories, and Canada.
Tests can be scheduled year-round at date and time convenient to you. Plan to arrive at least 30 minutes before the exam begins to allow for proper sign in time. Those who arrive late will not be allowed to test.
What Should I Bring?
You will need to bring two valid and current forms of identification. One needs to be primary and contain your name, signature, and photo. The second ID should be a secondary form and contain your name and signature. The name on each should match the name entered on your application information.
The exam is taken using a computer. As such, you will not need to bring any personal items into the testing site with you. This includes any electronic devices, study materials, and a calculator. Any such items will be kept in a designated locker during the test.
Check out Mometrix's NBDHE Study Guide
Get practice questions, video tutorials, and detailed study lessons
Get Your Study Guide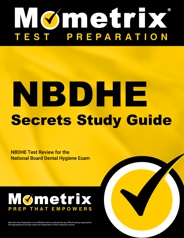 What is Covered?
The NBDHE is made up of 350 multiple choice questions. These consist of two types of questions: discipline-based questions and case-based questions.
There are 200 discipline-based items containing the following areas:
Scientific Basis for Dental Hygiene Practice 60 items
Provision of Clinical Dental Hygiene Services 116 items
Community Health/Research Principles 24 items
The other 150 items will be case-based. These will refer to 12-15 dental hygiene cases you will be presented with. Of these cases you will have at least one of the following types of patients:
Geriatric
Adult-periodontal
Pediatric
Special Needs
Medically Compromised
The case-based items will address the following knowledge and skills areas:
Assessing patient characteristics
Obtaining and interpreting radiographs
Planning and managing dental hygiene care
Performing periodontal procedures
Using preventative agents
Providing supportive treatment service
Professional responsibility
You are given a total of nine hours to take this exam. Three and a half hours are given for the 200 discipline-based items, with a 15-minute break after the first 100 questions. After all 200 items are complete, you will be given a 30-minute break. Then you are given another four hours to complete the 150 case-based items, with a 15-minute break about half-way through.
How is it Scored?
Scores are scaled on a range between 49 and 99. A score of at least 75 is passing. Those who pass the exam will receive a score report stating that they have passed only. Those who fail will receive numerical scores for each major area of the exam.
Score reports are made available three to four weeks after your completed exam. These can be viewed through your ADA accounts summary page.
How to Prepare?
Mometrix wants to help you prepare for this exam. We know it important to your future. That is why we have designed a study guide and flash cards to ensure you understand everything the exam will cover.
These tools will also include sample questions formulated just as the actual test questions will be. This is to ensure that you know exactly what to expect when you sit down to test. Don't leave this up to chance. Get your crucial NBDHE study materials here.
Check out Mometrix's NBDHE Flashcards
Get complex subjects broken down into easily understandable concepts
Get Your Flashcards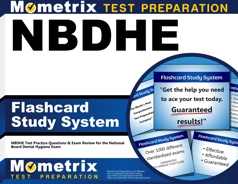 NBDHE Study Guide
Mometrix Academy is a completely free NBDHE test resource provided by Mometrix Test Preparation. If you find benefit from our efforts here, check out our premium quality NBDHE Study Guide and NBDHE Flash Cards to take your studying to the next level. Just click the NBDHE study guide link below. Your purchase also helps us make even more great, free test content for test-takers.
Upgrade your studying with our NBDHE study guide and flashcards:
NBDHE Study Guide
NBDHE Flashcards