NAVLE Practice Test
The ICVA administers the North American Veterinary Licensing Examination (NAVLE) as a requirement for licensure to practice veterinary medicine in the US and Canada.
Click "Start Test" below to take a free NAVLE practice test!
NAVLE Exam Eligibility
To be eligible for the NAVLE exam, you must meet ONE of the following requirements:
You must be enrolled in or a graduate of an AVMA-accredited veterinary school
You must be enrolled in or certified by the Educational Commission for Foreign Veterinary Graduates (ECFVG) or the Assessment of Veterinary Education Equivalence (PAVE)
NAVLE Exam Exam Outline
The NAVLE exam contains 360 multiple-choice questions, 60 of which are unscored, and you will have a time limit of 6.5 hours. The exam is administered in six blocks, with each block containing 60 questions.
The exam is split into four competency domains.
1. Clinical Practice (70%)
The questions in this domain test your knowledge and skills related to gathering and interpreting data and health maintenance and prevention.
Data Gathering and Interpretation

Record creation, maintenance, and proficiency
Diagnosing the patient and developing treatment plans accordingly
Interpreting cytologic specimens, diagnostic images, and laboratory tests
Interpreting findings from a physical examination
Interpreting findings from a postmortem specimen
Interpreting principles of pathophysiology and mechanism of action
Interpreting results of a system-specific examination
Investigating possible exposure of companion animals to toxins
Investigating possible exposure of food or game animal to toxins
Observing/interpreting an animal's mental status and other aspects of behavior
Performing system-specific examination
Prioritizing the need for diagnostic procedures considering available resources
Reading and interpreting production records or farm-based computer reports to understand herd-level health parameters
Reviewing animal medical records to determine health status
Health Maintenance and Problem Management

Administering a biological or pharmacological agent other than anesthesia
Administering general anesthesia, both general and local
Applying a splint, cast, or another stabilization device
Caring for wounds or surgical incisions
Determining prognosis
Establishing a treatment and rehabilitation plan
Evaluating a treatment outcome
Formulating/evaluating a behavior modification plan
Formulating patient/herd/population management and treatment plans
Performing common therapeutic/surgical procedures
Performing major surgical procedures
Prescribing a biological or pharmacological agent
Referring clients to veterinary specialists for further diagnostic studies or treatment
Synthesizing multiple sources of diagnostic information, including local disease prevalence, to determine diagnosis
Treating minor injuries or trauma
2. Communication (8%)
The questions in this domain test your ability to communicate with clients and other professionals in the workplace.
Communication with Clients

Advising a client on health maintenance for the herd, flock, or individual pet
Advising a client regarding appropriate and inappropriate pharmacy compounding
Discussing euthanasia with a client
Discussing strategies with a producer or client to reduce antibiotic resistance and/or antibiotic residues
Discussing the limits of legal extra-label drug use with the client
Ensuring that a client understands the effects of prescribed pharmaceuticals, including chemotherapeutics
Explaining diagnosis and prognosis to clients using lay terminology
Explaining research results to a client, describing their implications for animal care
Helping clients differentiate trustworthy from unreliable information to support the care of their animals
Informing a client of bad news
Instructing clients on how to obtain diagnostic information from an animal's home environment
Instructing clients on methods for isolating and quarantining diseased animals
Negotiating a payment plan with a client
Obtaining informed consent from a client
Providing instruction regarding food safety practices
Providing verbal instructions to a client regarding follow-up care
Recommending management options to clients that are consistent with their cultural norms and personal values
Referring a client for grief counseling
Talking with a client to clarify concerns and expectations regarding the type and level of care
Teaching a client about preventive care
Using appropriate communication techniques
Writing a summary of animal care instructions for a client
Communication with Veterinary and Other Professionals

Building relationships with junior colleagues or new graduates
Consulting with other veterinarians or veterinary specialists regarding animal care
Delegating delivery of veterinary care and services to associates or staff
Delivering verbal case summaries to other veterinarians or members of the healthcare team
Describing disaster preparedness plan to coworkers
Engaging regulatory bodies to improve standards of practice or to address other professional issues
Explaining the results of the research to non-veterinary health workers
Guiding the work of associates or other staff in the delivery of veterinary services
Mentoring and supervising veterinary and veterinary technician students
Responding to unprofessional or unethical behavior in others
Training staff in animal health and care
Writing a case summary for use by other veterinarians or healthcare team members
3. Professionalism, Practice Management, and Wellness (7%)
The questions in this domain test your knowledge and skills pertaining to professional development and veterinary practice management.
Professional Development and Life-Long Learning

Exchanging personal information
Attending professional development seminars
Emerging technologies
Using reference materials
Veterinary Practice Management

Apply appropriate animal restraint
Describe the workings of the benefit plan to staff
Develop a budget for your practice or employer
Develop standard operating procedures (e.g., procedures manual for practice or work environment)
Evaluate and purchase major medical equipment
Evaluate and purchase office/practice management software
Evaluate new medications, products, or treatment procedures to determine suitability for own practice
Negotiate work or practice arrangements (e.g., compensation, work schedule) with colleagues
Prepare or update the employee handbook
Purchase expendable supplies
Review practice management data, including business and financial records
Supervise paraprofessional or technical support staff
4. Preventive Medicine and Animal Welfare (15%)
The questions in this domain test your knowledge and skills pertaining to health and safety and animal welfare issues.
Environmental Health and Safety

Isolation/quarantining techniques
Proper waste disposal
Informing the community about waste management/removal
Veterinary Public Health

Reporting disease concerns to state, regional, and national agencies
Investigating and documenting a disease outbreak
Conducting community education workshops related to disease and animal health
Collaborating with community groups and government agencies concerning diseases and health risks
Animal Welfare Issues and Concerns

Certifying that animal products meet acceptable standards
Animal welfare audits
Vaccinations
Deworming
Explaining concerns to a client
Check out Mometrix's NAVLE Study Guide
Get practice questions, video tutorials, and detailed study lessons
Get Your Study Guide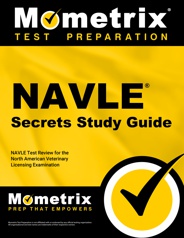 NAVLE Exam Registration
To register for the exam, you must fill out an application on the ICVA website and pay the $720 testing fee. The due dates for applications are February 1 and August 1.
Once your application has been approved, you will receive a confirmation email with instructions on how to schedule your exam appointment with Prometric.
Test Day
On the day of the exam, you should arrive 30 minutes before your scheduled appointment time. Once you arrive, you will need to provide your scheduling permit and a valid form of government-issued photo ID.
Once you have been approved for testing, you will be asked to leave all personal items in a secured locker located outside the testing room. This includes your cell phone, watch, bags, and food items.
After your items have been stored, you will be led to your testing area and given a brief tutorial on the testing system before the exam begins.
NAVLE Scores
Your NAVLE score is based on a scaling system. This system takes your raw score, which is the number of questions you answered correctly, and converts it to a numerical score reported on a range of 200-800. The passing score is a scaled score of 425.
Your score report will be available 3-5 weeks after testing. Your report will contain a bar graph that shows a distribution of scores from a recent group of NAVLE test-takers, as well as your score in relation to the passing score.
Retaking the NAVLE Exam
If you fail the exam, you are allowed to retake it up to five times in your lifetime.
Check out Mometrix's NAVLE Flashcards
Get complex subjects broken down into easily understandable concepts
Get Your Flashcards
FAQs
How many questions are on the NAVLE exam?
There are 360 multiple-choice questions on the exam, 60 of which do not count toward your score.
How long is the NAVLE exam?
The time limit for the exam is 6.5 hours.
What is the passing score for the NAVLE exam?
To pass the exam, you must achieve a scaled score of at least 425.
When are NAVLE scores released?
You should receive your score report about four weeks after you take the exam.
How much does the NAVLE exam cost?
The examination fee is $720.