North American Veterinary Licensing Examination
The successful completion of NAVLE is necessary in order to practice veterinary medicine in the United States and Canada.
This exam includes 360 multiple-choice items. Of the 360 items, only 300 are scored. There will be a total of 7.5 hours at the testing center. This includes 6.5 hours of testing time, 15 minutes for orientation/tutorial, and 45 minutes for a break.
Special accommodations are available for approved examinees. Prior approval is required for most accommodations. Those such as being able to eat or take medication during the scheduled break time, does not require advanced approval.
Examples of testing accommodations that do require prior approval include small group setting, Braille test materials, and large print test materials.
What topics/species does this exam assess?
The two major categories that will be assessed on this exam are Data Gathering and Interpretation AND Health Maintenance and Problem Management.
Beneath Data Gathering and Interpretation, you are expected to perform activities such as:
Obtain history and perform physical examination.
Determine the animal's status.
Record important information.
Create a problem list and differential diagnosis.
Interpret information and develop a working or final diagnosis.
Beneath Health Maintenance and Problem Management, you are expected to perform activities such as:
Name and assess prevention, treatment, and management alternatives.
Implement an action plan
Gauge outcomes
Understand professional behavior, communication, and practice management.
These activities relate to the below species.
Canine
Feline
Pet birds
Other small animals
Bovine
Porcine
Ovine/Caprine
Cervidae
Equine
Camelidae
Poultry
Public health
Non-species specific
Check out Mometrix's NAVLE Study Guide
Get practice questions, video tutorials, and detailed study lessons
Get Your Study Guide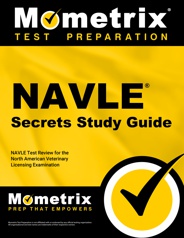 How do I apply to take the exam?
To be licensed in the United States or US territories, you must submit the NAVLE application to ICVA and to the state/territorial licensing board.
You may submit a paper or online application. If applying online, you may pay via VISA or MasterCard.
Different instructions apply when looking to be licensed in Canada.
What is the cost of the exam?
The cost for taking the exam in North America is $635 USD. The cost for taking the exam overseas is $935. The exam fee is non-refundable and non-transferable.
What are the testing dates locations?
NAVLE is administered during two testing windows per year. The first is during a two-week period in the month of April. The second is a four-week period November-December.
There are various testing centers throughout North America and several international sites.
What should I do the day of the exam?
Bring an original form of identification. It must contain your name, signature, and a photo. Also, bring your Scheduling and Admission Permit. You are allowed to write your confirmation number at the bottom of the Scheduling and Admission Permit, but ensure there is no other writing on the document.
If you do not have the hard copy of this form, you may submit it electronically, via a smartphone.
If you do not have either format of the document, you may request to reschedule your exam. If this request is approved, additional fees will apply.
If needed, an on-screen calculator will be available for your use.
Items such as books, papers, and purses are prohibited from the testing area.
What happens after I take the exam?
If you take the exam during the November-December window, your score will be reported by mid-January. If you take the exam during April, your score will be reported by mid-May.
Check out Mometrix's NAVLE Flashcards
Get complex subjects broken down into easily understandable concepts
Get Your Flashcards
What is the passing score for this exam?
A passing score is 425 or greater.
What happens if I don't pass the exam?
The licensing board of each state has its own policy with regard to re-taking the exam. Contact your state board.
Taking the NAVLE is not a feat you have to prepare for alone. Mometrix understands the importance of being thoroughly prepared so that you do well the first time. Knowing this, we've created a comprehensive study guide and convenient flashcards that you can use for long-term study sessions, or when you only have a few minutes of study time to spare.
Passing this test is important, so don't try to wing it. Pick up your study materials today!
NAVLE Study Guide
Mometrix Academy is a completely free NAVLE test resource provided by Mometrix Test Preparation. If you find benefit from our efforts here, check out our premium quality NAVLE Study Guide and NAVLE Flash Cards to take your studying to the next level. Just click the NAVLE study guide link below. Your purchase also helps us make even more great, free test content for test-takers.
Upgrade your studying with our NAVLE study guide and flashcards:
NAVLE Study Guide
NAVLE Flashcards
NAVLE Study Guide Customer Success Stories
Our customers love the tutorial videos from Mometrix Academy that we have incorporated into our NAVLE test study guide. The NAVLE study guide reviews below are examples of customer experiences.
I purchased the NAVLE Secrets study guide and I find it very useful and very practical. Unlike other study books this one is very concise and gives you great tools about the test itself which I find is key to achieve the results you want. I also find the video clips very helpful specially if you are a visual person.
NAVLE Study Guide – Customer
Very concise and straightforward. Loved the references to the videos for a more detailed explanation on certain topics throughout the book. The practice test at the end was helpful, especially the detailed explanations to to answers to help me understand the reasoning behind each answer choice.
NAVLE Study Guide – Daniela
Navle secrets study guide is helping me immensely to prepare for NAVLE. This guide's emphasis on important topics and their to the point briefs on these topics are sureshot to success. Practice questions in this guide helps to build up the confidence you need for exam. Highly recommended.
NAVLE Study Guide – Customer
I personally have test anxiety and find myself thinking too hard and trying too hard to figure out what the question writer is wanting. Your easy to follow tips in regards to test anxiety are helping me with my studies. I also appreciate the material that you have covered in your guide being placed in an organized logical organization. I believe that your guide so far has been overwhelmingly worth the purchase price.
NAVLE Study Guide – Donna
Love the Study Guide due to its concise level of information and the links to videos for further understanding of certain topics. The Flashcards are great for reviewing and determining areas of weakness, I also enjoy the convenience of being able to study anywhere!
NAVLE Study Guide – Customer