NASM Practice Test
The NASM Certified Personal Trainer (NASM-CPT) certification exam is accredited by The National Commission for Certifying Agencies (NCCA). NASM is the world's leading resource in the health and fitness industry.
This page will cover the NASM-CPT examination, what information the examination covers, the number and type of questions you can expect, the score you need to pass, and everything you need to register for the assessment.
Click "Start Test" below to take a free NASM practice test!
Eligibility
Requirements to apply for the NASM-CPT exam include being at least 18 years old with a high school diploma or being within 90 days of successful completion of it. An equivalent diploma or certification, such as a General Education Development (GED), is also accepted as well as other diplomas evaluated as equivalent education by the American Association of Collegiate Registrars and Admissions Officers for secondary education.
In addition, you must have a current certification card in cardiopulmonary resuscitation (CPR) and an automated external defibrillator (AED) from an approved provider. CPR/AED certification must include hands-on training from approved providers including the American Red Cross, the American Heart Association, and the American Safety and Health Institute.
Exam Outline Review
The NASM exam contains 120 multiple-choice questions, 20 of which are unscored "pretest" questions, and the time limit is two hours. The pretest questions are used to evaluate questions for future versions of the test.
The test is split into six performance domains:
1. Basic and Applied Sciences and Nutritional Concepts (15%)
The questions in this domain assess your knowledge of human anatomy, the role of exercise physiology in relation to bioenergetics, exercise metabolism, and the various body systems (nervous, muscular, skeletal, endocrine, cardiorespiratory, and digestive systems). This domain also covers the following:
Biomechanics
The science of human movement
Motor development principles
Macronutrients
Micronutrients
Hydration
Caloric intake and expenditure guidelines
Energy measurement units
Dietary recommendations
Various diets
Label reading
Factors that may affect weight management physiology
The uses, effects, benefits, and risks of popular nutritional supplements
2. Client Relations and Behavioral Coaching (15%)
The questions in this domain cover topics such as client-CPT professional relationships, client communication, educating clients on lifestyle changes, active listening, SMART goal development, obstacles to behavior change, and psychological responses to exercise.
3. Assessment (16%)
The questions in this domain evaluate your ability to select and perform the appropriate assessments and then document and interpret these results to develop an appropriate fitness program. The questions cover the following topics:
Static postural assessments
Movement assessments
Strength assessments
Speed and agility assessments
Cardiorespiratory assessments
Physiological assessments
Body composition assessments
PAR-Q assessments
Essential elements of medical histories
Medical risk factors
Lifestyle questionnaires
Assessments of special populations
Reassessment criteria
Signs that indicate a client needs a referral due to the condition being out of scope
4. Program Design (20%)
The questions in this domain evaluate your ability to use assessment results to create appropriate exercise programs for individual clients, which include flexibility training, core training, resistance training, balance training, cardiorespiratory training, plyometric training, and speed agility quickness training. This domain also covers the following:
Proprioceptive manipulation
Exercise progression
Exercise regression
General adaption syndrome
Periodization concepts
Acute variables
Risk vs. reward of different exercises and modalities
Rest and recovery
Identification of current trends
The uses and benefits of fitness technology
Exercise program designs for different populations
Principles of specificity, overload, and variation
5. Exercise Technique and Training Instruction (24%)
The questions in this domain measure your knowledge of the following:
Safe and effective exercise techniques
Proper spotting techniques
Correct set-up and technique of various exercises and training methods
Warm-up and cool-down protocols
Cueing techniques
Safe training practices
Kinetic chain checkpoints
Signs indicating that training modifications are needed
6. Professional Development and Responsibility (10%)
The questions in this domain evaluate your knowledge of the following:
Business basics
Marketing practices
Sales methods
Business development
Equipment maintenance
Professional limitations of the CPT
Proper emergency situation procedures
CPT occupational limitations
Retaining professional credentials
Use of credible health and fitness educational resources
Professional growth opportunities
Ethical standards
Professional codes of conduct
Check Out Mometrix's NASM Study Guide
Get practice questions, video tutorials, and detailed study lessons
Get Your Study Guide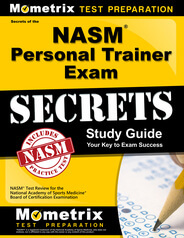 Registration
To register for the exam, you will need to create NASM account and schedule an exam date. You will be given two test-taking options: in-person or remote. Once your exam is scheduled, you will receive a confirmation via email.
Test Day
In-person Testing
You should arrive at the testing center 15-30 minutes before the scheduled exam time. If you arrive late, you will not be allowed to take the exam. Once you arrive, you will be asked to provide a valid photo ID to verify your identity.
Before you enter the testing room, you will be asked to leave all personal items outside. This includes items such as your cell phone, pens, paper, bags, hats, and food.
Once you begin the exam, you are allowed to take a break, but the timer will not stop during this break. You are not allowed to stop the exam and pick it back up at another time; the entire exam must be completed in one sitting.
Remote Testing
You should log in to your account 15-30 minutes before the scheduled exam time. If you are not logged in by the time your exam is scheduled to begin, you will not be allowed to take the exam. During the check-in process, you will be asked to provide a valid photo ID to verify your identity, and you will be asked to use your webcam to scan your surroundings.
You are not allowed to have any personal items on your desk, such as your phone, food, bags, etc. You must also ensure that no one enters the room at any point during the exam.
Once you begin the exam, you are allowed to take a break, but the timer will not stop during this break. You are not allowed to stop the exam and pick it back up at another time; the entire exam must be completed in one sitting.
How the Exam is Scored
The NASM-CPT exam is scored using a scaled scoring method, ranging on a scale of 0-100. You must achieve a scaled score of 70 to pass the exam.
You will be provided with your pass/fail status before you leave the testing center if you tested in-person, or before you log out of the testing session if you tested remotely.
If you pass the exam, you will not be shown your exact score on your score report. You are only shown your exact score if you fail, along with a breakdown of your performance on each section to help prepare you for a retake of the exam.
Check Out Mometrix's NASM Flashcards
Get complex subjects broken down into easily understandable concepts
Get Your Flashcards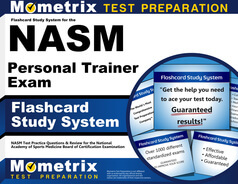 How to Pass the NASM-CPT Exam
How to Study Effectively
Your success on NASM-CPT test day depends not only on how many hours you put into preparing but also on whether you prepared the right way. It's good to check along the way to see whether your studying is paying off. One of the most effective ways to do this is by taking NASM-CPT practice tests to evaluate your progress. Practice tests are useful because they show exactly where you need to improve. Every time you take a free NASM exam practice test, pay special attention to these three groups of questions:
The questions you got wrong
The ones you had to guess on, even if you guessed right
The ones you found difficult or slow to work through
This will show you exactly what your weak areas are and where you need to devote more study time. Ask yourself why each of these questions gave you trouble. Was it because you didn't understand the material? Was it because you didn't remember the vocabulary? Do you need more repetitions on this type of question to build speed and confidence? Dig into those questions and figure out how you can strengthen your weak areas as you go back to review the material.
Answer Explanations
Additionally, many NASM practice tests have a section explaining the answer choices. It can be tempting to read the explanation and think that you now have a good understanding of the concept. However, an explanation likely only covers part of the question's broader context. Even if the explanation makes sense, go back and investigate every concept related to the question until you're positive you have a thorough understanding.
Comprehend Each Topic
As you go along, keep in mind that the NASM-CPT practice test is just that: practice. Memorizing these questions and answers will not be very helpful on the actual test because it is unlikely to have any of the same exact questions. If you only know the right answers to the sample questions, you won't be prepared for the real thing. Study the concepts until you understand them fully, and then you'll be able to answer any question that shows up on the test.
Strategy for NASM Practice
When you're ready to start taking practice tests, follow this strategy:
Remove Limitations. Take the first test with no time constraints and with your notes and NASM study guide handy. Take your time and focus on applying the strategies you've learned.
Time Yourself. Take the second practice test "open book" as well, but set a timer and practice pacing yourself to finish in time.
Simulate Test Day. Take any other practice tests as if it were test day. Set a timer and put away your study materials. Sit at a table or desk in a quiet room, imagine yourself at the testing center, and answer questions as quickly and accurately as possible.
Keep Practicing. Keep taking practice tests on a regular basis until you run out of practice tests or it's time for the actual test. Your mind will be ready for the schedule and stress of test day, and you'll be able to focus on recalling the material you've learned.
FAQs
How many questions are on the NASM-CPT exam?
There are 120 multiple-choice questions on the exam, 20 of which are unscored "pretest" questions.
How long is the NASM-CPT exam?
The time limit for the exam is 2 hours.
What is the passing score for the NASM-CPT exam?
To pass the exam, you will need a scaled score of 70.
How much does the NASM-CPT exam cost?
The fee for the exam is $599.
NASM Study Guide Customer Success Stories
Our customers love the tutorial videos from Mometrix Academy that we have incorporated into our NASM test study guide. The NASM study guide reviews below are examples of customer experiences.
I have never been a great test taker and I have felt a ton of anxiety about passing this test and not spending even more money on re-testing. I am so happy with my purchase of your study guide and I knew it was a great decision on the first day I received it. The reason is simple; your study guide secrets contains all of the truly relevant material written in the most clear and concise language. I find myself absorbing the material faster now because the study guide is written more like people speak in everyday terms. I feel much more confident going forward in pursuit of my goals due to the Mometrix study guide. You have a product I will recommend to anyone I know that also is determined to pass the NASM CPT test.
NASM Study Guide – Customer
The secrets study guide is an excellent source of condensed study material for the CPT exam. I feel much more prepared with a much greater understanding of material and concepts after utilizing this book. I would recommend to anyone studying for the CPT exam.
NASM Study Guide – Joel
I absolutely love it! This book is very concise yet provides all of the information needed to ace the NASM exam! This book even comes with practice questions and test taking tips which is absolutely amazing!
NASM Study Guide – Customer
Absolutely loving this study guide. It simplifies the 800 page textbook into digestible sized pieces. It makes learning more clear and concise.
NASM Study Guide – Customer
I am very pleased with my purchase, it was exactly what I was hoping for. Preparing for the NASM CPT exam has been very daunting and this study guide was a huge relief. Not only does it give extremely helpful studying and test taking advice, the content and text formatting is very user friendly, instead of a huge chapter book it breaks down each important category into simple digestible paragraphs.
NASM Study Guide – Liz
This is a great book- concise and to the point. I've just started studying for my exam and I am only a third of the way through and love it so far. The organization, lay out, and information is going to be vital for passing the CPT exam!
NASM Study Guide – Lisa
This product has been very helpful in the preparation of getting my certification for personal trainer. The explanations are easy to understand and the material is very easy to comprehend. I would recommend those seeking to get their personal trainer certification to purchase this product.
NASM Study Guide – Customer
When I went through all of my training to be a personal trainer, I took a lot of flack from family and friends. Sure, everyone thought it was cool that I was going to help people get into shape, but at the same time, they didn't realize how hard the training really was. It wasn't about just going to the gym and working out. There was so much more to it than that. So when my certification exam came around, I knew I needed to study hard and show people the types of things I was studying. No one could understand my notes, but this study guide was easy to show around...and easy to study! It had comprehensive content and all the material I needed. People were surprised by how much I knew about reactive training, movement assessment and other complicated subjects. I learned it all in my classes, but the study guide helped reinforce the things I needed to know for the test. Now, when I have my first client, I know I'm going to be able to give him or her the attention they need in order to get the goals met.
NASM Study Guide – Customer
It has already been very helpful and easy to read. Much easier than the text and more interesting since the information is focused and concise. It omits the distractions of a "fully illustrated text book". As a busy adult with a full time job, and family all I really need is to be successful and get on with my life. Your study guide provides this for me. Thank you!
NASM Study Guide – Customer