Nail Technician Practice Test
The National Nail Technology Theory Examination is designed to evaluate the skills and knowledge of candidates applying to be licensed to work as nail technicians in the United States.
Anyone that wants to work as a nail technician in the US must complete and pass this examination.
This page covers the Nail Technician examination, what information the exam covers, the number and type of questions you can expect, the score you need to pass, and everything you need to register for the assessment.
Exam Outline Review
The Nail Technician exam is split into two sections: Scientific Concepts and Nail Technology Procedures. There are a total of 110 items to complete within the span of 90 minutes.
Scientific Concepts
The Scientific Concepts section is a written examination containing 44 multiple-choice questions.
This section is split into three subsections.
1. Infection Control and Safety Practices (15%)
Identify how diseases and infections are potentially caused or transmitted
Recognize infection control principles, including the levels of control and the process of control (such as dispensing products and disposal of materials)
Know the application of procedures for blood exposure
Identify adverse reactions to any of the products or procedures used
Know and utilize Material Safety and Data Sheets (MSDS)
Know the methods used to prevent work injuries such as proper ventilation and ergonomics
2. Basic Human Anatomy and Physiology (15%)
Identify the functions, parts, and structure of the skin and nails
Recognize both the disorders and diseases of the skin and nails
Identify the bones in the human hands, feet, arms, and legs
Identify the muscles of the hands, arms, legs, and feet, along with the functions of those muscles
3. Basic Chemistry of Nail Products (10%)
Know the purposes and effects of the ingredients found in nail products
Know the possible interactions between the ingredients of nail products
Recognize chemical reactions
Recognize physical changes
Nail Technology Procedures
The Nail Technology Procedures section requires you to perform various procedures and is not a written exam. During this portion of the exam, the test proctor will give you verbal instructions as to what to do and the order in which you should do things. Do not begin before the proctor has completed their instructions and told you to begin.
This section is split into six subsections.
1. Client Consultation and Documentation (5%)
Identify elements of a client consultation
Evaluate the condition of a client's nails and skin
Recognize conditions that would prohibit service
Determine services or products
Maintain client records
2. Nail Service Tools (8%)
Identify the functions and effects of tools

Nail equipment (table, lamp, electric file, pedicure basin, etc.)
Nail implements (e.g., nail clippers, cuticle pusher)
Nail supplies, products, and materials (cotton, lotion, towels, etc.)

Follow practices for safe use of tools
3. Nail Service Preparation (5%)
Set up a workstation/service area following infection control procedures
Perform sanitation of a client's and technician's hands and/or feet
4. Manicure and Pedicure Services (18%)
Perform procedures safely for a basic manicure and/or pedicure service

Shape nails
Detail cuticles
Cleanse nails
Buff nails
Exfoliate
Perform basic massage

Recognize the purpose and procedures for add-on services

Paraffin
Hot oil/lotion
Masks
Soak-off gels
5. Application, Maintenance, and Removal Procedures for Nail Enhancement Services (20%)
Nail tip
Acrylics
Light-cured gels
6. Post-service Procedures that Follow Infection Control Guidelines (4%)

Check Out Mometrix's Nail Technician Study Guide
Get practice questions, video tutorials, and detailed study lessons
Get Your Study Guide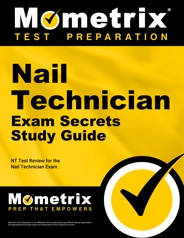 Registration
The registration process is different from state to state. You can contact the board of cosmetology in the state you reside in and find out exactly where you need to go to register for the examination.
The fees applied to register and to receive a license are different in every state.
The number of educational hours of training from an accredited school needed to take the National Nail Technology Theory exam also differs in every state.
Some states have additional requirements that candidates must meet. Including but not limited to:
Age requirements of no less than 16 or 17 years of age.
Educational requirements of a high school diploma or completion of at least the 10th grade.
Completion of an HIV/AIDS course from a high school or accredited cosmetology school.
You must have a social security card
Nail Technician Exam Scores
You must score 75% or higher on the exam to pass. This is the score you need for the theory and for the practical.
You should be made aware of your score immediately following the practical test, and it can take up to 14 days to receive the final score for your written examination.

Check Out Mometrix's Nail Technician Study Guide
Get complex subjects broken down into easily understandable concepts
Get Your Flashcards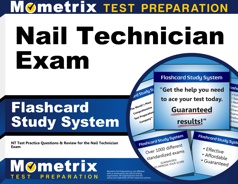 How to Study for the Nail Technician Exam
How to Study Effectively
Your success on test day depends not only on how many hours you put into preparing but also on whether you prepared the right way. It's good to check along the way to see whether your studying is paying off. One of the most effective ways to do this is by taking Nail Technician practice tests to evaluate your progress. Practice tests are useful because they show exactly where you need to improve. Every time you take a free Nail Technician exam practice test, pay special attention to these three groups of questions:
The questions you got wrong
The ones you had to guess on, even if you guessed right
The ones you found difficult or slow to work through
This will show you exactly what your weak areas are and where you need to devote more study time. Ask yourself why each of these questions gave you trouble. Was it because you didn't understand the material? Was it because you didn't remember the vocabulary? Do you need more repetitions on this type of question to build speed and confidence? Dig into those questions and figure out how you can strengthen your weak areas as you go back to review the material.
Answer Explanations
Additionally, many Nail Technician practice tests have a section explaining the answer choices. It can be tempting to read the explanation and think that you now have a good understanding of the concept. However, an explanation likely only covers part of the question's broader context. Even if the explanation makes sense, go back and investigate every concept related to the question until you're positive you have a thorough understanding.
Comprehend Each Topic
As you go along, keep in mind that the Nail Technician practice test is just that: practice. Memorizing these questions and answers will not be very helpful on the actual test because it is unlikely to have any of the same exact questions. If you only know the right answers to the sample questions, you won't be prepared for the real thing. Study the concepts until you understand them fully, and then you'll be able to answer any question that shows up on the test.
Strategy for Nail Technician Practice
When you're ready to start taking practice tests, follow this strategy:
Remove Limitations. Take the first test with no time constraints and with your notes and Nail Technician study guide handy. Take your time and focus on applying the strategies you've learned.
Time Yourself. Take the second practice test "open book" as well, but set a timer and practice pacing yourself to finish in time.
Simulate Test Day. Take any other practice tests as if it were test day. Set a timer and put away your study materials. Sit at a table or desk in a quiet room, imagine yourself at the testing center, and answer questions as quickly and accurately as possible.
Keep Practicing. Keep taking practice tests on a regular basis until you run out of practice tests or it's time for the actual test. Your mind will be ready for the schedule and stress of test day, and you'll be able to focus on recalling the material you've learned.
FAQs
How many questions are on the Nail Technician exam?
There are 110 items on the Nail Technician exam.
How long is the Nail Technician exam?
The Nail Technician exam has a time limit of 90 minutes (1.5 hours).
What is a passing score on the Nail Technician exam?
A passing score on the Nail Technician exam is 75%.