NACE I: Foundations of Nursing Practice Test
The Nursing Acceleration Challenge Examination (NACE) I: Foundations of Nursing exam is one of seven tests offered by the National League for Nursing (NLN). The exam aims to evaluate the previous learning and experience of licensed practical nurses seeking advanced placement in registered nursing programs. The NACE I assists faculty in placement decisions about students already selected for admission.
Exam Requirements
Individual nursing programs determine the requirements for their registered nurse programs. If the NACE I is a prerequisite for your educational program, your admission team will let you know.
About the NACE I Exam
The NACE I is used by your nursing program to measure your knowledge of health problems and conditions commonly encountered in nursing practice. Questions on the exam relate to the promotion, maintenance, and restoration of health, focusing on normal and abnormal findings, modalities used for treatment, including drugs and nutrition, and nursing interventions.
Test Design
There are 200 questions on the computer-delivered exam; some questions are multiple-choice and others will ask you to "select all that apply." You have four hours to complete the exam. Individual questions examine situations involving clients with common health problems. When answering each case, use your knowledge of the nursing process—assess, analyze, plan, implement, and evaluate – to find the correct diagnosis. The health conditions in the exam questions include pain, fluid, and electrolyte imbalance, incontinence, infectious disease, loss of consciousness, chronic illness, death and dying, pre-and post-operative care, and stress.
Your success on the NACE I depends on your mastery of terminology, ability to recall symptoms, knowledge of the appropriate use of medications, and ability to apply effective treatments for the conditions you encounter in a clinical environment.
Exam Outline Review
The exam is divided into four general content areas.
I. Basic Health Needs
The first area is Basic Health Needs, which includes psychological and psychosocial needs.
Psychological Needs
Psychological Needs includes growth and development, hygiene and comfort, safety, body alignment, exercise and ambulation, rest and sleep, nutrition, elimination, respiration and circulation, and fluids and electrolyte balance.
Psychosocial Needs
Psychosocial Needs includes sexuality, spiritual preference, self-esteem, stimulation, loss and death, self-actualization, security, defense mechanism, and cultural influence.
II. Communication
The second general content area is Communication, which includes verbal, nonverbal, and documentation.
III. General Principles of Medical Administration
The third area reviews your knowledge and competence with the general principles of medication administration.
IV. Moral, Ethical, and Legal Issues
The fourth content area assesses your understanding of the moral, ethical, and legal issues that you encounter during your nursing practice, such as advanced directives, informed consent, and negligence.
Check Out Mometrix's Foundations of Nursing Study Guide
Get practice questions, video tutorials, and detailed study lessons
Get Your Study Guide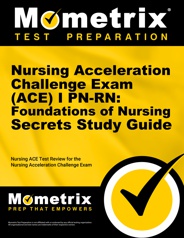 Registration and Cost
If you need to take the NACE I, your nursing program provides the information you need to register for the exam. The methods available vary by institution. Generally, it involves making an account with NLN, paying the examination and proctoring fee, and sitting for the exam. The exam is available remotely or on-site at a testing center.
The remote exam is $80.00, and the on-site test is $70.00. Some universities charge a fee of $20.00 to $25.00, payable to the testing facility before you take your exam. Your nursing program determines the proctor fees.
Test Day
Each nursing program has rules and guidelines for the delivery of the NACE I exam, but there are standard requirements that are the same, regardless of which institution delivers the exam.
Remote
Candidates taking the exam by remote proctor should ensure their computer system and testing area meet the minimum requirements defined by the testing service. Minimum requirements usually include high-speed internet access, the ability to use video and sound, the most current browser version, and the ability to download the applicable program used for testing. Requirements for the testing area include a quiet space, all reference materials removed and out of reach, and an ability to be undisturbed for the duration of the exam.
On-Site
The testing location may be on campus or at an off-site testing center. Candidates taking the on-site examination will use the chosen testing centers chosen by the nursing program. Take the documentation, proctor-fee receipt (if any), and identification with you when you check in. Necessary supplies are provided during the exam.
Scoring
When you complete the exam, your raw score is displayed. Your official score is sent to your nursing program. Once your official score is released to your nursing program, you can log on to your NLN account to view your report. While it is generally accepted that a passing score is 75%, the passing level is determined by each nursing program, and they can select a more stringent passing score. Your score is valid for three years from the exam date.

Check Out Mometrix's Foundations of Nursing Flashcards
Get complex subjects broken down into easily understandable concepts
Get Your Flashcards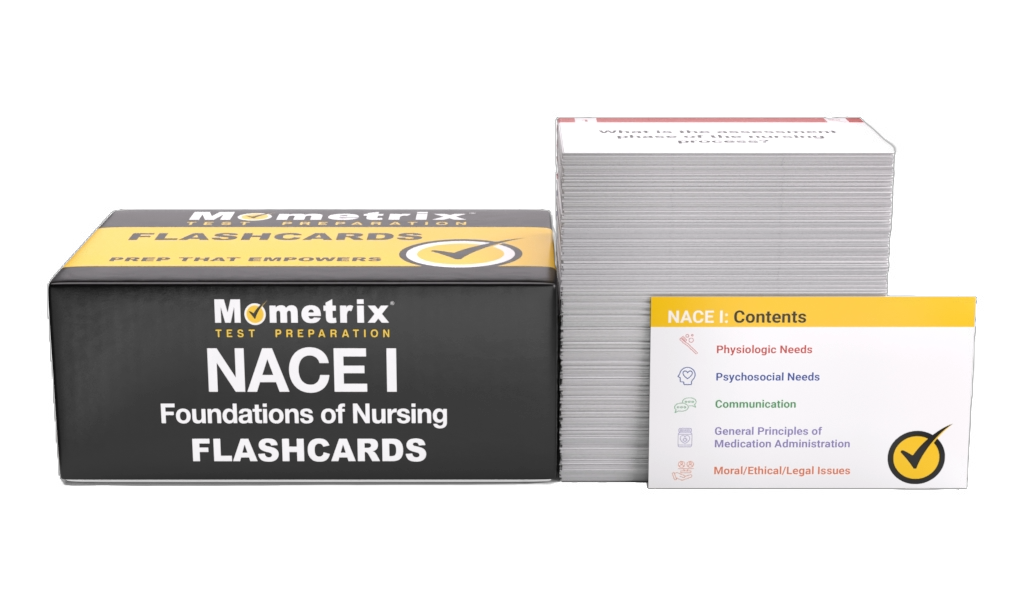 Retaking the Exam
The NLN recommends a retesting policy of once every six months. However, your program sets the retest policy for their program. Your advisor will guide you on how to retake the exam if necessary.
How to Study for the NACE Exam
To adequately prepare for the exam, and start your future studies off with a strong foundation, you need to be diligent and efficient in your studying. The NACE I Foundations of Nursing ensures you have the knowledge necessary to be successful in a challenging RN program, so the exam is challenging. We have developed the resources you need to streamline your efforts. We have a thorough and concise study guide, memory-enhancing flashcards, and an online practice test designed to make the most of your actions.
FAQs
How do you study for the NACE exam?
To study for the NACE Foundations of Nursing exam, check out our flashcards and study guide, which includes additional practice tests. These invaluable resources include a risk-free, 1-year money-back guarantee. Repetition and practice are key to adequate preparation.
Is the NACE exam hard?
The NACE Foundations of Nursing exam is generally known as a moderately difficult exam, which some questions being more challenging than others.
What is a passing score for the NACE exam?
The score you need to achieve on the NACE Foundations of Nursing will depend on which nursing program you are a part of. A score of 75% is generally recommended, but check with your nursing program for more details.
When will I receive my NACE scores?
Your NACE score will be available within 24 hours of taking the test, unless otherwise noted.
How long is the NACE Foundations of Nursing exam?
The NACE Foundations of Nursing exam has a time limit of 4 hours.