The Medical Laboratory Technician (MLT) exam is offered by the American Medical Technologists (AMT) association and the ASCP Certification Board as a way to obtain MLT certification. Earning your MLT certification demonstrates your dedication, professionalism, and preparation as a medical laboratory technician.
Click "Start Test" above to take a free MLT practice test, and check out our premium-quality MLT test prep resources by clicking the links below!
MLT Exam Eligibility
There are four accepted routes of eligibility, one of which you'll need to complete to sit for the MLT exam.
Route 1: Education
An associate degree from an accredited institution or program (by a recognized regional or national accreditation agency) in medical laboratory technology.
Route 2: Alternate Education
Must complete two years or more (60 semester hours) of courses in a regionally or nationally accredited institution, including a minimum of 25 semester hours in clinical laboratory science such as biological or chemical studies, math, and/or computer science (note that no more than 6 hours of math and/or computer science can count toward the 25-hour requirement). Must also complete at least 6 months of approved clinical laboratory experience including rotation through the blood banking, microbiology, chemistry, and hematology areas of the laboratory.
Route 3: Military
Must finish a 50-week US military medical laboratory training program, and those credits must have either been earned in or accepted for transfer by an accredited college or university.
Route 4: Other Recognized Exam
If taking this route for eligibility, you must pass a generalist MLT exam from another certification body or state licensing agency, provided that the other exam is approved by the AMT Board of Directors. Also, your state license or certification must be active. In addition, you'll need to document that you've been part of an education program within the past year, or that you've been employed (within the past five years). No exam is needed.
MLT Exam Outline
The MLT exam contains 210 multiple-choice questions and has a time limit of 3 hours.
This exam is a computer-adaptive test (CAT), so depending on your performance, the difficulty of your test will increase or decrease as you go on.
Here's a look at how it works:
The first question is judged to be of medium difficulty, and depending on your performance, the next question may be easier or harder. If you do well on the first question, the second question will be harder; conversely, if you do poorly on the first question, the second question will be easy.
The exam is split into nine content areas:
I. General Laboratory (30 questions)
The questions in this area cover the following topics:
Laboratory quality
Laboratory laws and regulations
Laboratory safety
Laboratory instrumentation, maintenance, and principles of operation
Laboratory mathematics
General microscopy
Phlebotomy and specimen collection
Patient identification
Waived testing
II. Chemistry (41 questions)
The questions in this area cover the following topics:
General knowledge
Instrumentation
Renal function tests
Hepatic function tests
Carbohydrate metabolism
Protein analysis
Enzymology
Endocrinology
Lipids
Water and electrolytes
Acid-base balance
Cerebrospinal fluid
Other chemistry procedures
III. Hematology (38 questions)
The questions in this area cover the following topics:
General knowledge
Erythrocyte procedures
Leukocyte procedures
Thrombocyte procedures
special procedures
Automated instrumentation
IV. Coagulation and Hemostasis (11 questions)
The questions in this area cover the following topics:
General knowledge
Coagulation procedures
V. Immunology and Serology (8 questions)
The questions in this area cover the following topics:
General knowledge
Serological tests for syphilis
Analytic procedures
Special procedures
VI. Immunohematology (22 questions)
The questions in this area cover the following topics:
General knowledge
Blood typing
Immune response
Compatibility testing principles and procedures
Rh immune globulin
Special tests
VII. Blood Banking and Transfusion Services (17 questions)
The questions in this area cover the following topics:
General knowledge
Blood banking practices
VIII. Microbiology (20 questions)
The questions in this area cover the following topics:
Bacteiology
General knowledge
Media quality control, techniques, and cultures
Bacterial identification
Special tests
Virology
Parasitology
Mycology
IX. Urinalysis and Body Fluids (23 questions)
The questions in this area cover the following topics:
General knowledge
Renal function
Urinalysis procedures
Special tests
Check Out Mometrix's MLT Study Guide
Get practice questions, video tutorials, and detailed study lessons
Get Your Study Guide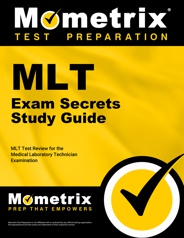 MLT Exam Registration
Registration for the MLT exam is completed online, and includes sending a valid photo ID, any necessary documentation, and the $225 exam fee, which is nonrefundable.
In some cases, the MLT exam may be available at your school. In that case, your faculty will be able to provide you with details for times and specific locations. If you aren't sitting for the exam at your school, you may choose to take the exam at a Pearson VUE testing center. Once you apply, you'll be sent an official AMT letter with the next steps for scheduling your testing time and location.
Test Day
You should arrive at the testing center 30 minutes before your exam is scheduled to begin. Once you arrive, you will be asked to provide your authorization letter and two forms of ID. During the check-in process, your photo will be taken and a fingerprint/palm vein image will be taken.
In general, avoid bringing any personal items with you, such as a cell phone, pencils, bags, hats, etc.
How the MLT Exam is Scored
As soon as you complete your MLT exam, you will receive immediate notice of your pass/fail status. If you pass, you'll receive an official certificate and card by mail within two weeks. As a special note, keep in mind that even if you receive a passing score, you won't be officially certified until you physically receive your official documents in the mail from AMT.
Check Out Mometrix's MLT Flashcards
Get complex subjects broken down into easily understandable concepts
Get Your Flashcards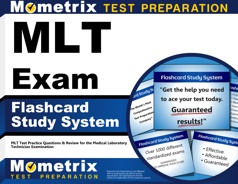 How to Study for the MLT Exam
How to Study Effectively
Your success on MLT test day depends not only on how many hours you put into preparing but also on whether you prepared the right way. It's good to check along the way to see whether your studying is paying off. One of the most effective ways to do this is by taking MLT practice tests to evaluate your progress. Practice tests are useful because they show exactly where you need to improve. Every time you take a free MLT exam practice test, pay special attention to these three groups of questions:
The questions you got wrong
The ones you had to guess on, even if you guessed right
The ones you found difficult or slow to work through
This will show you exactly what your weak areas are and where you need to devote more study time. Ask yourself why each of these questions gave you trouble. Was it because you didn't understand the material? Was it because you didn't remember the vocabulary? Do you need more repetitions on this type of question to build speed and confidence? Dig into those questions and figure out how you can strengthen your weak areas as you go back to review the material.
Answer Explanations
Additionally, many MLT practice tests have a section explaining the answer choices. It can be tempting to read the explanation and think that you now have a good understanding of the concept. However, an explanation likely only covers part of the question's broader context. Even if the explanation makes sense, go back and investigate every concept related to the question until you're positive you have a thorough understanding.
Comprehend Each Topic
As you go along, keep in mind that the MLT practice test is just that: practice. Memorizing these questions and answers will not be very helpful on the actual test because it is unlikely to have any of the same exact questions. If you only know the right answers to the sample questions, you won't be prepared for the real thing. Study the concepts until you understand them fully, and then you'll be able to answer any question that shows up on the test.
Strategy for MLT Practice
When you're ready to start taking practice tests, follow this strategy:
Remove Limitations. Take the first test with no time constraints and with your notes and MLT study guide handy. Take your time and focus on applying the strategies you've learned.
Time Yourself. Take the second practice test "open book" as well, but set a timer and practice pacing yourself to finish in time.
Simulate Test Day. Take any other practice tests as if it were test day. Set a timer and put away your study materials. Sit at a table or desk in a quiet room, imagine yourself at the testing center, and answer questions as quickly and accurately as possible.
Keep Practicing. Keep taking practice tests on a regular basis until you run out of practice tests or it's time for the actual test. Your mind will be ready for the schedule and stress of test day, and you'll be able to focus on recalling the material you've learned.
FAQs
Q
How many questions are on the MLT exam?
A
There are 100 multiple-choice questions on the exam.
Q
How long is the MLT exam?
A
The time limit for the exam is 2.5 hours.
Q
What is the passing score for the MLT exam?
A
There is no set passing score for the exam.
Q
How much is the MLT exam?
A
The cost of the exam is $225.