MLT Practice Test
The MLT test is a certification offered by the American Medical Technologists (AMT) association and the ASCP Certification Board, and it is administered by schools and also by Pearson VUE. Earning your MLT certification demonstrates your dedication, professionalism and preparation as a medical laboratory technician.
We've developed this article to give you more background information and help you prepare to sit for the Medical Laboratory Technician (ASCP) exam. You'll learn what the exam will cover, plus other information around test logistics as you work toward MLT exam success.

MLT Exam Eligibility
There are four accepted routes of eligibility, one of which you'll need to complete to sit for the MLT exam.
Route 1: Education – An associate degree from an accredited institution or program (by a recognized regional or national accreditation agency) in medical laboratory technology.
Route 2: Alternate Education – Must complete two years or more (60 semester hours) of courses in a regionally or nationally accredited institution, including a minimum of 25 semester hours in clinical laboratory science such as biological or chemical studies, math and/or computer science (note that no more than 6 hours of math and/or computer science can count toward the 25-hour requirement). Must also complete at least 6 months of approved clinical laboratory experience including rotation through the blood banking, microbiology, chemistry and hematology areas of the laboratory.
Route 3: Military – Must finish a 50-week U.S. military medical laboratory training program, and those credits must have either been earned in or accepted for transfer by an accredited college or university.
Route 4: Other Recognized Exam – If taking this route for eligibility, you must pass a generalist MLT exam from another certification body or state licensing agency, provided that the other exam is approved by the AMT Board of Directors. Also, your state license or certification must be active. In addition, you'll need to document that you've been part of an education program within the past year, or that you've been employed (within the past five years). No exam is needed.

Check Out Mometrix's MLT Study Guide
Get practice questions, video tutorials, and detailed study lessons
Get Your Study Guide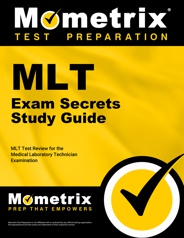 Application Details
Application for the MLT exam is completed online. Once you register, your application will remain in effect for one year. After that time, if you haven't taken the exam, you'll need to pay a new exam fee.
Costs/Payment Options
The MLT testing fee is $175 and includes your application, your exam and your first annual fee. The fee is non-refundable and can be paid using a credit card or debit card only.
Times/Locations
In some cases, the MLT exam may be available at your school. In that case, your faculty will be able to provide you with details for times and specific locations. If you aren't sitting for the exam at your school, you may choose to take the exam at a Pearson VUE testing center. Once you apply, you'll be sent an official AMT letter with next steps on scheduling your testing time and location. Note: Please plan to arrive 30 minutes before your scheduled exam time.
Test Duration
The MLT exam is scheduled to take two and a half hours.
What to Bring
Two forms of matching identification (both IDs must have the same name), showing your name, signature and at least one of the IDs showing your photo (including IDs such as a passport, a driver's license, state ID, or military ID). Other types of IDs, including FOID, firearms, benefits, or concealed carry cards are not valid forms of ID for the MLT exam.
Your authorization letter
What Not to Bring
In general, avoid bringing any personal items with you.
Format and Number of Questions
The MLT exam is computer-based. The test consists of 100 multiple-choice questions. Each question will have one correct answer. The exam uses computer adaptive testing (CAT), which means the test will adapt to your level of knowledge as you make your way through the exam. What this means is that each time you correctly answer a question, the computer will select the next question that is relatively a little more complex. This approach continues until you answer incorrectly. At that point, the computer will select a relatively easier question for you to answer.
Subtest Categories
The MLT exam covers a variety of Medical Laboratory Science subtest content areas, including Urinalysis and Other Body Fluids, Blood Banking, Chemistry, Hematology, Immunology, Microbiology and Laboratory Operations.
Blood Bank (15 to 20%) – Covers blood group systems, antibody identification and screening, DAT, crossmatching, elution/adsorption, blood donation, transfusion therapy and reactions, HDFN, phenotyping/genotyping, antibody titer and pre-warming technique.
Urinalysis and Other Body Fluids (5 to 10%) – Assesses chemical, physical and microscopic urinalysis and body fluid analysis.
Check Out Mometrix's MLT Flashcards
Get complex subjects broken down into easily understandable concepts
Get Your Flashcards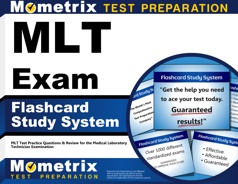 Chemistry (20 to 25%) – Covers acid base, electrolytes, carbohydrates, proteins and other nitrogen-containing compounds, enzymes, lipids and lipoproteins, tumor parkers, endocrinology, toxicology and TDM.
Hematology (20 to 25%) – Assesses knowledge on leukocytes, erythrocytes, reticulocyte counts, RBC/WBC, ESR, morphology and differentials, hemostasis and platelets.
Immunology (5 to 10%) – Covers immune responses, immune system immunology, autoimmunity, and immunology of microbial and viral diseases.
Microbiology (15 to 20%) – Includes a review of topics such as general microbiology, aerobic gram-positive cocci, gram-negative cocci, gram-positive bacilli, fungus, anaerobes, mycobacteria, viruses and parasites.
Laboratory Operations (5 to 10%) – Review knowledge of quality assessment and troubleshooting processes, laboratory mathematics, lab information systems, instrumentation and safety protocols.
Calculating Your Passing Score
As soon as you complete your MLT exam, you'll get immediate notification of your score and whether you passed. If you pass, you'll receive an official certificate and card by mail within two weeks. As a special note, keep in mind that even if you receive a passing score, you won't be officially certified until you physically receive your official documents in the mail from AMT.
MLT Study Guide
Mometrix Academy is a completely free MLT certification resource provided by Mometrix Test Preparation. If you find benefit from our efforts here, check out our premium quality MLT study guide to take your studying to the next level. Just click the MLT study guide link below. Your purchase also helps us make even more great, free content for test-takers.

Upgrade your studying with our MLT study guide and flashcards:
MLT Study Guide
MLT Flashcards
MLT Study Guide Customer Success Stories
Our customers love the tutorial videos from Mometrix Academy that we have incorporated into our MLT study guide. The MLT study guide reviews below are examples of customer experiences.
This book is not a shortcut to make up for a lack of knowledge or a copy of the actual test, it is a well-written book that is extremely helpful when preparing for the MLT test. It gives a good idea of what to expect and when you remove guesswork it is extremely helpful.
MLT Study Guide – Steven
I like the practice questions with all the explanations. The tips about taking the exam are very useful as well, this way I feel more confident about what to expect the day of taking the exam.
MLT Study Guide – Alba
What I have read of the book has been really good. There is so much information that you learn In school it is hard to prioritize which is the most important.
MLT Study Guide – Kari
This exam review must be included in your preparation for the state exam. It covers very thoroughly all areas of the test.
MLT Study Guide – Customer
I am very happy with this Study Guide. The guide was to the point, telling you the information that you need to know. This study guide is good to use as an overview of the things that you do know, as well as, a good base of information for the things that you don't know.
MLT Study Guide – Sabrina
I have been very impressed with the in-depth, yet shortness of truly what I need to know for my examination. I like how it's not too much on one page. So many study items that I have purchased have so much crammed with very lengthy sentences whereas this is as simple as it comes. Thank you for an awesome study tool.
MLT Study Guide – Kayla
The book seems to cover all the family theorists and contains really good information. I feel more comfortable having this book.
MLT Study Guide – Bella
This book is great! It breaks down subjects that I was struggling on. My friend recommended the book and she passed her boards!
MLT Study Guide – Antonio
This study guide has been very helpful especially because it is concise and to the point rather than having a massive study guide that I have to spend hours sifting thoroughly to extract the key points.
MLT Study Guide – Mae