The Massage and Bodywork Licensing Examination (MBLEx) is regulated by the Federation of State Massage Therapy Boards (FSMTB) and administered via Pearson VUE. The MBLEx is an entry-level licensure exam administered in 49 jurisdictions in the United States.
Click "Start Test" above to take a free MBLEx practice test!
MBLEx Exam Eligibility
To be eligible to take the MBLEx, you must meet ALL of the following requirements:
You must have received education and training from an approved massage therapy education program or have graduated from such a program.
You must ensure that your school verifies your education with FSMTB.
If you apprenticed, you must have your mentor submit education records
If your massage education took place outside the United States, you must undergo an independent equivalency evaluation.
MBLEx Exam Outline
The MBLEx consists of 100 computer-adaptive questions, and you will be given 110 minutes to complete the exam. It is important to note that if you do not complete all 100 questions within the time limit, you will fail the exam.
Because the exam is computer-adaptive, the difficulty of the next question increases as you answer each question correctly. This adaptation continues until a question is answered incorrectly, and then the process begins again. Just keep in mind that the test is customized to you, so try to answer each consecutive question to the best of your ability.
Here's a look at how it works:
The test starts with a section judged to be of medium difficulty, and depending on your performance, the next section may be easier or harder. If you do well in the first section, the second section will be harder; conversely, if you do poorly on the first section, the second section will be easy.
The questions are split into seven content categories:
1. Anatomy and Physiology (11%)
The questions in this category test your knowledge of system structure, system function, tissue injury and repair, and energetic anatomy concepts.
2. Kinesiology (12%)
The questions in this category assess your knowledge of muscle components and characteristics, muscle contractions, proprioceptors, muscle actions and attachments, joint function, and range of motion.
3. Pathology, Areas of Caution, Contraindications, Special Populations (14%)
The questions in this category cover an overview of pathologies, contraindications, areas of caution, special populations, and medication classes.
4. Benefits, Physiological Effects of Soft Tissue Manipulation Techniques (15%)
The questions in this category test your knowledge of the psychological aspects and benefits of touch, the benefits and psychological effects of soft tissue manipulation, hot/cold applications, and an overview of massage modalities.
5. Client Assessment, Reassessment, and Treatment Planning (17%)
The questions in this category assess your knowledge of massage session organization, client consultation and evaluation, collection of written data, visual and palpation assessment, range of motion, clinical reasoning, client treatment goals, and treatment strategy formulation.
6. Boundaries, Ethics, Laws, and Regulations (16%)
The questions in this category cover ethical behavior, professional boundaries, therapeutic relationship, dual relationships, sexual misconduct, laws and regulations, scope of practice, communication, confidentiality, and principles.
7. Professional Practice Guidelines (15%)
The questions in this category test your knowledge of safe and proper use of equipment, hygiene, cleanliness and sanitation, safety, therapist care, draping, business practices, and business and healthcare terminology.
Check Out Mometrix's MBLEx Study Guide
Get practice questions, video tutorials, and detailed study lessons
Get Your Study Guide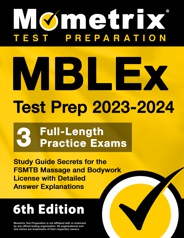 MBLEx Exam Registration
To apply for the MBLEx, you will first need to create an FSMTB examination account online. Once you are logged in to this account, you can fill out and submit the application and payment information. The examination fee is $265 and is nonrefundable.
Once your application has been approved, you will receive an Authorization to Test (ATT) via email. It is important that you receive this authorization, as you will not be allowed to take the test without it.
Once you receive the ATT, you will need to register for the exam and schedule a day and time to take it. You can schedule your exam online or over the phone.
Test Day
You should arrive at the testing center no later than 30 minutes before your scheduled exam time to allow time for the check-in process to occur. If you arrive late, you will not be permitted to take the exam that day.
During check-in, your palm will be biometrically scanned for security purposes, and you will be asked to show two forms of valid identification, one of which must be a photo ID.
Once the check-in process is complete, you will be asked to leave all personal items in a locker provided at the testing center. These items include your cell phone, papers, bags, hats, books, food, computers, tablets, watch, and any large pieces of jewelry.
Once it is determined that you are ready, you will be taken to the exam room and the exam will begin. Once the exam begins, there are no scheduled breaks. If you wish to take a break for any reason, the timer will not be stopped.
How the MBLEx Exam is Scored
As soon as you finish the exam, you will receive a preliminary, unofficial score report that will indicate your pass/fail status. If you do not pass the exam, your score report will include diagnostic information that indicates your performance in each section of the exam.
The MBLEx is scored on a scale from 300-900, and you must achieve a score of at least 630 to pass.
Retaking the MBLEx Exam
If you failed the MBLEx and would like to retake it, you are allowed to retake it as many times as your state allows, with a waiting period of 30 days between each taking.
Check Out Mometrix's MBLEx Flashcards
Get complex subjects broken down into easily understandable concepts
Get Your Flashcards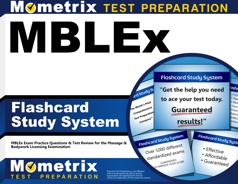 How to Study for the MBLEx Exam
How to Study Effectively
Your success on MBLEx test day depends not only on how many hours you put into preparing but also on whether you prepared the right way. It's good to check along the way to see whether your studying is paying off. One of the most effective ways to do this is by taking MBLEx practice tests to evaluate your progress. Practice tests are useful because they show exactly where you need to improve. Every time you take a free MBLEx exam practice test, pay special attention to these three groups of questions:
The questions you got wrong
The ones you had to guess on, even if you guessed right
The ones you found difficult or slow to work through
This will show you exactly what your weak areas are and where you need to devote more study time. Ask yourself why each of these questions gave you trouble. Was it because you didn't understand the material? Was it because you didn't remember the vocabulary? Do you need more repetitions on this type of question to build speed and confidence? Dig into those questions and figure out how you can strengthen your weak areas as you go back to review the material.
Answer Explanations
Additionally, many MBLEx practice tests have a section explaining the answer choices. It can be tempting to read the explanation and think that you now have a good understanding of the concept. However, an explanation likely only covers part of the question's broader context. Even if the explanation makes sense, go back and investigate every concept related to the question until you're positive you have a thorough understanding.
Comprehend Each Topic
As you go along, keep in mind that the MBLEx practice test is just that: practice. Memorizing these questions and answers will not be very helpful on the actual test because it is unlikely to have any of the same exact questions. If you only know the right answers to the sample questions, you won't be prepared for the real thing. Study the concepts until you understand them fully, and then you'll be able to answer any question that shows up on the test.
Strategy for MBLEx Practice
When you're ready to start taking practice tests, follow this strategy:
Remove Limitations. Take the first test with no time constraints and with your notes and MBLEx study guide handy. Take your time and focus on applying the strategies you've learned.
Time Yourself. Take the second practice test "open book" as well, but set a timer and practice pacing yourself to finish in time.
Simulate Test Day. Take any other practice tests as if it were test day. Set a timer and put away your study materials. Sit at a table or desk in a quiet room, imagine yourself at the testing center, and answer questions as quickly and accurately as possible.
Keep Practicing. Keep taking practice tests on a regular basis until you run out of practice tests or it's time for the actual test. Your mind will be ready for the schedule and stress of test day, and you'll be able to focus on recalling the material you've learned.
FAQs
Q
What is the MBLEx exam?
A
The MBLEx is an exam that allows you to pursue state licensure in massage therapy.
Q
How many questions are on the MBLEx?
A
There are 100 questions on the exam.
Q
How long is the MBLEx?
A
The time limit for this exam is 110 minutes. If you do not answer every question on the exam within this time limit, you will fail the exam, so use your time wisely!
Q
What is a passing score for the MBLEx?
A
To pass the exam, you will need to achieve a score of at least 630.
Q
How much does the MBLEx cost?
A
The examination fee is $265.