Master Plumber Exam
You have spent the last three or four years as a journeyman apprentice, and your supervising master plumber has suggested that you are ready to take the exam to receive your master plumber license. While a little nerve-wracking, it's an opportunity for you to advance your career. Pass your exam, and the next door opens. So exactly what do you need to do next to sit for the test?
The basics of licensing – is it standard across the nation?
Enforcing and regulating plumbing license requirements fall to state and individual municipalities. Every state, except Pennsylvania, requires master plumber candidates to take an exam, including Washington D.C. and Puerto Rico. California and Florida require master plumber candidates to pass a master plumber exam in addition to a business and law/finance exam. New Jersey requires three exams – trade, practical, and business and law – to obtain the master plumber license.
Individual states may practice reciprocity with licenses, but there is no guarantee. Generally, if you want to work as a master plumber in ten different states, you will have to meet the requirements, including an exam for certification, in all ten states.
Minimum requirements – generally
Requirements to obtain a master plumber license vary greatly. General requirements include:
Experience or Education (or a combination)

Specified experience hours per year (1,000 to 4,000 hours)
Approved engineering curriculum related to plumbing, bachelor's attainment
Approved registered apprenticeship program

Application and Fee
Examination
Credential fee
Master plumber exam design – generally
While each state will differ in content categories, you can expect the following topics on the master plumber examination:
Installation of plumbing systems
International Plumbing Code (IPC)
International Fuel Gas Code (IFGC)
Regulations adopted by the Examining Board of Plumbers
Basic repair and maintenance of plumbing systems
Advanced repair and maintenance of plumbing systems
Water supply systems
Management of plumbing jobs
Terminology
Fire suppression systems
Storm drainage systems
Laws and rules
To sit for the exam, you will have registration requirements that will include an application, statement of experience, and a declaration of lawful presence (citizenship or resident alien). Your area may require an application fee, an exam fee, and a credentialing fee (upon successful completion of the exam).
Your local municipality (whether state, county, or city) will provide you with a candidate information bulletin when you register for the exam. The bulletin will provide a breakdown of test content and the required passing score.

Check out Mometrix's Master Plumber Study Guide
Get practice questions, video tutorials, and detailed study lessons
Get Your Study Guide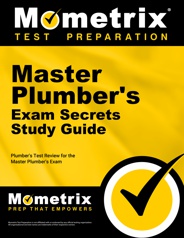 Test Basics
The master plumber exam is delivered at a testing facility, such as Prometric or PSI, or at a college or university. Because each location has different requirements, each exam is different as well. At the most basic level, the exam consists of 100 to 120 questions with a time allotment of 3 hours to 4.5 hours. Some exams are open book, and some exams are closed book. The exam is computer-delivered with options available for special needs accommodation.
To register for the exam, you will submit the required application packet to the authority that is tasked with plumber licensing. Once your application is accepted, you will follow the directions to register for the exam. The process will be different across the nation and even across the state as municipalities' requirements could add to the requirements.
Testing fees range from $30.00 to $103.00 and may have additional costs associated such as testing center fees, application fees, and credentialing fees.
On Test Day
Arrive at your designated testing center thirty minutes before your appointment time. Arriving early will allow you the opportunity to complete any paperwork and become familiar with the test delivery method. Follow the directions of what is and is not allowed in the center and leave valuables at home.
Exam results
Generally, your test results are provided at the conclusion of your exam. Passing scores receive a score report; non-passing scores receive a detailed report indicating strengths and weaknesses. Most states have a maximum re-test number ranging from two to three re-tests and varying periods of time that must pass before retaking the test.
Preparing for the Master Plumber Exam
For the past four years, you have worked hard gaining the knowledge and experience needed to advance in your chosen occupation. You are a mentor to newer plumbers, and your supervisors look to you to provide guidance and stability to the job site. Now it is time to take that drive and initiative you have been cultivating and apply for your master plumber license.
While differing from location to location, the concepts and skills are uniform within the plumbing industry. Mometrix has taken the time to analyze the master plumber licensing exam and break it up into digestible parts, providing a smooth-flowing study guide. Save yourself some stress and take their 100% money-back guarantee and try the Study Guide and Flashcards.

Check out Mometrix's Master Plumber Flashcards
Get complex subjects broken down into easily understandable concepts
Get Your Flashcards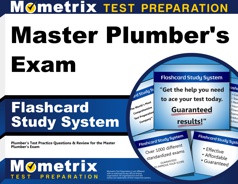 Master Plumber Study Guide
Mometrix Academy is a completely free Master Plumber test resource provided by Mometrix Test Preparation. If you find benefit from our efforts here, check out our premium quality Master Plumber Study Guide and Master Plumber Flash Cards to take your studying to the next level. Just click the Master Plumber study guide link below. Your purchase also helps us make even more great, free test content for test-takers.
Master Plumber Study Guide Customer Success Stories
Our customers love the tutorial videos from Mometrix Academy that we have incorporated into our Master Plumber study guide. The Master Plumber study guide reviews below are examples of customer experiences.
Great study materials. Easy read. It really got me to be able to focus on EXACTLY what I needed to study.
Master Plumber Study Guide – Customer
This book has all the information needed to study for the Master plumber's exam. There is so many helpful study information and necessary information to reflect back on. My husband is a plumber and says this book is put together very well and a nice book to refer to. There are so many key areas from licensing to what kind of sprinkling systems there are. This book is put together very nicely came completely sealed in plastic and was free of any bends. So much valuable information in one convenient easy to follow chapters.
Master Plumber Study Guide – Diana
So far this has been by far the easiest way to learn and obtain information. I love the layout of this book.
Master Plumber Study Guide – Customer
Its a great book that helped me prepare for exam, alot of information to guide any plumber preparing to further their career.
Master Plumber Study Guide – John