LSAT Reading Comprehension Practice Test
Nearly all-American Bar Association (ABA) approved law schools require their applicants to take the LSAT or Law School Admission Test. This part of their enrollment process is to evaluate your skills and knowledge on logical reason, reading comprehension, and analytical reasoning. These are all essential elements to the study of law and its success.
Who Is Eligible?
Anyone who is applying to an ABA approved law school can register to take the test. This can be done online through LSAC.org or by phone.
However, if you have done either of the following within 24 hours of your scheduled test, LSAC must be notified. It may be unfair for you to take the test at that time and can be rescheduled to do so:
recently worked as part of the LSAT testing staff
supervised an LSAT testing session
What Are The Costs?
There is a fee of $190 to take the LSAT. You may also choose to use CAS or Credential Assembly Services for an additional $195. With this program, LSAC will assemble your application packages to each law school for you, including your LSAT scores, transcripts and letters of recommendation. They will then send to the law schools you are applying to.
There are fees for the following items as well:
changing your testing center or date
having it hand scored
having it reported to law schools without the use of CAS.
Where And When Is It Taken?
To register for an LSAT testing session you must contact LSAC either online or by phone. Here you will be able to create an account and register for your test.
The test is taken only a few times during each year, so be sure to check out the schedule so that you do not miss registration deadlines.
Tests are administered using paper and pencil at multiple sites throughout the U.S., Caribbean, and Canada. There are also some locations overseas.
Check Out Mometrix's LSAT Study Guide
Get practice questions, video tutorials, and detailed study lessons
Get Your Study Guide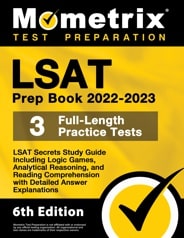 What Should I Bring?
You need to bring a valid government-issued identification with you to the testing site. This must include a recent photo and your correct first and last name. If these are different from your LSAT admission ticket, you will not be allowed to enter.
These are the only items that are allowed to be with you in the testing area:
No. 2 or HB wooden pencils
Erasers without sleeves
Highlighter
Pencil sharpener
Tissues
Analog wristwatch (nondigital)
Any electronic devices, calculators, study materials (including scratch paper), or other personal items are not permitted.
What Is Included?
There are five 35-minute multiple choice sections in the test, with a 15-minute break after the third section. One of these sections is not scored but must be completed. The placement of this section is different on each test, and it is labeled as unscored until you are given your results.
Additionally, at the end of the test there is a 35-minute writing sample. This sample is not scored. However, it is included in your report that is sent to all of your chosen law schools.
Your test scores are emailed to you through your LSAC account as soon as they are available.
What Does Reading Comprehension Cover?
This section of the test is designed to measure your ability to read and understand passages similar to those you will come across during law school. This section consists of four sets of reading questions, each of them containing one reading passage and five to eight following questions.
However, one section will include two reading passages followed by questions. This is a comparative reading section. You will need to discern the relationship between the two.
The reading selections are pulled from a wide variety of sources and subjects. These will most likely be densely written with high-level vocabulary and consist of sophisticated arguments with multiple points of view.
The test questions may ask about the following ideas for each passage:
The main idea or primary purpose
Information that is explicitly stated
Information or ideas that can be inferred
The meaning or purpose of words or phrases as used in context
The organization or structure
The application of information in the selection to a new context
Principles that function in the selection
Analogies to claims or arguments in the selection
An author's attitude as revealed in the tone of a passage or the language used
The impact of new information on claims or arguments in the selection
Check Out Mometrix's LSAT Flashcards
Get complex subjects broken down into easily understandable concepts
Get Your Flashcards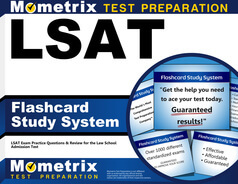 How To Best Prepare?
If you are looking for some help in preparing for this section of the LSAT or any other sections, Mometrix has created a LSAT study guide and set of LSAT flash cards. These are designed to give you the best and most relevant content needed for the LSAT.
Included in these tools are sample questions that allow to you experience not only how the test will be formatted but also what the reading passages and questions will sound like and contain. With these tools in your hand, you will be as prepared as possible.
LSAT Study Guide