Most states require Journeyman plumbers to be licensed by the state or local government to work as a plumber. Part of the licensing process consists of an exam for certification to ensure that each applicants meets the states standards on public safety and consumer protection while working.
Check out our premium-quality Journeyman Plumber test prep resources by clicking the links below!
Journeyman Plumber Exam Eligibility
Eligibility for certification as a Journeyman plumber is typically different depending on which state or local government you are applying to work in. You will first need to know whether such government regulates plumbers in the traditional trade language or if it is regulated in terms of contractors, as this will make all the difference on what qualifies you for this career.
Most states and municipalities require you to prove that you have worked as an apprentice under the supervision of a licensed journeyman or master plumber for a certain amount of time. This time period will differ slightly, but most require at least one year. Some states or licensing agencies may require certain forms to be filled out by the supervising plumber to prove this. Other states may force applicants to complete an accredited apprenticeship program. This must be done before they apply for their license.
In most cases, the experience required for licensure can be met by either education and/or by working experience. This means that if you have completed a specific training program, the amount of time required for experience may be reduced.
Check out Mometrix's Journeyman Plumber's Study Guide
Get practice questions, video tutorials, and detailed study lessons
Get Your Study Guide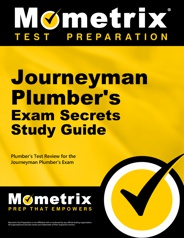 Journeyman Plumber Exam Test Outline
The exams will vary depending on the state or municipality offering the licensure. However, most include around 100 multiple choice and true/false questions. These are typically situation based. In this type of question, you will be given some facts and answer the question based on those facts.
Exams are usually taken at a testing company location a few times a year. The test may be taken using a computer or may use paper and pencil, depending on your available testing sites.
They typically only test over trade knowledge and skills such as the following:
Storm drainage systems
Interceptors and traps
General knowledge and regulations
Venting
Water supply systems
Isometric analysis
Joints and connections
Hangers and supports
Backflow prevention
Plumbing fixtures
Septic and sewer
Drainage waste
However, some states or local areas may ask a few questions about the business and law aspects of the job. This is not typical unless the area regulates journeyman plumbers in terms of contractors.
It is not a bad idea to be prepared for these types of questions anyways, in the case that there are questions about the following subjects:
Permitting
Insurance and bonding
Bidding process
Business management
Contracting
Worker safety
Environmental laws
Accounting and tax matters
Labor laws
Depending on the length of the test you will be given anywhere from two to five hours to complete it.
Journeyman Plumber Exam Registration
To register for this test, you must contact your state licensing board. You will likely be asked to submit an application, which generally includes an application fee. You will also be required to pay an examination fee, the amount of which will vary depending on which state you take the test in.
Check out Mometrix's Journeyman Plumber's Flashcards
Get complex subjects broken down into easily understandable concepts
Get Your Flashcards