Journeyman Plumber's Exam
Most states require journeyman plumbers to be licensed by the state or local government to work as a plumber. Part of the licensing process consists of an exam for certification. This ensures that each applicant meets the states standards on public safety and consumer protection while working.
Eligibility
Eligibility for certification as a journeyman plumber is typically different depending on which state or local government you are applying to work in. You will first need to know whether such government regulates plumbers in the traditional trade language or if it is regulated in terms of contractors, as this will make all the difference on what qualifies you for this career.
Does It Cost Anything?
The exam usually does require a fee to take. This will vary depending on the state or licensing agency being used.
Required Experience
Most states and municipalities require applicants to prove that they have worked as an apprentice under the supervision of a licensed journeyman or master plumber for a certain amount of time. This time period will differ slightly; however, most require at least one year.
Some states or licensing agencies may require certain forms to be filled out by the supervising plumber to prove this. Other states may force applicants to complete an accredited apprenticeship program. This must be done before they apply for their license.
In most cases, the experience required for licensure can be met by either education and/or by working experience. This means that if a candidate has completed a specific training program their amount of time required for experience may be reduced.

Check out Mometrix's Journeyman Plumber's Study Guide
Get practice questions, video tutorials, and detailed study lessons
Get Your Study Guide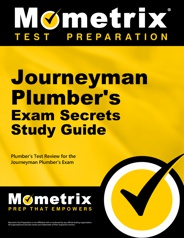 What The Exam Covers?
The exams will vary depending on the state or municipality offering the licensure. However, most include around 100 multiple choice and true/false questions. These are typically situation based. In this type of question, you will be given some facts and answer the question based on those facts.
Exams are usually taken at a testing company location a few times a year. The test may be taken using a computer or may use paper and pencil, depending on your available testing sites.
They typically only test over trade knowledge and skills such as the following:
Storm drainage systems
Interceptors and traps
General knowledge and regulations
Venting
Water supply systems
Isometric analysis
Joints and connections
Hangers and supports
Backflow prevention
Plumbing fixtures, including water heaters
Septic and sewer
Drainage waste
However, some states or local areas may ask a few questions about the business and law aspects of the job. This is not typical unless the area regulates journeyman plumbers in terms of contractors.
It is not a bad idea to be prepared for these types of questions anyways, in the case that there are questions about the following subjects:
Permitting
Insurance and bonding
Bidding process
Business management
Contracting
Worker safety
Environmental laws
Accounting and tax matters
Labor laws
Depending on the length of the test you will be given anywhere from two to five hours to complete it.
To get an exact idea of a journeyman plumbers' exam in your area will be like you will need to contact or seek out your state agency that is giving the exam or the testing company being used for such testing.
How to Prepare?
Here at Mometrix Test Preparations, we have made it a point to know exactly what nearly all journeyman plumbers' exams consist of. This is why we can offer you a precise and successful way to prepare and study for your upcoming test.
With our study guide, flash cards, and sample questions you will know what your test will consist of, what knowledge you will need to prove, and even the formatting and style that your test will be in. We make it our priority to see that you have all the materials at hand for you to make a successful and passing grade on the journeyman plumbers' exam.

Check out Mometrix's Journeyman Plumber's Flashcards
Get complex subjects broken down into easily understandable concepts
Get Your Flashcards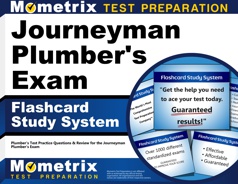 Journeyman Plumber's Study Guide
Mometrix Academy is a completely free Journeyman Plumber's test resource provided by Mometrix Test Preparation. If you find benefit from our efforts here, check out our premium quality Journeyman Plumber's Study Guide and Journeyman Plumber's Flash Cards to take your studying to the next level. Just click the Journeyman Plumber's study guide link below. Your purchase also helps us make even more great, free test content for test-takers.
Journeyman Plumber's Study Guide Customer Success Stories
Our customers love the tutorial videos from Mometrix Academy that we have incorporated into our Journeyman Plumber's test study guide. The Journeyman Plumber's study guide reviews below are examples of customer experiences.
It explains the criteria in plumber lingo and then words it, based on how the test would ask. I really like it. I definitely feel that this book will help me obtain my journeyman's license, and I will recommend Mometrix study guides.
Journeyman Plumber's Study Guide – Sabrina
I am finding this study guide to be a very valuable asset for me. Not only does it give you great test taking advice on how to select the proper answer when the trick questions pop up but it also has a section full of content to remember for the test. It's like having a code book that isn't boring and hard to read! Well worth the money!
Journeyman Plumber's Study Guide – Peter
My impression at first was that I knew everything there was to know about plumbing and there would be very little I "highlight" because I know all aspects of plumbing. I am about 20% through the study guide so far and I'm astonished at how much I don't quite know. I 'm very happy with the guide so far because it's easy to read and understand and I plan on kicking butt when it comes to exam time as I feel the guide so far has everything I need to successfully pass. I especially like how there are test taking strategies and how to overcome anxiety when taking a test. This guide has way more than just the information I purchased.
Journeyman Plumber's Study Guide – Customer