Journeyman Electrician's Exam
The journeyman electrician's exam is usually required by the state or local municipality to be able to work as an electrician in that area. This exam certifies that you have the skills and knowledge needed to perform your job with public and consumer safety in mind to the best of your abilities.
Who is Eligible?
Most states and local governments require those who wish to be journeyman electrician to have working experience as an electrician for a certain amount of time. Some will also want you to have participated in certain educational programs. It is typical for your area to require a completed apprenticeship under the supervision of master electrician for a certain amount of time, usually around one year.
To make sure that you have met all the requirements for your area, it is important that you contact the state licensing agency or testing company used to do such things. They will be able to tell you exactly what must be done before you apply for such a license and also how to go about registering and scheduling a journeyman electrician's exam.
There is usually a fee to take the exam. It is typically around $75.
When and Where Can I Take It?
Testing sites are usually held at a local testing company a few times every year. Your state licensing agency should be able to give you a list of locations and dates available in your area.
On the day of your exam it is important that arrive at least 30 minutes early. This will ensure you and others have enough time to sign in and be prepared before you begin the exam. If you arrive late, you will not be allowed to test that day and will have to reschedule, as well as, pay another exam fee.
What Should I Bring?
You will most likely be required to bring a valid government issued identification to the testing site. This must include your printed name, a photo, your signature, date of birth, and an expiration date. This ID must also match all information that was used to register you for the exam.
As a general rule of thumb, the only items that you are allowed to bring with you into the testing area are your required ID and a silent, battery-operated, non-programmable calculator. All other items, including electronic devices, bulky or loose clothing, food and drinks, will be assigned a designated storage area outside the testing room.
The exam will be most generally administered via a computer with a mouse and keyboard. Though you may also take the exam using paper and pencil at some locations.
Most exams are considered "open book," meaning a soft-bound edition of the National Electrical Code is usually allowed to be used as a reference during the exam.
Check Out Mometrix's Journeyman Electrician Study Guide
Get practice questions, video tutorials, and detailed study lessons
Get Your Study Guide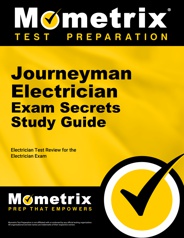 What Does The Exam Cover?
As each exam differs slightly by state the only way to know for sure exactly what your exam will consist of is to contact your state licensing agency or testing company. However, most are fairly similar, having about 80-100 scored multiple choice and true/false questions.
There may also be a few non-scored items on the exam as well. These are typically not identified as such and will only be known once you are given your results. The usual given time to complete the test is around 240 minutes, depending on the number of items included on your exam.
The subject areas that are typically tested for are the following:
Definitions, Calculations, Theory, and Plans
Electrical Services, Service Equipment, and Separately Derived Systems
Electrical Feeders
Branch Circuit Calculations and Conductors
Electrical Wiring Methods and Electrical Materials
Electrical Equipment and Devices
Motors and Generators
Electrical Control Devices and Disconnecting Means
Special Occupancies, Equipment, and Conditions
Renewable Energy Technologies
When Will I Know My Results?
Immediately. Once you have completed the exam, you will receive an appropriate notification on the computer screen. An official score report will also be printed out for you to take with at the testing site. You must usually receive a score of a 70% or higher to pass.
How To Prepare?
Mometrix Test Preparation has got you covered when it comes to this exam. We know how important this is for you and that is why we want you to successfully pass this exam. Our test preparation tools are designed to give you an exact idea of what your exam will look like, no matter where you live or work.
We will give you information that is crucial for every journeyman electrician to know in a way that is formatted and styled just the way your exam will be, with sample questions that are worded the way you need them to be. Before you know it, you will have passed this exam with flying colors and will be living out your dreams as a journeyman electrician.
Journeyman Electrician's Study Guide
Mometrix Academy is a completely free Journeyman Electrician test resource provided by Mometrix Test Preparation. If you find benefit from our efforts here, check out our premium quality Journeyman Electrician's Study Guide and Journeyman Electrician's Flash Cards to take your studying to the next level. Just click the Journeyman Electrician study guide link below. Your purchase also helps us make even more great, free test content for test-takers.
Upgrade your studying with our Journeyman Electrician's study guide:
Journeyman Electrician's Study Guide
Journeyman Electrician Study Guide Customer Success Stories
Our customers love the tutorial videos from Mometrix Academy that we have incorporated into our Journeyman Electrician study guide. The Journeyman Electrician study guide reviews below are examples of customer experiences.
I purchased it for my Brother and he is studying now for his exam and says he thinks that the material is just what he needed to help him get ready for the Exam.
Journeyman Electrician Study Guide – John
I purchased the study material material for the journeyman exam last week & it is absolutely one of the best decisions I've made. I can't seem to put this book down, every chance I get It's in my hands. My exam is in about a month & I feel like if I continue studying the material, I should do well on the exam even though it's my first time taking it. That would be an incredible accomplishment. The material in the book are extremely helpful…
Journeyman Electrician Study Guide – Alix
Great Book for any beginner. This book informed me of the basics which I need to study for the test. Plenty of examples and easy to understand and straight forward information. You will be able to take this exam by following these simples tips in the book. Plenty of good bonus material too.
Journeyman Electrician Study Guide – Lauren
The material is easy to read and understand. The practice tests help weed out what's most important to memorize and what I can look up as I need it. It's helped to build my confidence that I can pass this test.
Journeyman Electrician Study Guide – Corey
The book is great, it teaches you a lot and prepares you to take the lineman test. It is worth the investment in preparing for a rewarding career as a lineman!
Journeyman Electrician Study Guide – Customer
I found this book very helpful and would recommend for anyone taking the journeyman electrician test! It has good electrical information and test taking tips.
Journeyman Electrician Study Guide – Nicholas