ISEE Middle Level Exam
The Independent School Entrance Exam (ISEE) for grades 7 and 8 is an entrance exam is used by independent schools across the country to measure a potential student's strengths in all of the core academic skills needed to succeed in their educational goals.
Where Do I Register My Child for the ISEE?
The test is administered in a number of different ways. It might be offered by the school where the student is applying or at a different testing center which is used by a few different schools in the area. You can find out the most convenient testing option for you by talking to the school where your student is seeking admission.
What Should We Prepare for on Test Day?
Keep these time limits in mind when your child is preparing for the test. When answering practice questions or taking a practice test, make sure to time them so they can get used to the time constraints.
There will also be two scheduled breaks included in the testing session. The first break occurs after the quantitative reasoning section and the second occurs after the mathematics achievement section. Each break will be 5-10 minutes long.
You should also include these scheduled breaks in the practice tests. Encourage your child to stand up, walk around, use the restroom, take a drink of water, or just generally make use of these breaks even when they don't feel like they need them.
Check out Mometrix's ISEE Middle Level Study Guide
Get practice questions, video tutorials, and detailed study lessons
Get Your Study Guide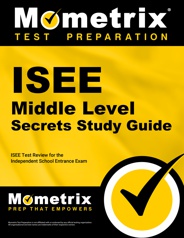 What Kinds of Questions Will My Child See on the Test?
The test is made up of five subtests that each concentrate on a particular skill set that students will need. The five sections include:
Verbal Reasoning – 40 Questions

Vocabulary
Sentence Completion
Quantitative Reasoning – 37 Questions

Word Problems
Quantitative Comparison
Reading Comprehension – 36 Questions

Six age-appropriate reading passages about the arts, history, contemporary life, and science.
Questions relating to the passage to measure how much the student understood and retained after reading.
Mathematics Achievement – 47 Questions

Grade-level appropriate math questions which will ask the student to first identify the problem and then find a solution to the problem.

Essay – 1 Prompt
The first four sections will be made up exclusively of multiple choice questions. The essay section will provide a specific writing prompt and the student must construct a handwritten response. The essay doesn't receive a score but is simply sent directly to the school you designated during registration so that they can evaluate it according to their own criteria.
How Is the ISEE Scored?
The test is given a cumulative scaled score ranging from 760 to 940 as well as a percentile ranking to show how well the student performed in comparison to other students of the same age, taking the same test for admission to the same grade.
Because it is an admissions test, there is no "passing" score. With that said, the higher up in the percentile rankings your child is, the stronger their overall application will be. However, this is far from the only criteria the school uses when deciding which students to accept. So don't neglect the other aspects of the application.
How Can I Help My Child Do Their Best on the ISEE?
The best way to help your child succeed is to use the Mometrix Study Guide. It includes clear explanations of all the most important concepts written by experts in a way that will keep students engaged and help them understand and absorb the information. It also comes with excellent preparation tips and test-taking strategies that your child can use to avoid test-anxiety and maintain confidence under pressure.
For the best results, combine the guide with Mometrix Flashcards. You can use these to create fun, interactive study games to help your child enjoy learning and engage the material more actively. They are also a great tool parents can use to provide the support and encouragement their child needs to prepare for and succeed on this important test.
To get the most out of these study aids, make sure your child sticks to a manageable study routine. They shouldn't overwhelm themselves to the point of exhaustion, but they should make time to review the material and develop their skills for the test each day.
Check out Mometrix's ISEE Middle Level Flashcards
Get complex subjects broken down into easily understandable concepts
Get Your Flashcards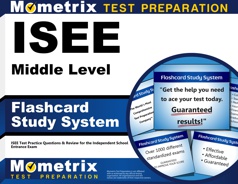 ISEE Middle Level Study Guide
Mometrix Academy is a completely free ISEE Middle Level review resource provided by Mometrix Test Preparation. If you find benefit from our efforts here, check out our premium quality ISEE Middle Level study guide to take your studying to the next level. Your purchase also helps us make even more great, free content for test-takers.
ISEE Middle Level Study Guide Customer Success Stories
Our customers love the tutorial videos from Mometrix Academy that we have incorporated into our ISEE Middle Level test study guide. The ISEE Middle Level study guide reviews below are examples of customer experiences.
Very helpful! My sixth grade daughter used this to prepare for the entrance exam to a private school in our area. She did very well on the exam and definitely felt this book made a big difference in her preparation and scores.
ISEE Middle Level Study Guide – Ambia
This is an excellent tool for all 7th graders preparing to take the ISEE Middle Level exams. It provides excellent tips, reviews much needed skills, and gives practice questions. My daughter found it extremely helpful.
ISEE Middle Level Study Guide – Mandy
With so many options available, this is a clear and concise study guide to help calm our nerves in preparing our middle-schooler for her first ISEE. In her reading of the test-taking strategies, she's already feel less anxious and motivated to study and take the practice tests. We're confident she'll do well and appreciate knowing what to expect. Highly recommend it!
ISEE Middle Level Study Guide – Customer
This book really helped my son prepare for the ISEE. Alot of information that was on the test he did not learn in school. He was able to apply what he learned from this book on the test and for his first time and studying only two weeks he did good!
ISEE Middle Level Study Guide – Joy
It is not insurmountable (like a lot of those thick study books) and has good straightforward instruction. It has provided good skills and what to focus energies on, My daughter is picking up good study skills, math concepts and vocabulary that has already been helpful to her at school.
ISEE Middle Level Study Guide – Customer
This guide was great! It was easy to read and provided valuable information to follow! The guide was very helpful in getting ready for the test!
ISEE Middle Level Study Guide – Beth
This book is really helpful for us. My son read it every day and learned a lot from the book. Thank you!
ISEE Middle Level Study Guide – Hao
I have used your Middle Level Study Guide (borrowed) with several students and found it to be exceptionally helpful. While knowing the content on the ISEE is important, understanding how to take the test is equally important. Your study guide addresses the nuances of each test section and offers practical tips for the various types of questions. My students and I have found it very helpful.
ISEE Middle Level Study Guide – Customer