Independent School Entrance Exam Lower Level
ISEE Lower Level is an Independent School Entrance Exam developed by the Educational Records Bureau for children in grades 5 and 6.
The ISEE Lower Level has five sections. Each section has three levels that evaluate the verbal, quantitative reasoning and achievement skills of children in grades 4-11, who are looking to get into grades 5-12 at an independent school. Those testing into grade levels 5 or 6 take the lower level exam.
Students are able to sign up to take the ISEE Lower Level a maximum of three times in a one-year admission cycle. During the testing seasons, Fall (August-November), Winter (December-March), and Spring/Summer (April-July), they can only register once.
Each student's performance is paired against a group of students in the same grade level who have applied to an independent school within a three-year time period.
What's on the ISEE Lower Level?
The ISEE Lower Level has five sections. Four of the sections are multiple-choice and the fifth is an essay. The two initial sections are Verbal Reasoning and Quantitative Reasoning, testing the student's ability to reason.
The Verbal Reasoning section requires the student to select the most appropriate word or phrase that answers the question asked or completes the sentence provided.
The word problems of the Quantitative Reasoning section require little to no calculation. This section tests whether the student knows and understands the rules related to the problem.
Reading Comprehension consists of five short passages followed by a selection of questions related to that passage.
In Mathematics Achievement, the student must calculate the answers to problems written according to the national mathematics standards. Some of the problems will require multiple steps.
The final section of the test is an Essay in which the student must respond to a grade-level appropriate writing prompt. This essay is not scored, but a copy is included with the scores when they are sent to the designated schools.
Check out Mometrix's ISEE Lower Level Study Guide
Get practice questions, video tutorials, and detailed study lessons
Get Your Study Guide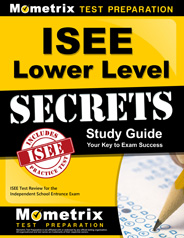 Testing
The ISEE Lower Level offers different methods of testing.
The exam is available online
Paper and pencil test may be taken at an ISEE Lower Level test site, testing office, or Prometric Test Center.
Individual schools across the country also offer test sites.
Two breaks are given during testing, one after Quantitative Reasoning and another after the math section. Students are allowed to bring four #2 pencils and two black or blue ink pens. Anything other than writing materials are prohibited. Cell phones and other electronics are not allowed during testing.
Allotted Time
Students are given 140 minutes to complete the ISEE Lower Level. Below is the number of questions in each section and how much time should be spent on each.
Verbal Reasoning – 34 questions, 20 minutes.
Quantitative Reasoning – 38 questions, 35 minutes.
Reading Comprehension – 25 questions, 25 minutes.
Mathematics Achievement – 30 questions, 30 minutes.
Essay – 30 minutes.
My Test Scores
The Individual Student Report (ISR) may be emailed to the parent, ERB members, or both after the scoring is complete. It will be available to parents online within 10-14 days after the exam. The written essay isn't scored or given to parents, but it is uploaded online and provided to ERB members.
ISEE Lower Level Study Guide
Mometrix Academy is a completely free ISEE Lower Level test resource provided by Mometrix Test Preparation. If you find benefit from our efforts here, check out our premium quality Independent School Entrance Study Guide and Independent School Entrance Lower Level Flashcards to take your studying to the next level. Just click the ISEE Lower Level study guide link below. Your purchase also helps us make even more great, free test content for test-takers.
Check out Mometrix's ISEE Lower Level Flashcards
Get complex subjects broken down into easily understandable concepts
Get Your Flashcards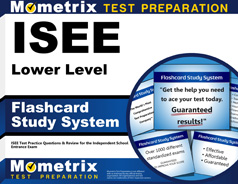 Upgrade your studying with our ISEE Lower Level study guide and flashcards:
ISEE Lower Level Study Guide
ISEE Lower Level Flashcards
ISEE Lower Level Study Guide Customer Success Stories
Our customers love the tutorial videos from Mometrix Academy that we have incorporated into our ISEE test study guide. The ISEE study guide reviews below are examples of customer experiences.
Very helpful! My sixth-grade daughter used this to prepare for the entrance exam to a private school in our area. She did very well on the exam and definitely felt this book made a big difference in her preparation and scores.
ISEE Lower Level Study Guide – Ambia
With so many options available, this is a clear and concise study guide to help calm our nerves in preparing our middle-schooler for her first ISEE. In her reading of the test-taking strategies, she's already feeling less anxious and motivated to study and take the practice tests. We're confident she'll do well and appreciate knowing what to expect. Highly recommend it!

ISEE Lower Level Study Guide – Customer
My son is going to take the ISEE exam soon and looking for a study guide, not just an exercise book. When he received this book, he read it immediately and said this is the exact book he's been looking for. Thanks
ISEE Lower Level Study Guide – Jean
The study guide is brief and concise and only contains what you absolutely need to ace the test. I highly recommend it to anyone.
ISEE Lower Level Study Guide – Richard
This book is great, exactly as advertised! It gives your child all the information they need to know to prepare for the exam.
ISEE Lower Level Study Guide – Customer
While knowing the content on the ISEE is important, understanding how to take the test is equally important. Your study guide addresses the nuances of each test section and offers practical tips for the various types of questions. My students and I have found it very helpful.
ISEE Lower Level Study Guide – Customer
We purchased the guide from Mometrix for our son who was applying for the first time to private school. Our decision to apply was last minute and outside of the normal application period so he only had a few days to prepare. The product was very helpful in focusing him on the most important concepts and helping him develop confidence in the test.

ISEE Lower Level Study Guide – Erin
I am very impressed with the product I received! It really provides a 360-degree purview of the test. I'm confident that my son will do tremendously well because of the tools (book and flashcards) we are now equipped with.
ISEE Lower Level Study Guide – Naila