ISEE Upper Level Exam
The Independent School Entrance Exam Upper Level, or ISEE Upper Level, is an admission test for students in 8th grade through 11th grade, who seek to apply for entrance to grades 9-12 at an independent school. The independent schools consist of private secondary schools, boarding schools, military academies, and a few public schools. During the three-hour examination, students will work through five sections, which include Verbal Reasoning (20 minutes for 40 questions), Quantitative Reasoning (35 minutes for 37 questions), Reading Comprehension (35 minutes for 36 questions), Mathematics Achievement (40 minutes for 47 questions), and an Essay (30 minutes for 1 prompt).
Though the ISEE Upper Level has been made available online at Prometric testing offices in over 400 cities in both the United States and abroad, students may still choose to take the exam in a paper and pencil format. You should know that students can take the ISEE Upper Level exam only once every admission season when applying for entrance to a school. Additionally, the exam may not be taken for a practice attempt, as the student's marks will be sent to the designated school. If an exam is taken more than once in an admission season, then schools will use the scores of the first attempt. Because schools are more likely to have slots available for grade 9 than grades 10-12, you should consider applying as early as possible to a school.
There is no set passing score for the ISEE Upper Level exam, so a student's scores will need to be compared to the standards set by the school. While there is more to a student's application than high marks, a good performance on the exam can help a student rise above other applicants. Our expanding library of free tutorial videos at Mometrix Academy can aid any student's study for the ISEE Upper Level. We wish your student the best in their preparation and for their exam day.
ISEE Test Prep Course
ISEE Study Guide
Mometrix Academy is a completely free ISEE test prep resource provided by Mometrix Test Preparation. If you find benefit from our efforts here, check out our premium quality ISEE Upper Level study guide to take your studying to the next level. Your purchase also helps us make even more great, free content for test-takers.

ISEE Upper Level Study Guide
Get practice questions, video tutorials, and detailed study lessons
Get Your Study Guide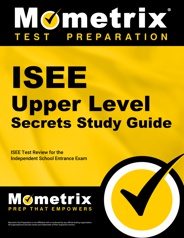 ISEE Upper Level Study Guide Customer Success Stories
Our customers love the tutorial videos from Mometrix Academy that we have incorporated into our ISEE Upper Level study guide. The ISEE Upper Level study guide reviews below are examples of customer experiences.
It is not insurmountable (like a lot of those thick study books) and has good straightforward instruction. It has provided good skills and what to focus energies on. My daughter is picking up good study skills, math concepts and vocabulary that has already been helpful to her at school.
ISEE Upper Level Study Guide – Customer
It's pretty organized organized so you can follow along smoothly. It helped me get some tips on taking the test.
ISEE Upper Level Study Guide – Clyde
My son is going to take ISEE exam soon and looking for a study guide, not just an exercise book. When he receives this book, he read it immediately and said this is the exact book he's been looking for.
ISEE Upper Level Study Guide – Jean
The study guide is brief and concise and only contains what you absolutely need to ace the test. I highly recommend it to anyone.
ISEE Upper Level Study Guide – Richard
I have just started studying with this guide, but I have already found the advice, "first, read through the study guide completely" very helpful in getting me started. I have read through the general success strategies first and am now reading the content sections.
ISEE Upper Level Study Guide – Hiroko
The information is easy to follow and it helps individuals make an informed decision on retaking the exam.
ISEE Upper Level Study Guide – Montana
This book helped me a lot with the ISEE test. It gave a good introduction to everything and concepts.
ISEE Upper Level Study Guide – Libby
I really liked the way the information was set up throughout the book. It made the studying process a lot easier and a lot less stressful.
ISEE Upper Level Study Guide – Michael
This is an excellent tool for all 7th graders preparing to take the ISEE Upper Level exams. It provides excellent tips, reviews much-needed skills, and gives practice questions. My daughter found it extremely helpful.
ISEE Upper Level Study Guide – Customer
This book is an excellent tool for my 6th-grade son who is preparing for entrance in a private school. Lots of tips and very concise material that helps to get covered all the material you need to know before the exam.
ISEE Upper Level Study Guide – Ingrid
My daughter likes this book a lot. The study guide provides detailed coverage of math topics, list of vocabulary and sample tests. Highly recommend it.
ISEE Upper Level Study Guide – Customer
This guide was great! It was easy to read and provided valuable information to follow! The guide was very helpful in getting ready for the test!
ISEE Upper Level Study Guide – Beth
My daughter likes your book so I would rate it 5/5. She learned a lot of knowledge and tips to prepare for the test. It is a very helpful and effective experience
ISEE Upper Level Study Guide – Customer
Out of all the books I studied to prepare for this exam, this one is definitely the best. One factor I loved about this book was that for each section it gave a video to make sure you understand the key concepts. I would definitely recommend this book to anyone who is preparing for the ISEE Upper Level Test.
ISEE Upper Level Study Guide – Venu