HSPT Mathematics Skills Practice Test
What Is the High School Placement Test (HSPT)?
The High School Placement Test (HSPT) is an examination that is administered by Scholastic Testing Services as an admissions examination. It has been designed for grade-level students pursuing entry into Catholic high schools and is the first battery test explicitly created to assist with the placement of students entering high school. Since 1955 it has been used as a way to assess students' competencies in cognitive and major skill areas. In order to produce results that are comparable and accurate for freshman-level high school students, the HSPT exam is a standardized test.
When registering for the exam, students should register to take it at the high school they wish to attend, but they are given the option to send their scores to additional schools as well. The exam is made up of five different multiple-choice test sections:
Language
Mathematics
Quantitative
Reading
Verbal
HSPT Exam Testing Options
When a student takes any of the five HSPT test sections, they will be taking the Open HSPT. This is a format of the HSPT exam that provides national normative measures for each section. There are exceptions. If a high school participates in a lease/score program, they are provided with a seventh grade edition of the HSPT, also referred to as the Pre-HSPT, or a secure test, the Closed HSPT.
HSPT Exam Formats
Upon request, the exam is available in the following specialized formats:
Check Out Mometrix's HSPT Study Guide
Get practice questions, video tutorials, and detailed study lessons
Get Your Study Guide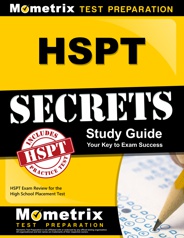 HSPT Exam Scoring
The HSPT exam is scored as follows:
Per test section, one point is awarded for each correct response.
No points are deducted for incorrect responses in all test sections, so it is recommended to answer all questions even if you are not sure of the answer.
The student will receive multiple scores for the exam performance:
Raw Score: Total of correct responses in each of the test sections.
Scaled Score: Scholastic Testing Service, the organization responsible for the administration of the HSPT, will use different versions of the HSPT test to assess students. A scaled score will thus translate accordingly across all versions of the test with each raw score converted into a scaled score between 200 and 800.
Students' Percentile Ranks
Once their examination has been scored, the student will also be given their percentile ranks for each of their test sections (Language, Mathematics, Quantitative, Reading and Verbal). These ranks serve as a way for the student to discern how they stand in comparison to national and local samples of other students. The percentile ranks are followed by stanines, which are given as a score of one to nine representative of their percentile rank. To score well on the HSPT section tests, it is suggested that students prep and practice in advance by reviewing available HSPT study guides and taking several online practice tests in order to measure their skill level.
Explanation of Scores
Cognitive Skills: Includes the CSQ, Scaled Scores, Percentile Ranks and Stanines from the Verbal and Quantitative Skills test sections.
Basic Skills: Includes Scaled Scores, Percentile Ranks and Stanine from the Reading, Mathematics and Language Skills test sections.
Composite: A combined Scaled Score, Percentile Rank and Stanine based on the student's performance in all five test sections.
Cognitive Skills Quotient (CSQ): The CSQ is scored on a range of 55 to 145 and is designed to be similar to an IQ score. It is based on age to reflect the student's potential learning ability.
Grade Equivalent (GE): The GE reflects how a student performed in terms of grade level. For example, a GE of 9.5 would mean that the student scored as well as a ninth grade in the fifth month of the academic year.

Check Out Mometrix's HSPT Flashcards
Get complex subjects broken down into easily understandable concepts
Get Your Flashcards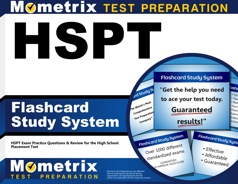 HSPT Exam Reports
Rank-Order List Reports: Uses composite scores to rank students from high to low.
Pressure-Sensitive Labels: Shows the student's CSQ, Standard Scores, National and Local Percentiles and GE for the Reading, Mathematics and Language section tests.
Group Summary Statistical Reports: Provides a summary of overall group performance for each section test, individually and jointly.
Alphabetical List Reports: Provides CSQs, Standard Scores, National and Local Percentiles and GEs for the Reading, Mathematics and Language section tests for students, organized alphabetically.
HSPT Mathematics Skills Test Section
The student will have a total of 45 minutes to respond to 64 questions on the Mathematics Skills test section of the High School Placement Test (HSPT) exam. Students will not be provided a calculator or scratch paper for the exam, but they are permitted to write on their test booklet. The 64 questions cover the following content areas and skills:
Concepts (24 Questions)
Problem-Solving (40 Questions)
The content areas and skills within the Mathematical Skills test section will assess the student's ability to respond to questions appropriate for an eighth grade level. These questions will concern the following concepts:
Algebraic Equations and Concepts such as absolute value.
Arithmetic: Addition, Decimals, Division, Fractions, Multiplication, Number Line, Order of Operations, Percentages, Subtraction
Geometry: Angles, Graphing, Perimeter of Plane Figures, Plane Figures, Volume of Solid Figures
Word Problems: Distance, Rate, Time, Work (workers performing at different rates)
HSPT Test Online Prep Course
If you want to be fully prepared, Mometrix offers an online HSPT Prep Course. The course is designed to provide you with any and every resource you might want while studying. The HSPT Course includes:
50 Lessons Covering all the Topics
1,450+ HSPT Practice Questions
Over 100 Video Tutorials
More than 350 Electronic Flashcards
Money-back Guarantee
Free Mobile Access
and More!
The HSPT Prep Course is designed to help any learner get everything they need to prepare for their HSPT exam; click below to check it out.

Preparing for the HSPT Mathematics Skills Test Section
In preparation for taking the HSPT Mathematics Skills test section, the student is advised to first assess their current skill level by seeing how they perform on an HSPT practice test. Based on their performance, their HSPT test prep should include use of a study guide to review their strengths and weaknesses, and additional HSPT practice tests. These practice tests are available online through Mometrix.
More Free HSPT Math Practice Questions
HSPT Practice Test - HSPT Math Review
Upgrade your studying with our HSPT study guide, flashcards, and online course:
HSPT Study Guide
HSPT Online Course
HSPT Flashcards