Ham Radio Technician Practice Test
The Federal Communications Commission (FCC) provides a Technician Class exam to certify the operation of an amateur station. This page covers the Technician Class radio license needed to operate an amateur radio, also called ham radio. Three levels of ham radio licenses are issued by the FCC, and the technician license is intended for beginners.
Click "Start Test" below to take a free Ham Radio Technician practice test!
Why Get a Ham Radio Technician License?
To operate a ham radio, a person must have a license. Using a ham radio allows you to contact others during natural disasters or emergencies, interrupting internet services.
The technician exam is considered the entry-level license exam. Still, with that entry-level license, you can broadcast on VHF and UHF amateur bands. The license allows you to broadcast on Amateur Radio frequencies above 30 megahertz. You will also have the right to broadcast over a limited number of HF or "shortwave" bands. These are regulated to the 80, 40, and 15-meter bands for individuals using CW.
Ham Radio Technician Exam Eligibility
Meeting the eligibility requirements for this exam is relatively easy. To take the test, you must have the following:
A valid United States mailing address
Proof of identity
A social security number or another approved taxpayer identification number

An FCC registration number will be accepted if you do not have your social security number or other taxpayer identification number
Ham Radio Technician Exam Outline
The Ham Radio Technician Exam contains 35 multiple-choice questions, and the questions are split into ten main categories.
1. Commission's Rules (6 questions)
The six questions in this category are pulled from a pool of 67 questions. The pool is split into six groups:
Group A

Purpose and permissible use of the Amateur Radio Service
Meanings of basic terms used in the FCC rules
Phonetics
RACES Rules
Operator/primary station license grant
Interference
Frequency coordinator
Group B

Power output
Emission modes
Spectrum sharing
Frequency allocations
Transmissions near band edges
Contacting the International Space Station
Group C

Licensing

Sequential and vanity call sign systems
Name and address on FCC license database
Places where the Amateur Radio Service is regulated by the FCC
Term
Renewal
Grace period
Maintaining mailing address

International communications
Group D

Authorized and prohibited transmissions

Communications with other countries
Music
Exchange of information with other services
One-way transmission
Encryption
Indecent language
Unidentified transmissions
Sale of equipment
Retransmission of other amateur signals
Compensation for operating
Group E

Control operator

Eligibility
Designating
Privileges
Duties
Location
Required

Control point
Control types
Group F

Station identification
Repeaters
Third-party communications
Club stations
FCC inspection
2. Operating Procedures (3 questions)
The three questions in this category are pulled from a pool of 36 questions. The pool is split into three groups:
Group A

Station operation

Choosing an operating frequency
Test transmissions
Calling another station

Band Plans

Repeater offsets
Calling frequencies
Group B

VHF/UHF operating practices

FM repeater
Simplex
Reverse splits

Access tones
DMR operation
Resolving operational problems
Q signals
Group C

Emergency operations
Applicability of FCC rules
RACES and ARES
Use of phonetics in message handling
Net and traffic procedures
Operating restrictions during emergencies
3. Radio Wave Propagation (3 questions)
The three questions in this category are pulled from a pool of 34 questions. The pool is split into three groups:
Group A

Radio wave characteristics

How a radio signal travels
Fading
Multipath
Polarization
Wavelength vs. absorption

Antenna orientation
Group B

Electromagnetic wave properties

Wavelength vs. frequency
Nature and velocity of electromagnetic waves
Relationship of wavelength and frequency

Electromagnetic spectrum definitions
Group C

Propagation modes

Sporadic E
Meteor scatter
Auroral propagation
Tropospheric ducting

F region skip
Line of sight and radio horizon
4. Amateur Radio Practices (2 questions)
The two questions in this category are pulled from a pool of 24 questions. The pool is split into two groups:
Group A

Station setup

Microphone
Power source
Computer
Digital equipment
SWR meter

Bonding
Mobile radio installation
Group B

Filters
Noise blanker
Bandwidth selection
Microphone gain
Frequency tuning
Memory channels
AGC
Squelch function
Receiver incremental tuning (RIT)
Digital transceiver configuration
5. Electrical Principles (4 questions)
The four questions in this category are pulled from a pool of 52 questions. The pool is split into four groups:
Group A

Current and voltage

Terminology and units
Conductors and insulators
Alternating and direct current
Group B

Math for electronics

Decibels
Conversion of electrical units
Group C

Capacitance and inductance terminology and units
Impedance definition and units
Radio frequency definition and units
Calculating power
Group D

Ohm's Law
Series and parallel circuits
6. Electronic and Electrical Components (4 questions)
The four questions in this category are pulled from a pool of 47 questions. The pool is split into four groups:
Group A

Fuses
Switches
Capacitors
Fixed and variable resistors
Batteries
Inductors
Group B

Basic principles and applications of solid-state devices
Diodes and transistors
Group C

Circuit diagrams

Basic structure
Use of schematics

Chematic symbols of basic components
Group D

Component functions

Rectifiers
Indicators
Voltage regulators
Transformers
Relays
Meters
Integrated circuits

Resonant circuit
Shielding
7. Practical Circuits (4 questions)
The four questions in this category are pulled from a pool of 44 questions. The pool is split into four groups:
Group A

Station equipment

Transceivers
Receivers
Transverters
Receive amplifiers
Transmitter amplifiers

Basic radio circuit concepts and terminology

Selectivity
Oscillators
Sensitivity
Modulation
Mixers
PTT
Group B

Symptoms, causes, and cures of common transmitter and receiver problems

Distortion
RF feedback
Overload and overdrive
Interference and consumer electronics
Group C

Antenna and transmission line measurements and troubleshooting

Cause of feed line failures
Measuring SWR
Effects of high SWR

Use of dummy loads when testing
Basic coaxial cable characteristics
Group D

Using basic test instruments
Soldering
8. Signals and Emissions (4 questions)
The four questions in this category are pulled from a pool of 48 questions. The pool is split into four groups:
Group A

Basic characteristics of FM and SSB
Choice of emission type

Use of SSB for weak signal work
Selection of USB vs. LSB
Use of FM or VHF packet and repeaters

Bandwidth of various modulation modes
Group B

Amateur satellite operation

Satellite tracking programs
Modulation mode selection
Spin fading
Setting uplink power
Basic orbits
Doppler shift
Transmitter power considerations
Beacons
Telemetry and telecommand
Definition of "LEO"
Uplink and downlink mode definitions
Operating protocols
Group C

Radio direction finding
Contests
Linking over the internet
Exchanging grid locators
Group D

Digital and non-voice communications

Error detection and correction
WSJT modes
Image signals and definition of NTSC
Packet radio
PSK
CW
Amateur radio networking
APRS
Digital Mobile Radio
Broadband-Hamnet
9. Antennas and Feed Lines (2 questions)
The two questions in this category are pulled from a pool of 24 questions. The pool is split into two groups:
Group A

Antennas

Definition and types of beam antennas
Relationships between resonant length and frequency
Concept of antenna gain
Vertical and horizontal polarization
Antenna loading
Dipole pattern
Common portable and mobile antennas
Group B

Feed lines

Attenuation vs. frequency
Types
Selecting

Antenna tuners
RF connectors

Weather protection
Selecting

SWR concepts
10. Safety (3 questions)
The three questions in this category are pulled from a pool of 36 questions. The pool is split into three groups:
Group A

Lightning protection
Power circuits and hazards

Grounding
Hazardous voltages
Electrical code compliance
Fuses and circuit breakers

Battery safety
Group B

Antenna safety

Installing antennas
Tower safety and grounding
Antenna supports
Group C

RF hazards

Recognized safe power levels
Radiation exposure
Radiation types
Proximity to antennas
Duty cycle
Check out Mometrix's Ham Radio Technician Study Guide
Get practice questions, video tutorials, and detailed study lessons
Get Your Study Guide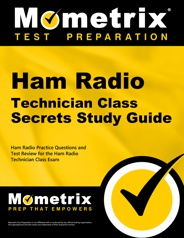 Ham Radio Technician Registration
You can register for the exam online at the Universal Licensing System page of the Federal Communications Commission website.
Before registering with the ULS, you must go to FCC's Commission Registration System or CORES and complete this registration to receive your FRN or FCC Registration Number. Your FRN will be a ten-digit number chosen by the FCC. When you go to take the exam, you will be asked to provide your FRN to the proctor.
After registration is complete, you will need to register your ten-digit number by clicking on the prompt "Register New FRN." At this time, you will be asked if you are registering as an individual or as a business. If you are registering as an individual, you can register a CORES FRN or a Restricted Use FRN. A Restricted FRN is required if you use Form 323 or Form 323-E. If you do not need to use either of these forms, then register a CORES FRN Registration. Once you have chosen, you will see on-screen prompts to follow. You will be provided with a confirmation page that has your FRN number.
Test Day
Exams are offered by volunteers who work in conjunction with a Volunteer Exam Coordinate under the direction of the FCC. A large number of ham radio clubs offer exam services.
You will need a few items on the day of the test:
FCC Registration Number
A valid photo ID (e.g., driver's license or passport)
A valid email address
Two number-two pencils with erasers
One ink pen
A calculator that has the memory erased and no formulas saved on it
A check or money order to pay your registration fees
Passing Score
To pass the Ham Radio Technician exam, you must answer 26 out of 35 questions correctly, which is a score of 74%.
You will be immediately notified of your score once you finish the exam. If you pass, you will be eligible to take the General Class test on the same day, if you wish.
Retaking the Ham Radio Technician Exam
If you did not pass the exam, you are allowed to retake it. There is no mandatory waiting period, so you can retest on the same day if you choose to do so. You will have to pay a separate testing fee to take the exam a second time.
For retakes of the exam, the large pool of questions is utilized in order to create a completely new version of the exam each time you take it.
Check out Mometrix's Ham Radio Technician Flashcards
Get complex subjects broken down into easily understandable concepts
Get Your Flashcards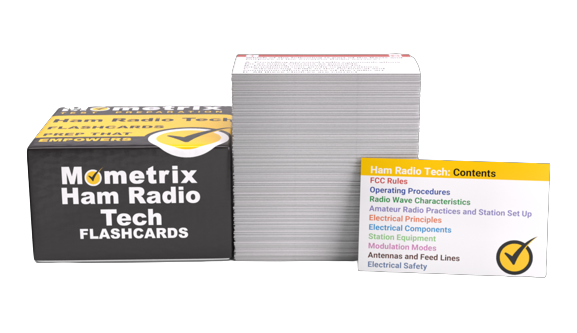 How to Study for the Ham Radio Technician Exam
How to Study Effectively
Your success on Ham Radio Technician test day depends not only on how many hours you put into preparing but also on whether you prepared the right way. It's good to check along the way to see whether your studying is paying off. One of the most effective ways to do this is by taking Ham Radio Technician practice tests to evaluate your progress. Practice tests are useful because they show exactly where you need to improve. Every time you take a free Ham Radio Technician Class exam practice test, pay special attention to these three groups of questions:
The questions you got wrong
The ones you had to guess on, even if you guessed right
The ones you found difficult or slow to work through
This will show you exactly what your weak areas are and where you need to devote more study time. Ask yourself why each of these questions gave you trouble. Was it because you didn't understand the material? Was it because you didn't remember the vocabulary? Do you need more repetitions on this type of question to build speed and confidence? Dig into those questions and figure out how you can strengthen your weak areas as you go back to review the material.
Answer Explanations
Additionally, many Ham Radio Technician practice tests have a section explaining the answer choices. It can be tempting to read the explanation and think that you now have a good understanding of the concept. However, an explanation likely only covers part of the question's broader context. Even if the explanation makes sense, go back and investigate every concept related to the question until you're positive you have a thorough understanding.
Comprehend Each Topic
As you go along, keep in mind that the Ham Radio Technician practice test is just that: practice. Memorizing these questions and answers will not be very helpful on the actual test because it is unlikely to have any of the same exact questions. If you only know the right answers to the sample questions, you won't be prepared for the real thing. Study the concepts until you understand them fully, and then you'll be able to answer any question that shows up on the test.
Strategy for Ham Radio Technician Practice
When you're ready to start taking practice tests, follow this strategy:
Remove Limitations. Take the first test with no time constraints and with your notes and Ham Radio Technician study guide handy. Take your time and focus on applying the strategies you've learned.
Time Yourself. Take the second practice test "open book" as well, but set a timer and practice pacing yourself to finish in time.
Simulate Test Day. Take any other practice tests as if it were test day. Set a timer and put away your study materials. Sit at a table or desk in a quiet room, imagine yourself at the testing center, and answer questions as quickly and accurately as possible.
Keep Practicing. Keep taking practice tests on a regular basis until you run out of practice tests or it's time for the actual test. Your mind will be ready for the schedule and stress of test day, and you'll be able to focus on recalling the material you've learned.
FAQs
How many questions are on the Ham Radio Technician exam?
There are 35 multiple-choice questions on the exam.
How long is the Ham Radio Technician exam?
There is no set time limit, but the exam generally takes anywhere from 15 to 45 minutes.
What is the passing score for the Ham Radio Technician exam?
To pass the exam, you must achieve a score of at least 74%, which means answering at least 26 questions correctly.
How much does the Ham Radio Technician exam cost?
The examination fee is $15.