EPPP Practice Test
The Examination for Professional Practice in Psychology (EPPP), developed by the Association of State and Provincial Psychology Boards, is a test used by Canadian provinces and US states to certify the knowledge and integrity of professionals providing psychological services in their area.
Click "Start Test" below to take a free EPPP practice test!
Eligibility
Each state or province has different eligibility requirements for the EPPP, but candidates generally have a master's or doctorate in psychology.
Exam Outline Review
The exam is split into two parts: Knowledge and Skills. Currently, only some states/provinces/territories require that you pass the Skills part of the exam, but it will be mandatory beginning in 2026.
Part 1: Knowledge
The Knowledge part of the EPPP contains 225 multiple-choice questions, 50 of which are unscored, and you will be given a time limit of 4 hours and 15 minutes. The unscored questions are used to evaluate questions for future versions of the exam, and you will not be able to tell which are scored and which are unscored.
This part of the exam is split into eight content areas, which are based on the job task analysis held in 2017 by ASPPB.
Biological Bases of Behavior (10%)
Cognitive-Affective Bases of Behavior (13%)
Social and Cultural Bases of Behavior (11%)
Growth and Lifespan Development (12%)
Assessment and Diagnosis (16%)
Treatment, Intervention, and Prevention and Supervision (15%)
Research Methods and Statistics (7%)
Ethical/Legal/Professional Issues (16%)
Part 2: Skills
(May be optional in your state/province/territory)
The Skills part of the EPPP contains 170 multiple-choice questions, 40 of which are unscored, and you will be given a time limit of 4 hours and 15 minutes. The unscored questions are used to evaluate questions for future versions of the exam, and you will not be able to tell which are scored and which are unscored.
This part of the exam is split into six content areas, which are based on the job task analysis held in 2017 by ASPPB.
Scientific Orientation to Practice (6%)
Assessment and Intervention (33%)
Relational Competence (16%)
Professionalism (11%)
Ethical Practice (17%)
Collaboration, Consultation, and Supervision (17%)
Check out Mometrix's EPPP Study Guide
Get practice questions, video tutorials, and detailed study lessons
Get Your Study Guide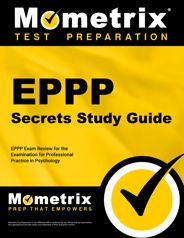 Registration
Application
To apply for approval to take the exam, you must submit an application to the licensing authority in your state/province/territory. The board will review your application and credentials and determine if you are eligible to sit for the exam. If you are deemed eligible, the licensing authority will register you into the EPPP system and create an ASPPB account for you. You will also be sent a confirmation email and a second email that contains all of the necessary information to register for your exam with Certemy.
Registration
When you register for the exam, you will be asked to read and sign the Candidate Acknowledgement Statement and submit the $600 examination fee and $87.50 test center fee. Once your fee is paid, you must schedule to take the exam in the next 12 months.
Test Day
You should arrive at the testing center at least 30 minutes before your exam appointment. After storing your belongings in a locker, the facilitator will verify your ID and take your photo and digital signature. Your digital signature must match the signature on your ID.
You will become familiar with the equipment at your testing station through a short, on-screen tutorial. You can take breaks as needed, but know that your time on break counts against your allotted testing time. If you do take a break during your exam, you cannot refer to any reference materials or use your mobile device.
Additionally, you must refrain from speaking to other test-takers or asking questions about the exam to the test facilitator. Deviation from the rules could result in your exam being canceled.
How the Exam is Scored
The EPPP is scored using a scaling method, which takes your raw score (the number of questions you answered correctly) and converts it into a score that falls on a scale of 200-800. ASPPB recommends that you achieve a scaled score of at least 500 on each part of the exam.
You will receive a preliminary score report as soon as you finish the exam, and a final score report analyzed by Pearson VUE will be made available within 30 days.
Check out Mometrix's EPPP Flashcards
Get complex subjects broken down into easily understandable concepts
Get Your Flashcards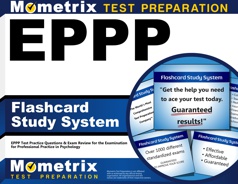 How to Study for the EPPP Exam
How to Study Effectively
Your success on EPPP test day depends not only on how many hours you put into preparing but also on whether you prepared the right way. It's good to check along the way to see whether your studying is paying off. One of the most effective ways to do this is by taking EPPP practice tests to evaluate your progress. Practice tests are useful because they show exactly where you need to improve. Every time you take a free EPPP exam practice test, pay special attention to these three groups of questions:
The questions you got wrong
The ones you had to guess on, even if you guessed right
The ones you found difficult or slow to work through
This will show you exactly what your weak areas are and where you need to devote more study time. Ask yourself why each of these questions gave you trouble. Was it because you didn't understand the material? Was it because you didn't remember the vocabulary? Do you need more repetitions on this type of question to build speed and confidence? Dig into those questions and figure out how you can strengthen your weak areas as you go back to review the material.
Answer Explanations
Additionally, many EPPP practice tests have a section explaining the answer choices. It can be tempting to read the explanation and think that you now have a good understanding of the concept. However, an explanation likely only covers part of the question's broader context. Even if the explanation makes sense, go back and investigate every concept related to the question until you're positive you have a thorough understanding.
Comprehend Each Topic
As you go along, keep in mind that the EPPP practice test is just that: practice. Memorizing these questions and answers will not be very helpful on the actual test because it is unlikely to have any of the same exact questions. If you only know the right answers to the sample questions, you won't be prepared for the real thing. Study the concepts until you understand them fully, and then you'll be able to answer any question that shows up on the test.
Strategy for EPPP Practice
When you're ready to start taking practice tests, follow this strategy:
Remove Limitations. Take the first test with no time constraints and with your notes and EPPP study guide handy. Take your time and focus on applying the strategies you've learned.
Time Yourself. Take the second practice test "open book" as well, but set a timer and practice pacing yourself to finish in time.
Simulate Test Day. Take any other practice tests as if it were test day. Set a timer and put away your study materials. Sit at a table or desk in a quiet room, imagine yourself at the testing center, and answer questions as quickly and accurately as possible.
Keep Practicing. Keep taking practice tests on a regular basis until you run out of practice tests or it's time for the actual test. Your mind will be ready for the schedule and stress of test day, and you'll be able to focus on recalling the material you've learned.
FAQs
What is the EPPP exam?
The EPPP exam is used as one of the steps to gaining licensure as a psychologist in the United States and Canada.
How long is the EPPP exam?
The time limit for each part of the EPPP exam is 4 hours and 15 minutes.
How many questions are on the EPPP exam?
There are 225 multiple-choice questions on the first part of the exam, and there are 170 multiple-choice questions on the second part.
What is the passing score for the EPPP exam?
To pass the exam, ASPPB recommends achieved a scaled score of at least 500.
How much does the EPPP exam cost?
The fees for this exam total $687.50.
EPPP Study Guide Customer Success Stories
Our customers love the tutorial videos from Mometrix Academy that we have incorporated into our EPPP study guide. The EPPP study guide reviews below are examples of customer experiences.
I found this EEEP guide to contain condensed information that enabled me to study material that pertained only to the exam. This guide reduced stress, not having to re-read volumes of text to study.
EPPP Study Guide – Eileen
It is an easy study book. Simple and go to what is essential. It helps with strategies in order to have a better result with the tests.
EPPP Study Guide – Roseli
This material is definitely helpful in narrowing down what is essentially to study. I appreciate the concise yet valuable information provided.
EPPP Study Guide – Damien
The information provided in the study guide is very helpful and I would recommend to others who are preparing for this exam.
EPPP Study Guide – Joette
I really like this resource because it has the information very well organized and accurate. After so many years of studies, it is good to have the information condensed in one place. Also, it's good to have the practice test to see my progress.
EPPP Study Guide – Customer
I have taken the EPPP several times in the past and have come close to passing but ultimately have been denied access to licensure. I have started to read through your study guide and feel that it more closely resembles the format and organization of the actual exam, in fact, closer to any other study materials I have purchased in the past.
EPPP Study Guide – Robin
I really enjoy the material because it is straight to the point, little fluff, however, quite comprehensive. I also enjoy that the material allows me the opportunity to provide me interesting topics that motivate me to do my own private research oh the topics, preparing me even more for my BIG test day.
EPPP Study Guide – Customer
This book seems to be well structured. It goes over each domain that the EPPP tests for and the questions are also a nice addition. Overall, it's pretty sufficient and extremely helpful.
EPPP Study Guide – Megan
I like that it includes all sections from the EPPP in condensed form. It seems to touch on the most important information needed to know for the test. I also like that it has a practice test. Thank you for this great study guide.
EPPP Study Guide – Tracy
I found it to be very easy to follow and loved the explanations and examples provided. I like the fact that it isolates the critical information and concepts that will most likely be on the exam. After going through the study guide I decided to order the flashcards as well. My anxiety level for taking the exam has reduced because I really feel like these tools will have me ready when the time comes and I thank the team who developed this guide.
EPPP Study Guide – Rasa
This book is amazing. The sheer amount of information is great. This will really help me pass the EPPP test when it comes time. So glad I found it!
EPPP Study Guide – Ronald
I found that the study guide provides a good, and balanced overview of what is included in the exam.
EPPP Study Guide – Brian