EPPP Practice Test
The EPPP, developed by the Association of State and Provincial Psychology Boards, is a test used by Canadian provinces and US states to certify the knowledge and integrity of professionals providing psychological services in their area.

Who takes the EPPP?
Doctoral or master's level candidates or degree holders take the EPPP to obtain a certificate of professional practice in Canada or the USA.
Who administers the EPPP?
The EPPP is a computerized assessment prepared by the American Psychological Association (APA) and offered to registered candidates at Pearson VUE testing centers. Candidates initiate the testing process by applying to the licensing authority in their state or province, which contacts the EPPP for scheduling.
There is a $600 application and an $87.50 scheduling fee, payable to Pearson VUE, to take the exam within 90 days of registration. These fees are nonrefundable to candidates who are no-shows or who wish to reschedule their test within the final month of the 90-day testing window.
Test takers should arrive at the Pearson VUE site well before their exam begins for an orientation on the testing software. A photo ID is the only personal item candidates may take into the testing center. Test center staff may supply a whiteboard or pencil and paper to facilitate note-taking during the exam.
Special Accommodations
Pearson VUE makes arrangements for test takers with documented disabilities. These include separate testing rooms, additional testing time, and the provision of a reader or recorder. A French language version of the exam is offered to those seeking licensure in areas that require that a French version of be available.

Check out Mometrix's EPPP Study Guide
Get practice questions, video tutorials, and detailed study lessons
Get Your Study Guide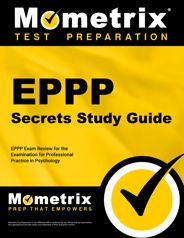 How is the test organized?
The EPPP consists of 225 multiple choice questions to be completed in a testing period of four hours and fifteen minutes. In order to achieve an ASPPB-approved passing score of 500 or above, the test taker must answer 70% of the questions. Individual states and provinces may establish additional scoring requirements for licenses in their jurisdictions. Candidates whose scores fall below the requirements of their licensing boards may repeat the application process to retake the EPPP.
What does the EPPP cover?
There are eight sections of the EPPP. These content areas address the biological, cognitive-affective, and social-cultural bases of behavior; growth and development; diagnosis and assessment; treatment and supervision; statistics and research methods; and professional ethics and legal issues.
What are the best ways to prepare for the EPPP?
Even candidates who have excelled in their graduate studies may falter when it comes to taking a licensure exam. Test experts advise that candidates review key concepts and take practice tests that adhere as closely as possible to the questions on the actual exam. Mometrix offers study materials proven to focus study and increase the odds of success on the EPPP.
The Mometrix EPPP Flashcards provides a thorough, convenient review of content terminology, definitions, and domain associations. Mometrix Flashcards move with the candidate throughout their day from the parking lot to the office, lunchroom, or library with handy reminders of possible EPPP questions on drugs (Acetylcholine, Antipsychotics, Benzodiazepines), theorists (Beck, Brocha, Piaget, Skinner), personality disorders, brain imaging techniques, sleep and memory disruptions, statistical validity, and ethics for practitioners.
Written by experts in test design, the Mometrix EPPP Secrets Study Guide gives exam candidates hours of practice answering questions like those on the EPPP, as well as tactical advice to help test takers read questions carefully before rushing to select an incorrect answer. A Quick Reference Guide organizes and condenses the eight domains of the EPPP to boost recall of facts. Practice tests hone the candidate's reasoning skills, minimize time spent on elaborate calculations to survey the wording of questions and make intelligent guesses. Practice exams are followed with detailed explanations of the answers so that on the exam day, test takers will know how to select the correct responses and experience the pleasure of a high marks on the EPPP and a career as a licensed practitioner.

Check out Mometrix's EPPP Flashcards
Get complex subjects broken down into easily understandable concepts
Get Your Flashcards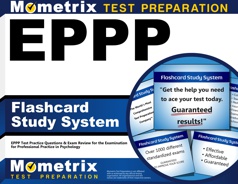 EPPP Study Guide
Mometrix Academy is a completely free EPPP study material resource provided by Mometrix Test Preparation. If you find benefit from our efforts here, check out our premium quality EPPP study guide to take your studying to the next level. Just click the study guide link below. Your purchase also helps us make even more great, free content for test-takers.
Upgrade your studying with our EPPP study guide and flashcards:
EPPP Study Guide
EPPP Flashcards
EPPP Study Guide Customer Success Stories
Our customers love the tutorial videos from Mometrix Academy that we have incorporated into our EPPP study guide. The EPPP study guide reviews below are examples of customer experiences.
I found this EEEP guide to contain condensed information that enabled me to study material that pertained only to the exam. This guide reduced stress, not having to re-read volumes of text to study.
EPPP Study Guide – Eileen
It is an easy study book. Simple and go to what is essential. It helps with strategies in order to have a better result with the tests.
EPPP Study Guide – Roseli
This material is definitely helpful in narrowing down what is essentially to study. I appreciate the concise yet valuable information provided.
EPPP Study Guide – Damien
The information provided in the study guide is very helpful and I would recommend to others who are preparing for this exam.
EPPP Study Guide – Joette
I really like this resource because it has the information very well organized and accurate. After so many years of studies, it is good to have the information condensed in one place. Also, it's good to have the practice test to see my progress.
EPPP Study Guide – Customer
I have taken the EPPP several times in the past and have come close to passing but ultimately have been denied access to licensure. I have started to read through your study guide and feel that it more closely resembles the format and organization of the actual exam, in fact, closer to any other study materials I have purchased in the past.
EPPP Study Guide – Robin
I really enjoy the material because it is straight to the point, little fluff, however, quite comprehensive. I also enjoy that the material allows me the opportunity to provide me interesting topics that motivate me to do my own private research oh the topics, preparing me even more for my BIG test day.
EPPP Study Guide – Customer
This book seems to be well structured. It goes over each domain that the EPPP tests for and the questions are also a nice addition. Overall, it's pretty sufficient and extremely helpful.
EPPP Study Guide – Megan
I like that it includes all sections from the EPPP in condensed form. It seems to touch on the most important information needed to know for the test. I also like that it has a practice test. Thank you for this great study guide.
EPPP Study Guide – Tracy
I found it to be very easy to follow and loved the explanations and examples provided. I like the fact that it isolates the critical information and concepts that will most likely be on the exam. After going through the study guide I decided to order the flashcards as well. My anxiety level for taking the exam has reduced because I really feel like these tools will have me ready when the time comes and I thank the team who developed this guide.
EPPP Study Guide – Rasa
This book is amazing. The sheer amount of information is great. This will really help me pass the EPPP test when it comes time. So glad I found it!
EPPP Study Guide – Ronald
I found that the study guide provides a good, and balanced overview of what is included in the exam.
EPPP Study Guide – Brian