EMT Practice Test
To become a certified Emergency Medical Technician, you first need to complete the EMT cognitive exam. This is a knowledge based test that measures your understanding of the fundamental principles and practices of working as an EMT.

How Do I Register for the EMT Exam?
In order to register for the test, you first need to submit an application and be approved to test. Approval depends on meeting the following criteria:
Be 18 years of age or older
Have completed an approved EMT training course that meets the National Emergency Medical Services Education standards
Have your current CPR-BLS credential for "Healthcare Provider"
Be prepared to pay the $80 exam fee when you submit this application because you will not receive your Authorization To Test (ATT) until that fee is paid. And you cannot schedule your exam until you receive your ATT.
Once you have received your ATT, you have to schedule your exam for a date within the next 90 days. The exam is offered on a continuous basis and testing centers are located across the United States, so you will be able to choose a date and location that are most convenient for you. However, to ensure that there are still appointments available on your preferred date, make sure you schedule as soon as possible.
Check out Mometrix's EMT Study Guide
Get practice questions, video tutorials, and detailed study lessons
Get Your Study Guide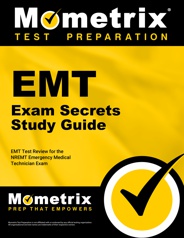 How Many Questions Are On the NREMT Test?
The total number of questions you see on the test depends on your performance. It is a computer adaptive test that continually assesses your performance with each response you give. Once the computer is able to make a confident decision about your score, it will automatically stop the exam.
Basically, what this means is that you could end up answering as few as 70 questions or as many as 120 questions. The actual number depends on your performance. If you are consistently answering questions correctly and keeping your average score above a certain threshold, the computer will stop the exam and notify you that you have passed. If, however, you are consistently answering questions incorrectly and staying below a certain threshold, the test will stop and you will be notified that you did not pass.
You will have a maximum of two hours to complete the exam. Since you can't be sure exactly how many questions you will answer, it is best to prepare as if you will be answering all 120. That means you should spend an average of one minute on any given question.
What Will I Be Tested On?
The exam questions will fall under five different content areas. Each of the questions is aimed at measuring not just your understanding of the information but your ability to apply it in realistic, on the job scenarios. The content areas are as follows:
Airway, Respiration, and Ventilation – 18%-22% of the questions
Cardiology and Resuscitation – 20%-24% of the questions
Trauma – 14%-18% of the questions
Medical, Obstetrics, and Gynecology – 27%-31% of the questions
EMS Operations – 10%-14% of the questions
Questions will not appear in any particular order. The content areas will be mixed together and the actual balance of questions you see will depend on exactly how many questions you end up getting on the test.
When Will I Find Out If I Passed?
As mentioned above, the test will automatically stop once the computer can make a confident assessment about whether you have achieved a passing score. So you will know immediately after the test. However, passing the cognitive exam is not the only thing you need to do to become a certified EMT.
After passing the cognitive exam, you will next need to take a psychomotor exam. This is a practical test where you will demonstrate your ability to perform various emergency and medical procedures. After successfully completing both of these tests, you will qualify for certification.
Check out Mometrix's EMT Flashcards
Get complex subjects broken down into easily understandable concepts
Get Your Flashcards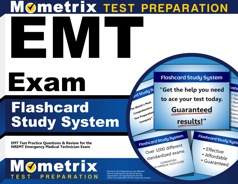 How Much Time Should I Spend Preparing for this Exam?
You should definitely spend at least a couple of weeks preparing for this exam. The more you study, the more likely you will be able to pass without having to answer all 120 questions!
The best way to prepare for a test like the EMT cognitive exam is to use effective study aids like the Mometrix Study Guide and Mometrix Flashcards. These tools will provide with a clear and comprehensive overview of the material for all five content areas. The explanations are written in clear, easy-to-understand language by a team of experts who know this exam inside and out.
On top of that review, these tools will also provide you with lots of practice questions that will get you ready for exactly the kind of questions you are going to see on test day. Plus, the flashcards are portable, so you can squeeze in extra study sessions on the go!
EMT Study Guide
Mometrix Academy is a completely free EMT test prep resource provided by Mometrix Test Preparation. If you find benefit from our efforts here, check out our premium quality EMT study guide to take your studying to the next level. Just click the NREMT study guide link below. Your purchase also helps us make even more great, free NREMT practice test content for test-takers.
Upgrade your studying with our EMT study guide and flashcards:
Online EMT Prep Course
If you want to be fully prepared, Mometrix offers an online EMT Prep Course. The course is designed to provide you with any and every resource you might want while studying. The EMT Course includes:
Review Lessons Covering All the Topics
450+ EMT Practice Questions
More than 300 Digital Flashcards
Over 20 Instructional Videos
Money-back Guarantee
Free Mobile Access
and More!
The EMT Prep Course is designed to help any learner get everything they need to prepare for their EMT exam; click below to check it out.
EMT Study Guide Customer Success Stories
Our customers love the tutorial videos from Mometrix Academy that we have incorporated into our EMT test study guide. The EMT study guide reviews below are examples of customer experiences.
This book helped me a lot especially the study quiz along with the detailed answers and why it was the answer. I successfully passed the NREMT Exam Yesterday 6/24/19 and not sure if I would of passed without this book. I used other materials but kept coming back to your book. Very helpful product and will recommend to anyone who is taking an upcoming EMT Exam. (I was so pleased with this product my I purchased my wife Study exam book for her NYSTCE Exam.)
EMT Study Guide – Allan
Love this book! I'm a NYS certified EMT and I'm trying to get my national certification. This book is awesome so far! I'm about 1/3 done with it, but I'm outling the book so it's taking a while. The book itself is very concise and to the point. It's very helpful in refreshing my memory. Would recommend!
EMT Study Guide – Danielle
This book helped me a lot to focus on the material needed. Its very informative and explains the material well. I struggle with test anxiety and this book helps immensely with this!
EMT Study Guide – Cari
I am taking my EMT cognitive exam within the month. This book has a lot of ways of helping me remember the items I normally have a problem with. Love the ideas!
EMT Study Guide – Marian
This study guide is packed with information for success on test day. Anatomy, Physiology, Medical Terminology, EMS Management and so much more to prepare you for test day. Test Anxiety? No worries this guide gives you tips to overcome anxieties for a successful test day.
EMT Study Guide – Customer
Amazing book, highly recommended. Not only for EMT's guide But includes Practice test and DVD offer. I am RN with 15 years working in ED recommending everybody got this book and read this book from cover to cover. Even you are not medic, to keep in your home library for wonderful recources.
EMT Study Guide – Mariana
The EMT Exam Study Guide gives you an understanding of what to expect with the real exam questions. Each chapter is detailed for easy, handy, and last minute preparation. The practice tests and answers are in the same level as the actual exam questions, which helps you get a good idea of what to expect in the real exam. Additionally, the explanations that accompany the answers to test questions are immensely valuable.
EMT Study Guide – Blaise
Detailed study guide with general test taking tips; lots of specifics on the EMT exam material; easy to follow and organized. There is a practice exam and answers with explanations. Recommended!
EMT Study Guide – Customer
I liked the entire study guide. In depth proper medical protocols and guides to help you pass your EMT exam. Practice tests to help you ace your exam on the first try.
EMT Study Guide – Customer
I really like how the book isn't super long it's a decent amount of pages and it's straight to the point. Other books have a lot of fluff and this one does not which I also really enjoy!
EMT Study Guide – Jordan