DANB Infection Control Exam Practice Test
The Infection Control Exam (ICE) is provided by the Dental Assisting National Board (DANB) and designed to test participants' knowledge about the prevention and management of potential infection during dental procedures.
The ICE exam is an integral part of receiving National Entry Level Dental Assistant (NELDA), certified dental assistant (CDA) and certified ophthalmic assistant (COA) certification.
Am I Eligible to Take the ICE Exam?
The ICE exam has no eligibility requirements and anyone is free to apply at any time.
How Do I Apply for the ICE Exam and When Can I Get My Score?
Interested applicants for the ICE exam can apply through an automated system on the DANB website. They will first be prompted to create a username and password account. Once an applicant submits their applications, documentation and fees, a one- to two-week processing period begins. Then, a "test admission notice" with instructions to schedule the ICE exam is provided. Finally, a 60-day testing window opens in which applicants can schedule their exam appointment and take the exam. Preliminary exam results are provided following the exam and official exam results and certificates are provided two to three weeks after the exam date.
How Much Does the ICE Exam Cost?
The ICE exam fee is $250.
How Is the ICE Exam Administered?
The DANB uses "computer adaptive testing" to administer all of its exams. This means that participants will be provided an item at a difficulty level around the ICE exam's pass point. If the participant answers this item correctly, the next item they are presented with will be a little more difficult. If the participant answers this item incorrectly, the next item they are presented with will be a little easier to answer.
Every participant will be given the same amount of questions from each content area of the exam. Their ultimate score will be determined by the difficulty of the questions they answered, as opposed to a specific number of questions. The average participant is supposed to answer slightly more than 50 percent of the questions correctly and slightly less than 50 percent of the questions incorrectly. The philosophy behind this style of testing is that it should most accurately determine a participant's aptitude.
Check out Mometrix's Infection Control Study Guide
Get practice questions, video tutorials, and detailed study lessons
Get Your Study Guide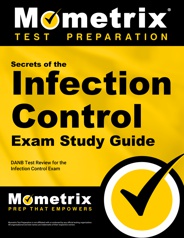 How Is the Content on the ICE Exam Divided?
The ICE exam totals 100 questions. Participants are given 75 minutes total for the exam, plus an additional five minutes of tutorial time and five more minutes of comment time. The exam is divided into four domains, each of which constitutes a different percentage of the total exam and covers different specific content areas, per DANB:
Domain One: Standard Precautions and the Prevention of Disease Transmission (20 percent of total exam)
Recognizing infectious disease
Demonstrating understanding of how to review a medical history
Demonstrate understanding of proper hand hygiene
Describing how to protect a patient and operator using personal protective equipment
Demonstrating an understanding of how to protect a patient and operator through the reduction of aerosol, droplets and spatter
Domain Two: Prevent Cross-Contamination During Procedures (34 percent of total exam)
Demonstrating an understanding of how to maintain aseptic conditions to prevent cross-contamination for procedures and services
Domain Three: Instrument/Device Processing (26 percent of total exam)
Demonstrating an understanding of processing reusable dental instruments and devices
Demonstrating an understanding of how to monitor and maintain processing equipment and sterilizers
Domain Four: Occupational Safety/Administrative Protocols (20 percent of total exam)
Demonstrating an understanding of occupational safety standards and guidelines for personnel
Demonstrating an understanding of how to maintain and document programs/policies for infection control and safety
How Can I Get a Passing Score on the ICE Exam?
The ICE exam consists of a diverse set of domains all focused on critical, industry-specific knowledge necessary to prove aptitude in the dental and ophthalmic field. As such, a deep level of familiarity with the content is necessary for a candidate to pass. Additionally, the computer adaptive testing nature of the ICE exam requires participants to be able to answer increasingly difficult questions around this content area in order to pass.
As such, it is highly recommended that those preparing to take the ICE exam utilize the combination of a study guide and set of specific flashcards. Mometrix Test Preparation offers both a set of such flashcards and a study guide that can and should be utilized by those who hope to pass the DANB's ICE exam.
Check out Mometrix's Infection Control Flashcards
Get complex subjects broken down into easily understandable concepts
Get Your Flashcards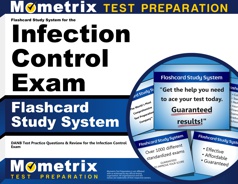 Infection Control Exam Study Guide
Mometrix Academy is a completely free Infection Control Exam test resource provided by Mometrix Test Preparation. If you find benefit from our efforts here, check out our premium quality Infection Control Exam Study Guide and Infection Control Exam Flash Cards to take your studying to the next level. Just click the Infection Control Exam study guide link below. Your purchase also helps us make even more great, free test content for test-takers.
Upgrade your studying with our Infection Control study guide and flashcards:
Infection Control Exam Study Guide
Infection Control Exam Flashcards
DANBICE Study Guide Customer Success Stories
Our customers love the tutorial videos from Mometrix Academy that we have incorporated into our DANBICE test study guide. The DANBICE study guide reviews below are examples of customer experiences.
So far, I am impressed. These books hold very good information and get directly to the needed information. I really love the sample exams and then the FULL explanation of the answer in the answer key. Most valuable! Thank you so much for outstanding helpful information! Great job putting the information together!
DANBICE Study Guide – Jerre
This study book was very comprehensive and outlined the important parts of the subjects that the exam will cover... easy to follow line by line.
DANBICE Study Guide – Pam
Everything about this book is helpful. I like how it has all the important information and also practice tests. I would definitely recommend it to my friends.
DANBICE Study Guide – Customer
I like that your study guide is very specific and covers topics well. It is much better than the current course I am taking. Thanks for putting it together.
DANBICE Study Guide – Fred
This is really helping me and all the information that I have been looking for to master my test. I know that I will be able to pass this the first time around. This is an awesome product
DANBICE Study Guide – Jasmine
My experience with this book was excellent. Everything that I studied was in the exam. I'm so impressed.
DANBICE Study Guide – Marta
I absolutely love the layout of this study guide. It make it easy to read and understand what I am reading. I also love that this study guide goes over the material and then has practice tests to see if you did understand what you read. This helps bring to the reader's attention on the parts they need to go over.
DANBICE Study Guide – Kailey
This study guide looks excellent-everything is clear, well-organized, and defined. The practice questions are very helpful and there are lots of detailed explanations in the "Answers and Explanations," section. I love the secret keys and the section on how to avoid test anxiety along with advice on how to prepare and study for this test.
DANBICE Study Guide – Judy