DANB General Chairside Assisting (GC) Practice Test
The Dental Assisting National Board's (DANB) General Chairside Assisting (GC) exam is one of three components of the Certified Dental Assistant (CDA) certification program. The GC exam ensures individuals meet the national standard for knowledge-based competence in general chairside assisting tasks.
To earn the CDA certification, you must pass the exam for all components. You can take all three components in one testing session or individually within five years.
Click "Start Test" below to take a free DANB General Chairside Assisting practice test!
DANB GC Exam Eligibility
There are three pathways to meeting eligibility requirements for the GC exam.
Regardless of the path to eligibility, you must have a current DANB-accepted hands-on CPR, BLS, or ACLS certification.
Pathway 1
Option 1: This option is for individuals who are graduates of a Commission on Dental Accreditation (CODA)-accredited dental assisting or hygiene program or who hold a Registered Dental Hygienist (RDH) license (except the state of Alabama). The documents you must submit with your application include a copy of your certificate or diploma, an original/official transcript in a sealed envelope from the school, or a letter from the school's program director on school letterhead.
Option 2: This option is for students who are to graduate within 90 days of applying for the exam. A letter from the program director on school letterhead is required, and you must submit proof of graduation from the program within 90 days of testing, or the GC exam results are rescinded.
Option 3: This option is for individuals who hold a current Registered Dental Hygienist (RDH) license in any state except Alabama. Submit a copy of your current license with your GC exam application.
Pathway 2
Use Pathway 2 if you are a high school or equivalent graduate with 3,500 hours of dental assisting experience accrued over at least two but no more than four years. A licensed dentist must verify your work experience. Required documentation includes a work experience statement signed by a licensed dentist, a copy of your high school diploma, GED certificate, or an official transcript in a sealed envelope from the school. The work experience statement must be from the CDA application packet; letters from employers or pay stubs are not accepted.
Pathway 3
Pathway 3 is used if you hold former CDA certification, graduated, or are enrolled in a CODA-accredited DDS or DMD program. This pathway can also be used if you are enrolled or graduated from a dental degree program or are enrolled in or graduated from a postbaccalaureate program affiliated with a US or Canadian dental school that DANB accepts outside of the US or Canada. If you qualify for this pathway, make sure you supply the documentation required with your application.

Check Out Mometrix's General Chairside Assisting Study Guide
Get practice questions, video tutorials, and detailed study lessons
Get Your Study Guide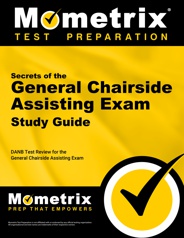 DANB GC Exam Outline
The DANB General Chairside Assisting exam is computer-delivered, and you will have 75 minutes to answer 95 multiple-choice questions.
The GC exam consists of four domains.
1. Evaluation (17%)
The subjects covered in this domain include:
Preliminary examination
Head, neck, and oral cavity
Charting the conditions of the oral cavity
Treatment documentation
Medical conditions that can cause complications or emergencies
2. Patient Management and Administration (17%)
The subjects covered in this domain include:
Patient management
Oral health education
Legal record maintenance
Legal regulations and responsibilities
Inventory management
Equipment and instrument maintenance
Emergency kit maintenance
3. Chairside Dentistry (50%)
The subjects covered in this domain include:
Four-handed dentistry techniques, including preparing the room, trays, and the patient
Transfer instruments, maintaining the field of operation
Intraoral procedures and armamentarium
Bleaching and whitening
Desensitizing teeth
Oral surgery
Preventative dentistry
4. Dental Materials (16%)
The subjects covered in this domain include:
Impression materials and procedures
Operative materials and procedures
Laboratory materials and procedures
DANB GC Exam Registration
Once you have determined which pathway to apply under, complete the application at the DANB website. Include all of the required documentation and payment. Incomplete applications are not processed. When you complete your application, you need to decide the method of test delivery, either at a Pearson VUE testing center or by a remote proctor at home. Testing center applications are accepted online, by mail, or by fax. Remote proctored test applications are only accepted online.
DANB reviews your application within four weeks and will notify you if you are determined eligible. Once your application is approved, you will receive an email notification with instructions on how to register for your exam. You have 60 days from the date of the email to schedule and take your exam.
Testing Fee
The testing fee is the same for both delivery methods: $270.00. The active-duty military testing fee is $265.00.
Test Delivery Methods
You can take the exam at a Pearson VUE testing center or from the comfort of your home by remote proctoring.
Pearson VUE Testing Centers
Testing centers are located nationwide. Most centers have appointments available six days a week from 7 am to 7 pm Central Standard Time, excluding holidays. A government-issued ID is required, and outside materials are not allowed in the testing center.
Remote Proctor
If you decide to take the exam at home by a remote proctor, ensure your equipment meets the minimum requirements. You must have a desktop or laptop with a webcam and microphone, a mobile phone that can take photos and send texts, and a private workspace. The exam cannot be taken on mobile devices, smartphones, or tablets. The technical requirements can be detailed on Pearson OnVUE's website.
You can schedule your exam 24 hours a day, seven days a week.
On the day of your exam, you will show the remote proctor your testing space and submit your identification by text. Your testing space must be free of reference materials and distraction-free.
DANB GC Exam Scores
If you take the exam at a testing center, you will receive a preliminary pass or fail status at the end of your exam. If you take the exam by a remote proctor, you will receive a link to the initial results. Your preliminary report cannot be used as proof of certification.
This exam is computer-adaptive, so depending on your performance, the difficulty of your test will increase or decrease as you go on.
Here's a look at how it works:
The first question is judged to be of medium difficulty, and depending on your performance, the next question may be easier or harder. If you do well in the first question, the second question will be harder; conversely, if you do poorly on the first question, the second question will be easy.
The questions on the exam are rated on a scale of 100-999. The higher a question is rated, the harder the question is (e.g., a question marked as 539 will be more difficult than a question marked 447).
To pass the exam, your final question must be on or above the 400 mark. If your final question is below this mark, you will not pass the exam, even if you have answered some questions above the 400 mark at some point during the exam. This is because the computer has rated the difficulty of your final question based on how you answered the previous questions.
If you passed, your official exam results are provided by DANB within one to three weeks after taking the exam by mail. Your score report is uploaded to your online account if you did not pass.
Retaking the DANB GC Exam
You can retake the DANB General Chairside Assisting exam as often as needed to obtain a passing score. There is no waiting period between tests. You must complete the application and pay the fees for each retake. Your state licensing board may require additional education after failed attempts.

Check Out Mometrix's General Chairside Assisting Study Guide
Get complex subjects broken down into easily understandable concepts
Get Your Flashcards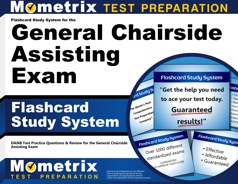 How to Study for the DANB GC Exam
How to Study Effectively
Your success on DANB General Chairside Assisting test day depends not only on how many hours you put into preparing but also on whether you prepared the right way. It's good to check along the way to see whether your studying is paying off. One of the most effective ways to do this is by taking DANB GC practice tests to evaluate your progress. Practice tests are useful because they show exactly where you need to improve. Every time you take a free DANB GC exam practice test, pay special attention to these three groups of questions:
The questions you got wrong
The ones you had to guess on, even if you guessed right
The ones you found difficult or slow to work through
This will show you exactly what your weak areas are and where you need to devote more study time. Ask yourself why each of these questions gave you trouble. Was it because you didn't understand the material? Was it because you didn't remember the vocabulary? Do you need more repetitions on this type of question to build speed and confidence? Dig into those questions and figure out how you can strengthen your weak areas as you go back to review the material.
Answer Explanations
Additionally, many General Chairside Assisting practice tests have a section explaining the answer choices. It can be tempting to read the explanation and think that you now have a good understanding of the concept. However, an explanation likely only covers part of the question's broader context. Even if the explanation makes sense, go back and investigate every concept related to the question until you're positive you have a thorough understanding.
Comprehend Each Topic
As you go along, keep in mind that the General Chairside Assisting practice test is just that: practice. Memorizing these questions and answers will not be very helpful on the actual test because it is unlikely to have any of the same exact questions. If you only know the right answers to the sample questions, you won't be prepared for the real thing. Study the concepts until you understand them fully, and then you'll be able to answer any question that shows up on the test.
Strategy for DANB GC Practice
When you're ready to start taking practice tests, follow this strategy:
Remove Limitations. Take the first test with no time constraints and with your notes and DANB study guide handy. Take your time and focus on applying the strategies you've learned.
Time Yourself. Take the second practice test "open book" as well, but set a timer and practice pacing yourself to finish in time.
Simulate Test Day. Take any other practice tests as if it were test day. Set a timer and put away your study materials. Sit at a table or desk in a quiet room, imagine yourself at the testing center, and answer questions as quickly and accurately as possible.
Keep Practicing. Keep taking practice tests on a regular basis until you run out of practice tests or it's time for the actual test. Your mind will be ready for the schedule and stress of test day, and you'll be able to focus on recalling the material you've learned.
Online DANB CDA Prep Course
If you want to be fully prepared, Mometrix offers an online DANB CDA Prep Course. The course is designed to provide you with any and every resource you might want while studying. The DANB CDA Course includes:
Review Lessons Covering Every Topic
750+ DANB CDA Practice Questions
More than 900 Digital Flashcards
Over 90 Instructional Videos
Money-back Guarantee
Free Mobile Access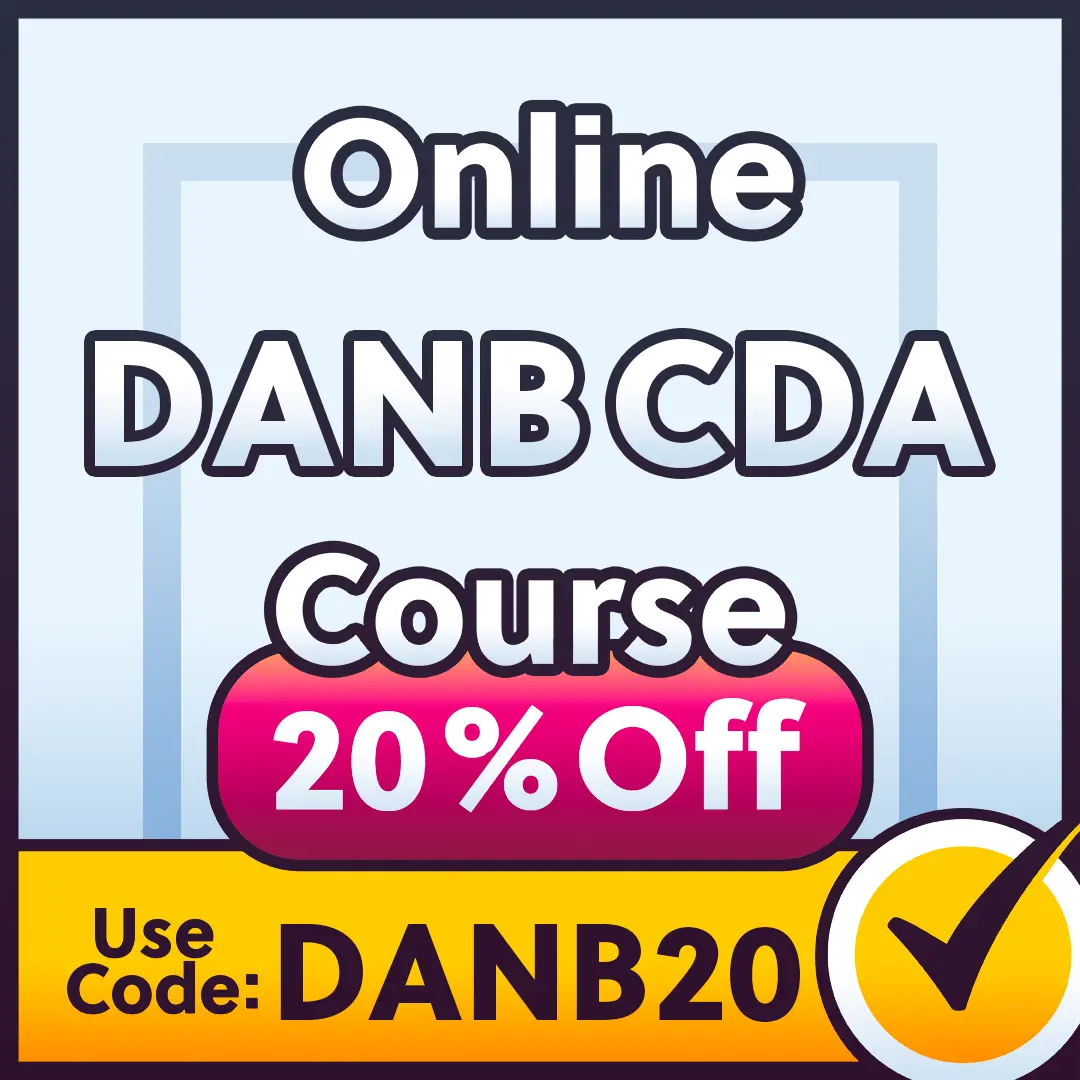 The DANB CDA Prep Course is designed to help any learner get everything they need to prepare for their DANB CDA exam. Click below to check it out!
FAQs
What is a passing score for the DANB GC exam?
To pass the General Chairside Assisting exam, you must achieve a score of at least 400.
How long is the DANB GC exam?
The General Chairside Assisting exam is timed at 75 minutes (1 hour and 15 minutes).
How many questions are on the DANB GC exam?
There are 95 multiple-choice questions on the exam.
When will I receive my test scores?
An unofficial pass/fail status will be available as soon as you complete the exam, but the official score report will be mailed to you within 1 to 3 weeks after test day.
How much does the exam cost?
The DANB GC exam costs $270.00, regardless of which delivery method you choose.