CWOCN® Exam
For those who want to become a Certified Wound Ostomy Continence Nurse (CWOCN®), you must first pass a Certified Wound Ostomy Continence Nurse Exam. For a successful completion of the exam, you must first meet the eligibility requirements and then apply to take it. Upon your application being approved, you will be allowed to schedule a testing session for the exam. A passing completion of the exam rewards you with certification in your desired field and the ability to practice with dedication and commitment.
Am I Eligible?
To be eligible to take this exam you must fall into one of the following categories with the appropriate requirements met and documentation to prove it.
Initial (first time) candidates:
Have a current RN license
Have a bachelor's degree or higher
Have either graduated from an accredited WOC program within the last 5 years or have completed at least 50 credits and 1,500 clinical hours post bachelor's degree per specialty you are applying for
Be able to pay all test fees at the time of application
Retake candidates:
Have a current RN license
Wait 30 days after a failed exam to retake
Include any fees at the time of application
Finish and pass the exam(s)
Recertifying candidates:
Have certification by the WOCNCB in the specialty you are applying for
Have a current RN license
Include any fees at the time of application
Finish and pass the exam(s)
How do I Apply?
The application for the CWOCN exam can be found only online. You will need to provide proof of your current RN license, education, continuing education credits or WOC programs, and clinical hours as necessary. Your exam fee and any surcharge fees will also be paid for at this time.
When and Where is it Taken?
You can choose from over 450 testing centers throughout the U.S. and Canada and over 200 international test centers. Tests are available on a first come, first served basis for each location. You may take each exam in order during one test session or separately. You are given two hours for each specialty exam.
Check out Mometrix's CWOCN Study Guide
Get practice questions, video tutorials, and detailed study lessons
Get Your Study Guide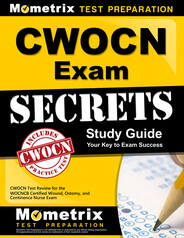 Can I Reschedule?
You may reschedule/cancel your testing session through the online scheduling system any time at least four business days prior to your test date. A $50 rescheduling fee will apply. If you do not cancel/reschedule prior to those four days, or do not show up for your scheduled test session, all testing fees will be forfeited, and you must complete a retake application and pay an additional testing fee.
What does it Cost?
Examination fees are paid during the online application process and are assessed based on the number of specialties involved in your test including wound care, ostomy, continence and/or foot care.
1 specialty – $395

2 specialties – $510

3 specialties – $610

4 specialties – $670
There is a one-time surcharge fee of $75 assessed for scheduling your exam(s) during multiple testing periods instead of within a single testing period. If you fail the exam and need to retake it, you will be given a $100 discount for a one-time use.
What Should I Bring with me?
When arriving for your scheduled test session, please make sure to do so at least 15 minutes early. If you arrive late, you will not be allowed to take the test and will forfeit all testing fees. You must bring a signed photo identification with you to the test site. The following are the only acceptable forms allowed:
Driver's license
Passport
Government issued ID cards
No personal items are to be brought into the testing center including: cell phones, computers or other electronic devices, reference materials, cameras, bags or purses, food or beverages, personal writing utensils, hats, hoods, coats or jackets, and calculators (unless otherwise mentioned by the test sponsor).
What is Covered?
Each specialty exam consists of 120 multiple-choice questions, 10 of those are non-scored pretest questions. The topics covered are as follows:
Wound Care
Factors affecting wound care
Principles of wound management
Pressure ulcers
Lower extremity Venous Disease
Lower extremity arterial disease
Lower extremity neuropathic disease
Other types of wounds
Ostomy Care
Factors affecting fecal and urinary diversion
Management of fecal and urinary diversion
Colostomy
Ileostomy
Ileal conduit
Fistulas
Percutaneous tubes and drains
Continence Care
Principles of continence
Principles of urinary incontinence
Stress incontinence
Urge incontinence
Functional incontinence
Other voiding disorders
Principles of bowel dysfunction
How is it Scored?
The results of your exam will be printed and immediately given to you after completion at the test center. These scores may also be viewed later online. If you pass the exam(s), you will receive a personalized frameable certificate and a wallet card. These are delivered the month after completion of your last successful exam, once you have completed all your exams. These credentials are good for five years.
How to Prepare?
For a more comprehensive and thorough explanation of everything covered on the test, check out our CWOCN Study Guide and Flashcards. These practice essentials will help you be prepared for every topic the test covers. They will also allow you to complete some sample questions so you can better understand the formatting and process of the test itself. Be sure to use both the CWOCN study guide and CWOCN flashcards to be better prepared for this exam.
Check out Mometrix's CWOCN Flashcards
Get complex subjects broken down into easily understandable concepts
Get Your Flashcards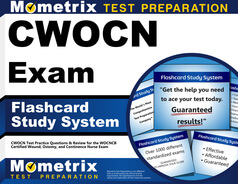 CWOCN Study Guide
Mometrix Academy is a completely free resource provided by Mometrix Test Preparation. If you find benefit from our efforts here, check out our premium quality CWOCN study guide to take your studying to the next level. Just click the CWOCN study guide link below. Your purchase also helps us make even more great, free content for test-takers.
Upgrade your studying with our CWOCN study guide and flashcards:
CWOCN Study Guide
CWOCN Flashcards
CWCN®, COCN®, CCCN®, CWON®, and CWOCN® are registered trademarks of the Wound Ostomy Continence Nursing Certification Board. Mometrix Test Preparation is not affiliated with or endorsed by the Wound Ostomy Continence Nursing Certification Board.
CWOCN Study Guide Customer Success Stories
Our customers love the tutorial videos from Mometrix Academy that we have incorporated into our CWOCN test study guide. The CWOCN study guide reviews below are examples of customer experiences.
I bought your study guide before I had even started my courses for the CWOCN. I felt this would give me a chance to read it before starting any classes and continue to use as a review during the courses. I then used the study guide after I finished with courses. It greatly helped me learn and retain all the information.
CWOCN Study Guide – Jill
This book is very helpful. It lays out topics in an organized way and helps me review and understand the material better. The book gives me tips to take the exam and also contains practice questions.
CWOCN Study Guide – Raul
The study guide is spot on with material for the WOC certification tests. I used the guide 5 years ago and got the highest scores I have ever had. This time I'm shooting to break my own record by studying even harder. The info about HOW to take a test was incredibly useful and truly helped when I did not know the answer.
CWOCN Study Guide – Rhonda
I feel this is a great study guide, great information and presented in an easy format to read/recall. Worth the money.
CWOCN Study Guide – Sharona
When it comes to studying, I've always felt like I was floundering around a bit. I always get the job done, but it doesn't feel like a very organized way of doing it. When it came time to take this particular test, I wanted to make sure I got things done and I wanted to feel good about the result and the process. I wasn't sure how to go about doing that at first, but once I found this study guide, I knew just how to do it. The guide was so well organized and had all of the material I needed so all I had to do was follow through with its directions and I knew I would have the information down pat. Standardized tests can be a real pain and I knew I had to do well on this one in order to succeed, but the high pressure that comes along with taking these tests sometimes gets to me. This study guide not only had all the material I needed to study, but it also had researched and practical advice that I knew would help me follow through with what I had learned on the day of the test. It also pointed out errors students make when they take tests and taught me how to avoid them. This time, when I studied, I really felt like I knew what I was doing. I wasn't just getting the information in a roundabout way...it was direct and to the point, thanks to this study guide.
CWOCN Study Guide – Customer
This product has been a great tool to prep me for boards! Doing well on the practice tests and I'm feeling confident!
CWOCN Study Guide – Jennifer