CWCN® Practice Test
Wounds are serious issues. If they're not treated properly, they can become life-threatening. Wound, Ostomy, and Continence (WOC) nurses are the front line of treating patients with health issues that include bed sores, wounds that won't heal, and more. The Wound, Ostomy, and Continence Nursing Certification Board (WOCNCB), since 1978, has certified these specialists with the Certified Wound Care Nurse designation. Holders of this voluntary certification distinguish themselves from others since they've proved their knowledge and skills in the field. This guide provides a look at the certification test and recommends study materials that can help you prepare.

What are the eligibility requirements to take the Certified Wound Care Nurse exam?
First-time candidates must have a registered nurse's license and hold at least a bachelor's degree in any subject. They also must either:
Have graduated from an accredited wound, ostomy, and continence nursing education program within the last five years. The program must also be accredited by the WOCN Society at the time the candidate graduates, or
Meet a minimum number of certification and clinical hours. Please check the WOC guidelines.
I'm eligible to take the exam. How long can I wait before I take it?
Candidates, once approved, have one-year to take the test. Candidates can take the test three times within each 12-month period.
What is the exam fee?
The test costs $395.
What's on the Certified Wound Care Nurse exam?
The Certified Wound Care exams tests wound care knowledge in seven different areas:
How factors affect wound care includes various interpretations, including nutritional status like diet history, and pain interpretations via verbal and nonverbal means.
Wound care management principals including wound healing complications, wound cleansing regimens, and wound healing education for patients and caregivers.
Pressure management assessment and management includes knowledge of pressure related wounds, risk assessments, wound interventions, and more.
Lower extremity venous disease assessment and management includes vascular studies, edema management, and differences in wound etiology.
Lower extremity arterial disease assessment and management includes invasive and noninvasive interventions and recommending the appropriate consultations.
Lower extremity neuropathic disease assessment and management.
The assessment and management of other types of wounds.
Check out Mometrix's CWCN Study Guide
Get practice questions, video tutorials, and detailed study lessons
Get Your Study Guide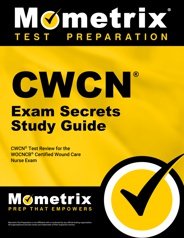 Where can I take the exam?
The Wound, Ostomy, and Continence Nursing Certification Board use a third party to administer the test. There are more than 450 testing centers across the United States, so one should be convenient for you.
How many questions are on the exam?
There are 120 total questions. Of those, 110 are scored, and ten are unscored.
How long do I have to complete the Certified Wound Care Nurse exam?
Candidates have 120 minutes (two hours) to complete the test.
How is the exam scored?
The Wound, Ostomy, and Continence Nursing Certification Board use a scaled score system to determine passing grades.
What if I fail the exam?
Candidates may retake the test for a $295 fee.
Should I arrive at the test center early?
Yes. Please arrive at least 15 minutes ahead of your scheduled test time because late arrivals won't be allowed to take the test.
What type of identification will I need when taking the Certified Wound Care Nurse exam?
Candidates must bring identification that contains a photo and signature. A driver's license and passport are examples of acceptable forms of ID.
Can I bring personal items into the testing room?
No. As in most cases, you can't bring mobile phones and electronic devices into the testing room. Books, bags, hats, hoods, food and water and among the items you can't bring in. Family members aren't allowed in the testing room. Please check for a complete list of prohibited items.
What study materials can help me prepare?
Mometrix has the tools you need to prepare for the Certified Wound Care Nurse exam, and you'll need it. Less than 77 percent of all test applications pass the exam. Our flashcards are perfect for busy professionals. They're easy to carry with you, contain answers to the most difficult questions, and show you the learning power of repetition. Our study guide breaks down the toughest problems in plain English, shows how random bits of information often give away answers, and more. Both are excellent materials as you prepare for this difficult exam.
CWCN Study Guide
Mometrix Academy is a completely free wound certification resource provided by Mometrix Test Preparation. If you find benefit from our efforts here, check out our premium quality CWCN study guide to take your studying to the next level. Just click the CWCN study guide link below. Your purchase also helps us make even more great, free content for test-takers.
Upgrade your studying with our CWCN study guide and flashcards:
CWCN Study Guide
CWCN Flashcards
Check out Mometrix's CWCN Flashcards
Get complex subjects broken down into easily understandable concepts
Get Your Flashcards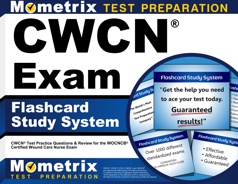 CWCN®, COCN®, CCCN®, CWON®, and CWOCN® are registered trademarks of the Wound Ostomy Continence Nursing Certification Board. Mometrix Test Preparation is not affiliated with or endorsed by the Wound Ostomy Continence Nursing Certification Board.
CWCN Study Guide Customer Success Stories
Our customers love the tutorial videos from Mometrix Academy that we have incorporated into our CWCN test study guide. The CWCN study guide reviews below are examples of customer experiences.
I purchased both The CWCN Exam Secrets Study Guide and the CWCN Exam Practice Questions. I would give them a 5 and I think they will be very helpful. I have been a CWCN for many years and it is time to renew. I like to have a lot of questions to practice with prior to taking the exam. You never know how difficult the exam will be. Most of the time has been pretty straight forward and I didn't find them difficult but one year was really hard. I passed but I didn't feel like I knew the material so ever since I want to study as much as I can to make sure I pass. Thank you for supplying us with study materials to prepare us for the exam.
CWCN Study Guide – Janet
Study guide was excellent in helping me refresh information I had taken in my classes. It focused on the information I will need for my exam later in the month. I feel more confident in getting ready to take my exam.
CWCN Study Guide – Joey
Very good book for those wishing to certify or recertify for the exam. Is also a great book to test your knowledge of wound care in order to insure that your residents/patients get the optimal wound care. CWCN Exam secrets gives test-taking pointers in addition to test questions. I would recommend this book to anyone in health care.
CWCN Study Guide – Ellen
The print and material are very well done. The content is very informative and up to date for preparation of wound care certification exam. I will not hesitate to recommend this book to anyone seriously thinking to prepare for a wound care certification exam.
CWCN Study Guide – Customer
I rate this product at a 5. I have been CWOCN for 14 years and have decided to concentrate on recertification of the wounds only. We all know that what we do in real life isn't necessary what we need to know for testing. As I age tests are more difficult and worrisome. I am reading this guide daily and feeling much better about my ability to once again pass the test. This guide is precise the information needed and has built my confidence that I can this test. Test taking skills have been most beneficial.
CWCN Study Guide – Customer
The information was very detailed and informative. I Love how the book is very organized and to the point with great interventions. It's a great study guide for people taking the test initially and refresher.
CWCN Study Guide – Stephanie