CT Practice Test
Are you considering getting certified by taking the Computed Tomography (CT) exam? If so, know that your preparation is the most important piece to succeeding on test day! The CT test is a difficult exam that requires a lot of study and preparation in order to pass.
For this reason, we created our CT practice test to help test takers learn about what they will see on the actual test. Knowing the format and wording of the questions isn't enough, you will also need to take a look at the layout and breakdown of the test to truly optimize your study habits, so let's take a look! If you would like to check out some sample questions, check below!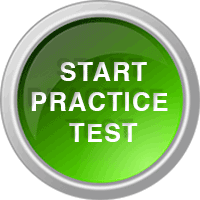 The CT exam contains 185 multiple-choice questions of which twenty (20) are trial questions that do not count for or against you. The breakdown of the test is as follows:
Patient Care and Safety (36 items)
Imaging Procedures (75 items)
Physics and Instrumentation (54 items)
Test takers will have 3 1/2 hours to complete the examination. All scores are scaled in a possible range of 1 to 99, and the minimum passing score is 75. With these things in mind, choose your study material and preparation time wisely to ensure you will be ready for the exam. If you do not know where to start, check out our free CT practice test that will give you an idea of the questions on the test.
Computed Tomography Exam Basics Review
Computed Tomography Exam Basics Review
CT Study Guide
Mometrix Academy is a completely free resource provided by Mometrix Test Preparation. If you find benefit from our efforts here, check out our premium quality CT study guide to take your studying to the next level. Just click the CT study guide link below. Your purchase also helps us make even more great, free content for test-takers.
CT Study Guide
CT Flashcards
Computer Tomography Study Guide Customer Success Stories
Our customers love the tutorial videos from Mometrix Academy that we have incorporated into our Computer Tomography study guide. The Computer Tomography study guide reviews below are examples of customer experiences.
The book seems to outline the IMPORTANT stuff. I LOVE that there are explanations with the answer key for the practice test. I feel it is very important to know why an answer is right if I choose wrong.
Computer Tomography Secrets Study Guide – Devin
Easy to follow, useful information. I enjoy the way it's broken into smaller sections/headings so I'm not overwhelmed with a lot of information all at once, very organized.
Computer Tomography Secrets Study Guide – Abby
I love it. Relevant information, well condensed and presented in a way that it can be easily understood.
Computer Tomography Secrets Study Guide – Caesar
I like the fact that the book gives the short and straight to the point material. I would recommend this book to others studying for CT boards.
Computer Tomography Secrets Study Guide – Sumner
I now have a better understanding of some of the material that we went over in class due to the review of the book. I highly recommend it.
Computer Tomography Secrets Study Guide – Customer
I loved the study supplies. They were really great sources and had a lot of the information that was covered on the test and made me more relaxed when I took it.
Computer Tomography Secrets Study Guide – Tamiko
Since I have received the practice exam materials and the flash cards, my levels of assessments and awareness has improved tremendous. The advice and suggested ways of studying daily has afforded me the time and "no excuse" in preparing for the state exam for the LCDC (Licensed Chemical Dependency Counselor). I had been searching for over two months for study materials that would help me and I stumbled across your Web Site. I am grateful and would highly recommend your materials because of the simplicity and thorough researched information of the course study. Mometrix goes above and beyond in helping others to succeed.
Computer Tomography Secrets Study Guide – Peter
I'm really happy with the guide, It's very informative but not too wordy and boring like the others I've looked at. It's written and broken down, in a way that is extremely easy to remember things. This is by far the best book I have looked at!
Computer Tomography Secrets Study Guide – Kendall
I have purchased several other brands of CT studying material and books and this study guide so far exceeds every one of them. It is precise and to the point without any rambling or confusion.
Computer Tomography Secrets Study Guide – Hector
Learn more about the Mometrix Computer Tomography Secrets Study Guide