CSET Physical Education Practice Test
Every aspiring teacher across the United States must meet rigorous requirements in order to fulfill their career goals. In many cases, this not only means passing several courses related to teaching in your field of choice, but also passing a standardized test proving you possess the correct skills. In the state of California, this test typically will be the CSET, also known by its full name, the California Subject Examinations for Teachers. As the name implies, the CSET is made up of numerous individual tests, each of which pertains to one particular subject a teacher may specialize in.
One of those subjects is Physical Education. Those who specialize in Physical Education know that teaching it to students requires a much different approach than what is typically offered in most other classrooms. Successful physical education instructors will be responsible for evaluating your students' fitness and physical capabilities, as well as encouraging them to live active lifestyles. As such, test takers must show that they possess adequate knowledge about physical fitness, physical education, and what it takes to lead a class efficiently and effectively.
How Will the CSET Physical Education Exam Be Formatted?
The CSET Physical Education exam splits up into three different sections, all of which are administered via computer. Test takers will find two different question types on the exam: "constructed response," which are essay style questions, and the usual multiple choice questions. Test takers may choose to take each exam one at a time, or all at once within one session.
Is There a Time Limit for the Exam?
As a whole, test takers can expect the exam to last five hours. However, test takers who choose to take each subtest one by one can expect to spend less time per exam. Subtest II will last 1.5 hours, while Subtests III and I both last one hour, 45 minutes.
Check Out Mometrix's CSET Study Guide
Get practice questions, video tutorials, and detailed study lessons
Get Your Study Guide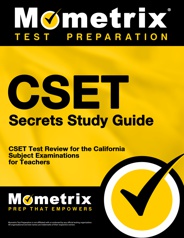 What Topics Does the CSET Physical Education Exam Cover?
Each subtest covers its own specialized set of subjects, which will be explained in more detail below.
Subtest I addresses two subjects total:
The material featured in the Science of Human Movement domain predominantly pertains to how the human body moves, based on scientific study and fact. This domain contains one constructed response question and 20 multiple choice questions.
Growth, Motor Development, and Motor Learning centers on the test taker's comprehension of their students' levels of physical ability and how traits such as motor development typically manifest and grow. This domain encompasses the test taker's knowledge regarding students of all backgrounds, including the differently abled. Like its sibling domain, the "Growth, Motor Development, and Motor Learning" section of the exam features one question in constructed response format and 20 questions in multiple choice format.
Subtest II possesses the highest number of content domains. They are:
The first subject, Assessment and Evaluation Principles, revolves around how educators can best gauge the quality of their physical education curriculum in terms of meeting student needs based on a number of specific approaches and rubrics. This domain is the shortest of the three, with no constructed response questions whatsoever and a mere six multiple choice questions.
Movement Concepts and Forms focuses on the various types of physical exercise styles that can be utilized as part of a physical education curriculum, and how to best approach combining these styles in order to challenge students and help them develop appropriately. It is the longest domain, featuring one constructed response question and 24 multiple choice questions.
The Sociology and Physiology of Human Movement deals with how the human body moves, much like the aforementioned "Science of Human Movement" domain. However, it addresses the subject from a psychological and sociological standpoint. Test takers will receive one constructed response question and 10 multiple choice questions for this portion of Subtest II.
Like the first subtest, Subtest III focuses on two distinct domains:
The Integration of Concepts domain involves how various other school subjects closely intertwine with physical education, and how to keep these connections in mind when crafting curriculum for one's students. For this domain, test takers must answer one constructed response question and 24 multiple choice questions.
Professional Foundations addresses various concepts that make up the hypothetical "groundwork" of teaching physical education—with special attention paid to the ethical, philosophical, legal, and historical aspects of this field of teaching. The "Professional Foundations" domain is the shorter of the two; it contains no constructed response questions and 16 multiple choice questions.
What Is the Exam's Scoring System?
The CSET exam is graded on a scale between 100 and 300, with 220 being the lowest amount of points needed in order for the test taker to pass. Test takers receive points only for each correct answer. The full exam score will be calculated from the amount of points test takers earn on each subtest; however, each subtest counts differently toward the test taker's overall score, which will also factor into the amount of points received. Test takers will receive their scores approximately seven weeks after their testing date.
How Can Test Takers Register for the Exam?
In order to register for the CSET Physical Education exam, test takers must establish an account on the exam's official website. From there, they can log in and pick out the Physical Education exam and subtests they would like to take, as well as how (and who) they would like to get their results, pay for the exam, and decide when and where they would like to sit for the exam.
How Much Will It Cost to Take the Exam?
How much a test taker pays depends on whether they will be taking the subtests all at once or one by one. Taking every subtest in one sitting requires a fee of $297. Taking solo subtests costs $99 per exam session.
What Is the CSET Exam's Availability?
The CSET administration team offers four testing windows for the exam—one for each season of the year.
Are Retakes Allowed for the Exam?
Test takers can sit for a retest for the exam; however, they must first resubmit their registration.
How Can Test Takers Most Effectively Study for the CSET Physical Education Exam?
While the CSET Physical Education exam features challenging content, preparing for test day can be made much easier with the proper study resources. You can find the high quality study tools you need to ace this important exam here on the Mometrix Test Preparation website. Our team has invested tremendous effort into making sure every resource we produce is as thorough and useful for test takers as possible.
Check Out Mometrix's CSET Flashcards
Get complex subjects broken down into easily understandable concepts
Get Your Flashcards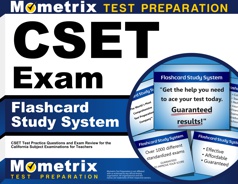 CSET Physical Education Study Guide
Mometrix Academy is a completely free resource provided by Mometrix Test Preparation. If you benefit from our efforts here, check out our premium quality CSET Physical Education study guide to take your studying to the next level. Just click the CSET Physical Education study guide link below. Your purchase also helps us make even more great, free content for test-takers.