CSET Home Economics Practice Test
Home economics is something of a rare subject within the United States—at least where academics are concerned. The main reason for this, in many schools, is because of budgeting. It's simply more economical to focus on core subjects and sports; however, this forces just as many other important subjects to the wayside. Home economics easily becomes a case in point. This class teaches and has taught many students how to take care of their future households, as well as many other related life skills that will see them through their pending adulthoods.
As an aspiring home economics teacher, you know just how significant this class is in shaping students' lives in seemingly the smallest of ways. Luckily, schools in the state of California care about this subject just as much as you, which is why it is included on the CSET (California Subject Examinations for Teachers) exam. The CSET is designed to assess incoming Californian teachers in their fields of expertise, all for the sake of gauging how prepared they are to work professionally.
The CSET Home Economics exam splits up into three different parts: Subtests I through III. Each subtest has their own set of subjects and questions, all of which are relevant to the skills you'll need to teach home economics. Subtest III features 44 questions in all, four of which are in "constructed-response" format.
The remaining 40 are multiple choice. Its subjects include Consumer Education; Housing and Consumer Design; and Fashion and Textiles. Subtest II has 42 questions—two of which are constructed-response and 40 of which are multiple choice—and deals exclusively with Nutrition, Foods, and Hospitality. Subtest I is the shortest at 41 questions (one of which is constructed-response and 40 are multiple choice). Its sole subject is Personal, Family, and Child Development.
If you're on this page, you're likely searching for study tools to help you prepare for this exam. Here you'll find the official Mometrix CSET Home Economics practice test. The Mometrix Test Preparation team has conducted careful research in creating this practice test, all to ensure it is as accurate to the real test as possible. You can expect our practice test to match the actual test in terms of content and presentation.
You can also access our CSET Home Economics study guide on this page. It is meant to give you an even closer glimpse of the full exam, and pairs well with our practice test. We hope our resources will fit well into your study plan. Good luck!
Check Out Mometrix's CSET Home Economics Study Guide
Get practice questions, video tutorials, and detailed study lessons
Get Your Study Guide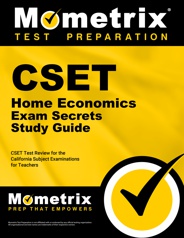 CSET Home Economics Study Guide
Mometrix Academy is a completely free resource provided by Mometrix Test Preparation. If you find benefit from our efforts here, check out our premium quality CSET Home Economics study guide to take your studying to the next level. Just click the CSET Home Economics study guide link below. Your purchase also helps us make even more great, free content for test-takers.